Domestic intermodal rates continued to soften last week as the quarter winds to a close, according to the 3PL IDS. At the same time East-West rates are diverging, with West-to-East rates softening as East-to-West rates rise.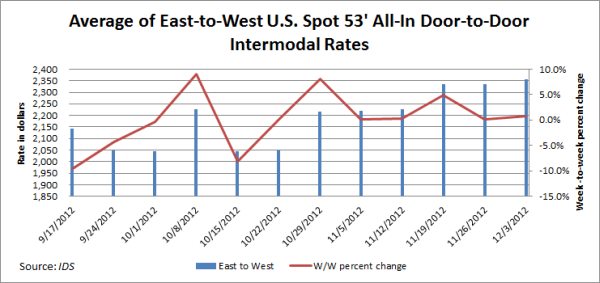 An index of high volume West-to-East rates dropped 1.3 percent to $2,924 per all-in 53-foot door-to-door move. East-to-West rates continued to strengthen; that index climbed to $2,355, up nearly 15 percent since mid-October, according to IDS data.
An average of 25 high-volume weekly lanes dropped from $2,380 to $2,353 this week.
"We continue to see the spot rate market soften as the 4th quarter draws to an end," said Executive Vice President Rick LaGore. "We see the softening as more of the yearly cycle in the intermodal rates balancing out after peak."
As examples of softening West-to-East rates, Los Angeles to Atlanta rates eased from $3,200 last week to $3,165 this week, while Los Angeles to New Jersey rates dropped from $3,700 to $3,500 and Los Angeles to Philadelphia rates dropped from $3,755 to $3,675.