Spot container rates from Shanghai to ports in North Europe, the Mediterranean, the U.S. West Coast and the U.S. East Coast all lost ground this week, although at a slower rate than in recent weeks, according to the weekly Friday release of the Shanghai Container Freight Index.
Rates to North Europe fell 4.7 percent to $1,028 per TEU. Rates to North Europe have fallen for four consecutive weeks, dropping 31 percent from $1,491 per TEU during that period. All of the gains achieved in the Nov. 1 rate increase have now been eliminated.
Rates to the Mediterranean fell 5.1 percent to $746 per TEU, the fifth consecutive weekly decline. The Med rates have now lost 41 percent of their value since late October.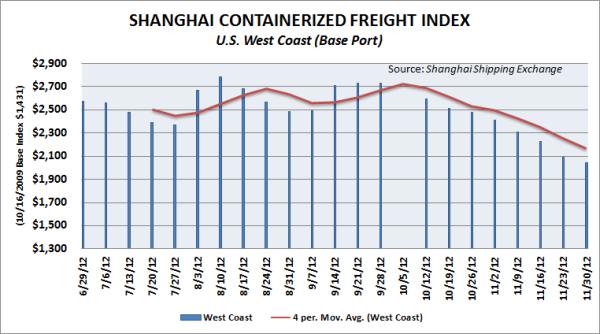 Rates to the U.S. West Coast dropped 2.1 percent to $2,046 per FEU. West Coast rates stood at $2,730 per FEU in late September, meaning they have dropped 25 percent since then. The weakness in West Coast rates prompted carriers in the Transpacific Stabilization Agreement to postpone a $400 per FEU increase to the West Coast from Dec. 1 to Dec. 15.
Rates to the U.S. East Coast dropped 1.5 percent to $3,099 per FEU. East Coast rates stood at $3,966 per FEU in mid-September, so they have lost 22 percent since then.
Rates from Shanghai to the Persian Gulf and Red Sea, meanwhile, surged from $626 to $863 per TEU this week, according to the SCFI index. The SCFI composite index gained 5.48 percent this week in part due to this increase.
"The fundamental question is, will carriers make any significant capacity adjustments? At present it appears not, at least not to the degree that is required to stop the rot," ICAP said in a weekly commentary. "On the demand side of the equation cargo remains weak, the only option is a supply led recovery."