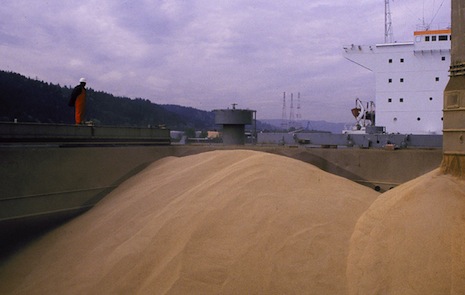 Grain handlers Thursday delayed the possibility of a work disruption at six grain terminals in the Pacific Northwest by extending their final contract offer to the International Longshore and Warehouse Union until 5 p.m. Dec. 8.
The Pacific Northwest Grain Handlers, which represents terminals in Oregon and Washington, presented the final offer to the union on Nov. 19, and set midnight Nov. 28 as the deadline for acceptance.
The employers apparently did not revise their final contract offer, but rather said the operational provisions in the proposed agreement are at least as generous as, and in some cases are more generous than, contracts the ILWU already has with the EGT and the Kalama Export Co. grain export terminals in the region.
The ILWU responded that the grain handlers' statement contains "many factual errors," adding that the companies are more interested in "misrepresenting workers" than in negotiating a fair contract with the employees.
According to the grain handlers' release, the proposed contract's base wage is higher than in the other contracts the ILWU works under at the EGT and Kalama terminals. The proposed base wage and benefits amount to $64.75 an hour.
In return, the grain handlers said the contract calls upon the union to accept work rules similar to those in the other contracts. Also, the union members must provide a "full day's work for a full day's pay."
The contract has terms that ensure the union members comply with the terms of the collective bargaining agreement "rather than engage in illegal work stoppages," the employers stated.
Also, the employers took exception to the union's contention that the proposed contract would reject the safety code that has been in existence for many years. "Safety has been and always will be a top priority for all the companies that are part of PNGH," the employers stated.
The ILWU responded that the grain handlers should be more concerned with the regional economy than in making "astronomical profits."
The grain handlers group said that unless the ILWU accepts the proposed contract offer, EGT and the Kalama Co. would have a "clear competitive advantage" over its six member companies.
Contact Bill Mongelluzzo at bmongelluzzo@joc.com and follow him at twitter.com/billmongelluzzo.