It's well-known that global container volumes are slowing. But the impact this will have on the industry isn't nearly as well understood, if only because a new era of slower growth is arguably just beginning.
Long-term slower growth isn't simply a factor of the sluggish growth or recession in Europe and the U.S. since the financial crisis.
Rather, it's a secular, likely irreversible trend driven by the reality that the industry's marathon heyday — when volumes achieved cumulative annual growth of 7.9 percent between 1990 and 2012, according to Drewry — resulted essentially from one-time factors. The outsourcing of manufacturing from the U.S. and Europe mostly to China and the latter's accession to the World Trade Organization in 2001 were critical. The indulgence in credit that spurred a final, unsustainable growth spurt leading up to the financial crisis followed.
In reality, container growth was declining even prior to 2000. As a factor of global GDP, container volumes grew 3.8 times GDP between 1974 and 1980 — a period that saw conversion of trade from general cargo to containers — 3 times GDP between 1981 and 1990; 2.8 times between 1991 and 2000; and 2.5 times GDP between 2001 and 2010. Container volumes as a percent of GDP are forecast at just 2.2 percent from 2011-13, according to figures presented by Barclays analyst Jon Windham at the JOC TPM Asia conference in October.
This begs the question: Where will future sources of growth come from? Certain commodities, including identity-preserved crops and refrigerated goods, are shifting from bulk or breakbulk ships to containers, and some air cargo is shifting to ocean as shippers seek lower transportation costs. But all those are on the margin.
Another source of long-term, sustainable growth that intuitively one might think would support  prior growth rates is the developing world. According to Barclays, the world's fastest-growing trade lanes for manufactured goods in 2011 and 2012 were, in this order, North Asia to South America, Middle East to Asia, South America to Asia, South Asia to the Middle East, and Europe to the CIS countries. Growth rates in each of those lanes exceeded 15 percent for the two-year period.
This shift toward trade within the developing world was reflected in a chart Windham showed the Shenzhen audience showing average distance traveled for Chinese exports growing 14 percent to nearly 6,000 miles between 2001 and 2006, peaking between 2007 and 2010 and falling 6 percent by 2014. In other words, as trade within the developing grows, it often means shorter transits between countries that are closer to each other than Europe or North America is to Asia.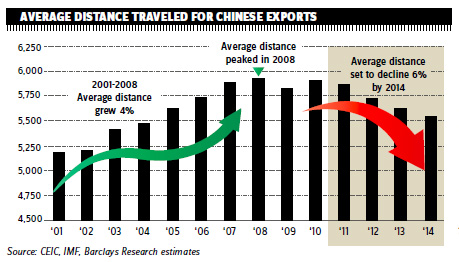 Another way of looking at this is the fact that co
nsumption and production are becoming more diverse: The combined share of consumption among the top 20 importing nations peaked at 81 percent in 2000 and now accounts for just 71 percent, Windham said. The combined share of production among the top 20 exporting nations peaked at 91 percent in 1992 and is down to 82 percent today.
In other words, trade is becoming more diversified, multipolar and scattered. But the reality for the container industry is that there is still no replacement for the growth trajectory the industry has relied on. Drewry forecasts growth of 4.9 percent in 2013, 6.1 percent in 2014 and 6.2 percent in 2015, reflecting generally diminished expectations for future growth.
"The great boom in container shipping was from one-time factors that will never come back," Ng Yat Chung, CEO of NOL, told the TPM Asia conference.
The implications for container lines and their customers might be significant.
If the industry had trouble balancing supply and demand and achieving adequate levels of profitability in an era of predictably rising volumes, how will it accomplish this when volumes aren't growing as fast? How will it resist the temptation to build ever-larger ships that yield lower per-slot costs but might not find enough cargo at profitable rates or be appropriate for smaller, faster-growing trades?
Will sources of capital wise up to diminished expectations and find other means to park their money? Can carriers curb their paranoia over losing market share and find a way to grow with the market? How can it work through its overcapacity and scale back ship ordering over the long term?
Until the carriers get this right, it will be more of the same for the industry — high volatility, low profits, general discontent.  
Peter Tirschwell is senior vice president of strategy at UBM Global Trade. Contact him at ptirschwell@joc.com and follow him at twitter.com/PeterTirschwell.