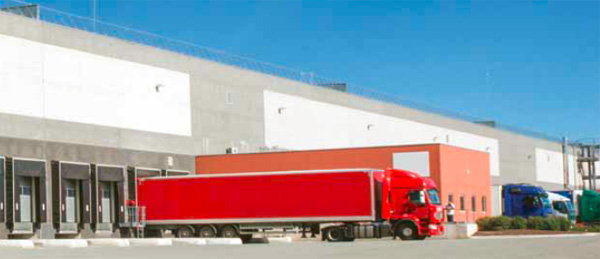 Dedicated contract carriage providers are doing pretty well in 2012 despite shaky economic growth and an ongoing shortage of truck drivers. They're finding a receptive audience among private fleet operators and other shippers who see the wisdom of leveraging the capacity and technology of dedicated operators, and getting out of the trucking business altogether.
At least one major carrier, $5.3 billion transportation giant Con-way, expanded its dedicated business in a big way this year.
Guaranteed capacity, high service levels and a reliable pool of drivers are driving more shippers toward dedicated carriage, said Paul Bowman, senior vice president of sales for dedicated services for U.S. Xpress.  
The dedicated services division of U.S. Xpress, the nation's second-largest privately owned truckload operator, is growing about 17 percent annually. In the last eight months alone, the Chattanooga, Tenn.-based company added about 450 trucks and now has approximately 2,200. "From our end, it's explosive growth," Bowman said.  
The trend among retailers such as Wal-Mart and Home Depot to take greater control of their supply chains has intensified demand for dedicated carriage. Higher levels of control and visibility make it easier for shippers to align inbound and outbound transportation. As network efficiency improves, it becomes easier for dedicated fleet operators to step in and execute.
Shippers looking to reduce cycle times and to get products closer to customers are building more regional distribution centers, which are often served by dedicated fleets. "There's a reason why Wal-Mart has one of the largest private fleets in the nation," said John White, president of U.S. Xpress.
Data: A-Z Dedicated Trucking Guide .
As retailers and manufacturers recover slowly from the recession, they again are trying to differentiate themselves through service, not just price, in a competitive marketplace. By offering consistency, flexibility and reliable contingency planning, dedicated carriage is a natural fit. "Coming out of the recession, there is a greater shipper focus on supply chain performance," White said.
Dedicated carriage provides price certainty for shippers, something harder to find when bidding for one-way truckload movements. Bids can reflect open rates but not necessarily the true cost of the freight tender, which can be much higher. 
A key capability for U.S. Xpress and other dedicated operators is having the technology and know-how to understand their customers' business. Advanced logistics and analytical capabilities can identify network redundancies, allowing providers to take assets out of the mix to lower costs. They can leverage networks to increase utilization rates, and identify optimal order cycles and shipping and receiving times. "We can drive out costs not just through routing but also through network redesign," Bowman said.
Dedicated service contracts require a measure of innovation and flexibility, given the specialized requirements of customers. U.S. Xpress looks for ways to lower costs through contractual formats, incentivizing customers to reduce costs through high utilization.
U.S. Xpress's growth has been largely organic, as the company expands business with existing clients. Many customers are initially unsure if they want or need dedicated carriage. They often present a broad base of lanes and ask the carrier to find a way to lower miles and hit performance targets. "They don't define the model," Bowman said. "We have to create one that makes sense."
Amid a chronic national shortage of drivers, dedicated fleet operators claim much lower driver turnover than over-the-road carriers. Dedicated fleets provide a more attractive employment option because they offer predictable hours and consistency in scheduling, giving drivers more predictable schedules and more time at home. "By building a better network with more consistency, we try to make it as regular for the driver as possible," White said.  
Ann Arbor, Mich.-based Con-way this year decided to greatly expand its dedicated fleet operations. The reasons were twofold: to respond to customer demand, and to attract and retain drivers drawn to the steadiness of dedicated trucking.
Con-way has been a little slow to get on board with dedicated service, said Pete Montano, Con-way Truckload's vice president of sales. Prior dedicated arrangements evolved almost by accident and were hugely successful, another factor in the company's decision to expand dedicated services.
Con-way Truckload recently brought in an expert and created a Web site for its dedicated services. "We just kind of dove into it this year," Montano said. "This is the first year we really focused on it and tried to sell it."
In the past, Con-way struggled with a pricing model for dedicated services, something it now has in place. One area of focus is on building an inventory of specialized equipment for dedicated customers. Helping in the effort is Road Systems, a Searcy, Ark.-based trailer manufacturing and refurbishing company owned by Con-way. 
Specialized equipment includes double-stack 53-foot trailers, some with roll-up doors; trailers with 50,000-pound capacity; and natural gas-powered trucks. "We will consider any option for specialized equipment as long as we have a commitment of two years or more," Montano said. 
Dedicated customers can take advantage of comingled freight and pool distribution options. Con-way Truckload works with sister companies Con-way Freight to match and comingle freight, and Menlo Worldwide Logistics to offer cross-dock warehouse solutions.
Con-way is considering adding dedicated loops to its over-the-road service. The loops will technically be over-the-road, but for the purposes of creating regularly scheduled routes as part of Con-way's driver-retention plan, they will be referred to internally as dedicated.
A natural starting point for Con-way's expanded dedicated business is Mexico. The company has more than 80 carrier partners and at least 2,000 trailers on the road in Mexico on any given day. Thirty-seven percent of Con-way's total revenue has its origin or destination in Mexico. New customers using dedicated services to and from Mexico include retailers based in Kansas City, Mo.; Jacksonville, Fla.; and Lyons, Texas. 
Driver turnover is virtually nonexistent for Con-way's dedicated drivers, compared with a turnover rate of some 60 percent for over-the-road. Con-way raised driver pay in November and increased its advertising. The company hopes its new commitment to increasing its dedicated business will attract younger drivers who meet stringent safety requirements. "If drivers are committed to dedicated operations, of course we will migrate to that area," Montano said.
Requests for proposals for dedicated carriage surged in 2012 and should continue in 2013, said Tom Scollard, Penske Logistics vice president for dedicated contract carriage.
Companies that downsized during the recession are looking at dedicated carriage to lock in capacity. Carriers such as Penske also have gotten better at optimizing routes, further fueling demand. As fuel costs rise, customers see the wisdom of leveraging the scale, skills, technologies, drivers and equipment of dedicated carriers, freeing them to focus on their core businesses.
Click Image to Enlarge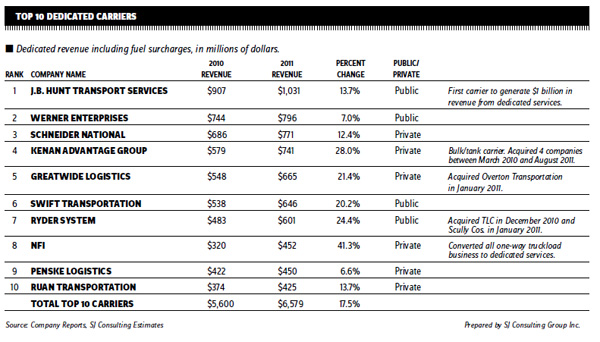 Penske employs various technologies to mitigate the rising cost of fuel. It uses onboard computers to monitor driver and vehicle performance and works with customers to build optimal routes. "We see a lot of customers develop routes over time that may have some inefficient miles," Scollard said. "We can give them the information to change that." 
Collision-avoidance systems help Penske improve safety and reduce insurance costs. The systems automatically engage brakes when vehicles are too close, reducing the frequency and severity of rear-end crashes, the most common and costly type of accident. "They help us retain our top safety scores and preferred insurance," Scollard said. "It's the right thing to do and is an investment in our brand image."
Penske Logistics boasts a best-in-class retention rate for its 2,900 drivers through good pay, top-flight equipment and dedicated routes. Compensation and costs are always a balancing act, but Penske's priority is retention, because dedicated drivers work with specific customers over time and are not easy to replace.  
The company employs social media such as Twitter and Facebook to recruit drivers and regularly participates in online career fairs. 
To attract new customers to its dedicated service, Penske recently created a buyer's guide that explains the services and gives shippers the tools to evaluate carriers. The company also introduced a resource prediction tool. Using seven inputs, the tool mines tens of thousands of proposals in Penske's database to help shippers determine optimal routing and truck and driver requirements. "The results tend to be very accurate," Scollard said.
Schneider Dedicated Services has a growing pipeline of private fleet conversions as companies rebound from the recession. Demand for dedicated services in energy sectors was especially strong for Schneider in 2012, said Dan Van Alstine, senior vice president and general manager of Schneider Dedicated Services. "The breadth of our portfolio is a differentiator for us," he said.
Schneider Dedicated Services, a division of Schneider National, had revenue of more than $620 million in fiscal 2012. Green Bay, Wis.-based Schneider National is the nation's largest privately owned truckload operator.
Regulations, particularly the Federal Motor Carrier Safety Administration's CSA enforcement initiative, also are driving demand for dedicated fleets. "The pace of private fleet conversions has really picked up across industries," Van Alstine said.
Private fleet operators often see their fleets as competitive differentiators and are reluctant to cede control. Schneider understands the internal dynamics that go into private fleet conversion and recognizes that it's personal and emotional, given that jobs and company turfs are in play. "It's not just about trucks," Van Alstine said. "It's an important decision that affects people, and we take a lot of pride in being able to help with that."
Schneider has aligned itself with a number of driving schools and has input into curriculums to ensure that its drivers receive top-quality education.
Demand for dedicated services likely will be flat for at least the first half of 2013 because few expect a capacity crunch anytime soon, said Brian Kinsey, president of Brown Trucking, a Lithonia, Ga-based dedicated trucking specialist and truckload carrier. "Most of our contracts are for multiple years, and customers are far more willing to commit when they are concerned about capacity," Kinsey said.
In exchange for handling all of a customers' freight, Brown guarantees capacity and provides variable rates. It's a unique pricing model in the industry that works well for Brown, which mostly serves the Southeast with hauls of 150 miles or less. 
About 55 percent of Brown's 1,065 drivers work for the company. The rest are owner-operators. The company's shorter regional routes allow up to 80 percent of drivers to be home every night and most weekends, leading to high retention rates. "It's a lifestyle issue," Kinsey said. "We look out for our drivers and make sure they have the opportunity to make a good living." 
Contact David Biederman at inexdb@comcast.net.