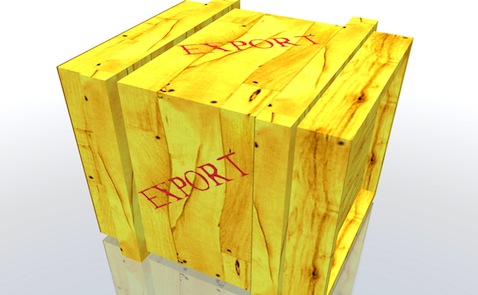 Economists are bullish about prospects for U.S. exports in 2013 — in the second half of the year, that is. "The second half of 2013 will be a lot better than the first half," said Walter Kemmsies, chief economist at Moffatt & Nichol engineers.
Europe is battling recession, and that battle will continue into the first half of next year as the European Union looks to solve the debt problems in its the southern-tier countries, Kemmsies said.
Europe's recovery is important to U.S. exporters for two reasons. The EU is a major market for exports, with Germany, the U.K. and the Netherlands ranked among the top 15 U.S. export destinations, according to the U.S. Census Bureau.
Europe also is crucial to China's economic prosperity. China's manufacturers scaled back production in 2012 as consumer spending plunged in Europe. As a result, China's demand for U.S. exports of scrap metals and paper, as well as other raw materials for the manufacturing sector, declined.
China's gross domestic product will increase 7 to 8 percent this year, down several points from the double-digit increases the country had become accustomed to. The government has invested stimulus money in infrastructure development, but it is China's emphasis upon consumer-led growth, rather than export-led growth, that will help U.S. exporters, Kemmsies said.
As with Europe, solutions will take months to kick in, so significant growth in U.S. exports to China likely won't come until the second half of 2013, he said.
New free trade agreements with Panama, Colombia and, especially, South Korea also should spur exports in the year ahead. Previous agreements with Mexico, Canada and Chile demonstrate that as tariffs and non-tariff barriers in other countries fall, U.S. exports to those countries increase.
Paul Bingham, economics practice leader at Wilbur Smith Associates, said the FTAs with Panama, Colombia and South Korea will be very good for U.S. exporters. He noted, though, that many tariff reductions are phased in over time, and it takes awhile for U.S. exporters to develop their supply chains to these countries. "It won't be an overnight thing," he said.
With containerized exports weaker than anticipated, shipping lines have grappled for most of the year with downward pressure on freight rates. This is especially true in the westbound Pacific, where some rates for low-value commodities moving from Los Angeles-Long Beach to Asia have dropped to $200 per 40-foot container, said Ed Zaninelli, vice president of trans-Pacific westbound at Orient Overseas Container Line.
Freight rates in the westbound Pacific should be increasing because the five-month period from November through March is the peak season for U.S. exports to Asia. There are some opportunities for rate increases in certain trade lanes where demand exceeds vessel capacity, Zaninelli said, but it doesn't appear across-the-board hikes are likely.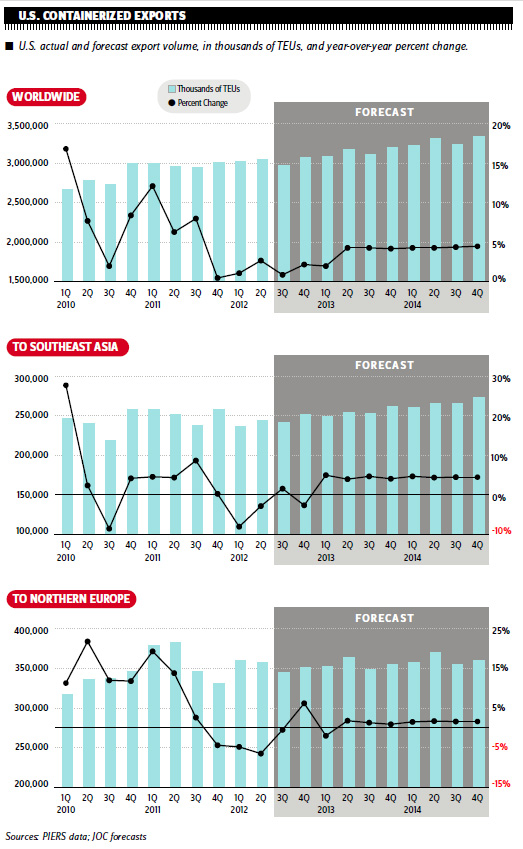 He sees rates picking up strongly next November, though, in time for the 2013-14 peak season in the westbound Pacific. By then, European and Asian economies should be growing smartly again, and overall export growth should continue for some time. "I think 2014 to 2015 looks really good," he said.
Generally, trade and transportation experts are bullish on export opportunities during the coming year, but markets will vary greatly on timing and the types of products shipped. "The export picture is encouraging, but it varies by trade lane," Bingham said.
Latin America, for example, offers immediate opportunities for growth in some products. Brazil is on a mission to develop its freight transportation infrastructure. Brazil already is one of the world's largest exporters of grain and other agricultural products, but the producing areas are inland and the rail and road infrastructure to the seaports is inadequate. As a result, exporters experience significant spoilage of products in transit.
Rail gauges in Brazil vary from region to region, making it impossible to ship agricultural products long distances on a single rail line. Brazil is building new tracks to allow trains to switch from one track to another on long journeys, Kemmsies said. Brazil's railroads also need new cars and locomotives, which could create opportunities for U.S. manufacturers of rail equipment and construction machinery, he said.
Brazil is making a big push to develop its oil industry, with potentially large deposits located offshore. The U.S. is one of the world's largest manufacturers of sophisticated offshore oil equipment, and exports to Brazil are booming in that sector, Kemmsies said.
Chile and Peru are rich in raw materials, and exporters of sophisticated mining equipment are finding good opportunities there. Chile already has developed infrastructure from the mines to the seaports, and Peru plans to do the same, he said.
Mexico's economy is growing strongly. Foreign investment in Mexico remains robust despite violence tied to drug cartels. Mexico is the second-largest market for U.S. exports after Canada. Exports to both markets move mostly by truck, and to a lesser degree, rail.
Union Pacific Railroad anticipates strong growth in north-south rail freight between the U.S. and Mexico as shippers become more comfortable with intermodal transportation. John Panzer, assistant vice president of intermodal marketing, told the annual transportation conference of the Intermodal Association of North America last month that intermodal will play an important role in the growth of near-shoring in Mexico.
As wages increase in China, the gap between production costs in Mexico and China is narrowing. With Mexico's advantages of proximity to the U.S. market, a growing number of engineering graduates and cultural similarities, companies are shifting at least some of their production to Mexico, Panzer said.
Intermodal movements within Mexico are more complex than in the U.S. and involve more hand-offs. There is also an equipment imbalance, with southbound moves penetrating deep into Mexico and northbound moves into the U.S. originating mostly in northern Mexico. Still, shippers are anxious to address these challenges in order to make better use of cost-effective intermodal transportation, Panzer said.
Exports to developing markets such as Africa, India and Southeast Asia offer potential, but significant gains in those markets are some years off, Kemmsies said. Many developing countries lack the port and transportation infrastructure needed to move freight from seaports to inland population and production centers.
India is always high on economists' rankings of markets of the future. With a population almost as large as China's, India's consumers are young while China's population is aging, Bingham noted.
Exporters to India, however, encounter protectionism and structural impediments, so patience is crucial when dealing in that market. India is changing, but "the pace of change is glacially slow," Bingham said.
Despite Europe's deep economic problems, economists are somewhat bullish about export opportunities in the second half of 2013. Northern Europe is stabilizing, and stimulus measures are beginning in the southern countries now that the EU has decided that relying only on austerity measures won't bring Europe out of its recession, Kemmsies said.
Bingham said there is pent-up consumer demand in Europe. Economic growth in the EU is expected to resume by the second half of 2013, with overall growth of 2 percent in GDP projected next year. Bingham sees growing U.S. exports in the second half of 2013 from a weak baseline this year.
All eyes continue to be on China, however, as a diverse market for U.S. exports. China's rapidly expanding middle class offers steady growth potential as direct consumers of food products. U.S. exporters of animal feed grains also will prosper as China increases its beef, pork and poultry production for middle class consumers. "They're moving up the value chain," Kemmsies said.
China's growing population is demanding the government act to mitigate the country's huge pollution problems, so U.S. manufacturers of low-polluting equipment and fuel oils should find a growing market there, Kemmsies said.
China also is purchasing all types of equipment used in manufacturing, mining and infrastructure development, with the U.S. expected to produce high-quality products in those areas, Bingham said.
Small and midsize manufacturers of extremely sophisticated machinery also will find a ready market in China, he added. German producers have always been the leaders in cutting-edge machine tools, and the German brand names are best known in China, but expanding market share should be a goal of small and midsize U.S. companies, Bingham said.
In a macroeconomic sense, the dollar, which strengthened unexpectedly this year, should resume its downward movement against key world currencies, and that will assist U.S. exporters. Total growth of U.S. exports in the range of 6 percent is certainly possible in 2013, Bingham said. 
Contact Bill Mongelluzzo at bmongelluzzo@joc.com and follow him at twitter.com/billmongelluzzo.