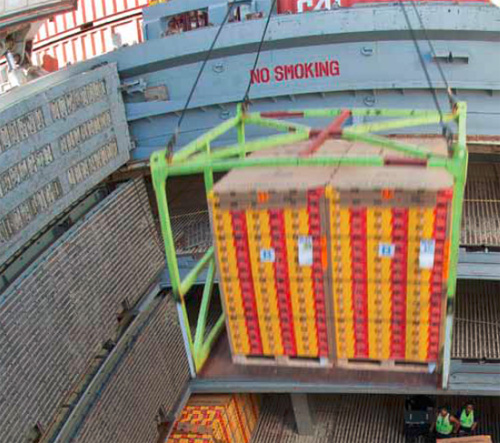 News concerning the specialized refrigerated ship fleet has been bleak of late.
Green Reefers, one of the largest carriers in the breakbulk niche market, called it quits in May as low rates and higher fuel costs made it impossible to make debt payments and keep its vessels afloat. The Norwegian carrier sold its remaining 31 ships to Norway's Caiona Ship and delisted its stock.
Last month, Drewry Maritime released its annual reefer market report, noting the refrigerated cargo ship fleet is shrinking.
"The specialized reefer fleet continues its inexorable decline with a reduction of 234 vessels and 81 million cubic feet in the last 10 years alone," Drewry reported. "During 2010 and 2011, a total of 77 vessels (28.2 million cubic feet) were scrapped. As of mid-2012, a further 42 vessels have been added to that list and by year end it is forecast that scrapping levels will have exceeded the record levels set in 1993 and 1999. Meanwhile, the orderbook is currently empty for the specialized reefer fleet."
In contrast, the research and consulting firm said there are 500 container ships on order and not yet delivered from shipyards, and a record 13 percent increase in the number of refrigerated containers worldwide. "The two fleets are moving in opposite directions, and it is impossible to see this changing significantly," Drewry said.
Maersk Line CEO Soren Skou said during a September speech that he expects the reefer fleet to continue to shrink, with another 330 breakbulk vessels sent to the scrapyards by 2018.
The management at Seatrade, a carrier that owns reefer vessels and operates a reefer management pool, acknowledges a less-than-auspicious marketplace. In an article aimed at employees and customers, Seatrade officials said the reefer industry had been affected by "steady encroachment of container lines in the traditional reefer segment. The first part of 2012 was seriously affected by this behavior of the container lines and a lack of fruit from Argentina, Ecuador and Costa Rica, resulting from adverse weather conditions."
That led Seatrade to recycle or scrap a number of ships that were older, not fuel efficient, and required a high level of maintenance. "Generally nonprofitable units have to go in order to have a solid base for the future," company officials wrote.
But Seatrade sees light at the end of the competitive tunnel. "After three painful seasons characterized by the combination of an oversupply of reefer capacity and heavy, price-based competition from the container lines, the specialized sector is on the verge of stabilization and recovery," Seatrade said.
Several things have occurred to make the market more attractive for reefer ships.
Maersk Line, the world's largest container carrier, has significantly pulled back on its aggressive presence in some of the traditional reefer trade lanes.
The launch of a Maersk service between Ecuador and the Mediterranean and the Black Sea in the second half of 2011 took 600,000 cartons of bananas every week from reefers, equivalent to three conventional reefer shiploads. But even with what is called the world's largest reefer contract, Maersk found the route unprofitable and ended the service. Maersk proposed handling the Banex contract with different routing, but the banana company instead returned its business to Star Reefers, one of the major players in the breakbulk sector.
Maersk also canceled plans to buy new reefer containers in 2013 and announced rate hikes of $1,500 a container; other container carriers have followed suit. Significant rate increases will lift breakbulk rates, as well.
During an interview last month at the Produce Marketing Association's Fresh Summit, a reefer industry official said there is renewed interest in his sector. "The last two days, people I haven't spoken with are coming up and asking, 'What can you do for us?' " said Howard Posner, general manager for Seatrade in the U.S. "Shippers are a little frantic and are dusting off old business cards. Where it is practical, I think there will be some shifts back to specialized reefer."
Seatrade also said that while it isn't building any new vessels in the foreseeable future, it doesn't mean it isn't investing in its fleet.
Last winter, Seatrade sent two vessels built in 1994, the Atlantic Reefer and the Pacific Reefer, to a shipyard in Shanghai. There, the traditional reefer vessels were cut in half and a 98-foot section was added between the two conventional holds to carry containers. The conversion tripled the number of containers that can be carried to 61 40-foot containers, according to ship specifications.
Seatrade said the hybrid ships have cargo flexibility and higher capacity. The move also will reduce emissions and fuel costs. "I think you will see our company do more of these conversions," said Ivo Ravelli, Seatrade's representative in Ecuador. Vessels built after 1990 are considered prime for such alterations. "I think you will see us build new vessels again in the future, but first we will focus on the lengthening of our newer vessels."
Seatrade, which participates in several of the industry's largest vessel pools, sometimes operates container vessels in charter reefer trade. "The equipment looks different, but we are experts in perishable transportation, and that's the service we offer," Posner said.
In fact, Seatrade and other breakbulk carriers are buying an increasing number of reefer containers to use in their operations.
Star Reefers also is renovating some of its vessels. It plans to have four of its reefer ships upgraded in European shipyards with three sideloading systems each, an installation that can handle pallets and containers. The upgrade increases load capacity and reduces port turnaround, making the ships more efficient to operate. Delivery will take place during the second half of 2013.
Drewry offers good news for the reefer market. Drewry said perishable refrigerated goods transported by sea have grown at an annual rate of 3.9 percent, from 36.4 million tons in 2001 to 90.9 million tons in 2011. Drewry Maritime Research predicts continued growth in perishable reefer cargo for 2012. "Beyond that, population growth levels and GDP levels will see trade increase at an average rate of more than 4 percent a year to 2016," it said.
The highest growth has been in the meat category in terms of tonnage, which rose from 21.4 million tons in 2001 to 35.9 million tons in 2011.
Worldwide trade of bananas and plantains has increased from 13.2 million tons in 2001 to 15.7 million tons. Following three years of falling volume, the banana trade rose nearly 10 percent in 2011.
Contact Stephanie Nall at stephnalljoc@gmail.com.