It's going to be a long, drawn-out contract season for container carriers and their refrigerated cargo customers.
Carriers, not surprisingly, want higher rates. Shippers, not surprisingly, are wary, afraid that competitors or larger shippers won't end up paying the increases. Although there's nothing new in those positions, there is more of a sense of urgency and resolve among the carriers this year to get more remunerative returns. For shippers, the size of the rate hikes makes them more hesitant than ever to agree.
"I'll be open with you, we don't have a lot of agreements lined up for next year," said William Duggan, Maersk Line's vice president of refrigerated services, North America. "I think contracts will take a little longer this year."
At least half a dozen of the largest container carriers have announced Jan. 1 reefer rate increases of $1,500 per container on every commodity in every trade lane, and the Transpacific Stabilization Agreement carrier discussion group is recommending its members raise trans-Pacific rates by the same amount.
The hefty rate hikes were put into motion by Maersk Line; the world's largest container carrier, it also has the largest fleet of refrigerated containers and carries the most reefer boxes of any carrier.
In August, Duggan said in an interview with The Journal of Commerce that Maersk had decided not to purchase any reefer equipment during 2013 — a stunning move, given that Maersk had been the most active buyer in the world during the past several years. Industry analyst Andrew Foxcroft, who wrote a container census report for
Drewry Maritime, said Maersk purchased 60,000 TEUs of reefers in 2011 and about the same amount this year — a level that equates to one-fifth of global refrigerated box purchases.
A week later, Maersk CEO Soren Skou added to the ban on reefer investment by telling an industry group that Maersk would impose a global reefer rate increase of $1,500 on Jan. 1.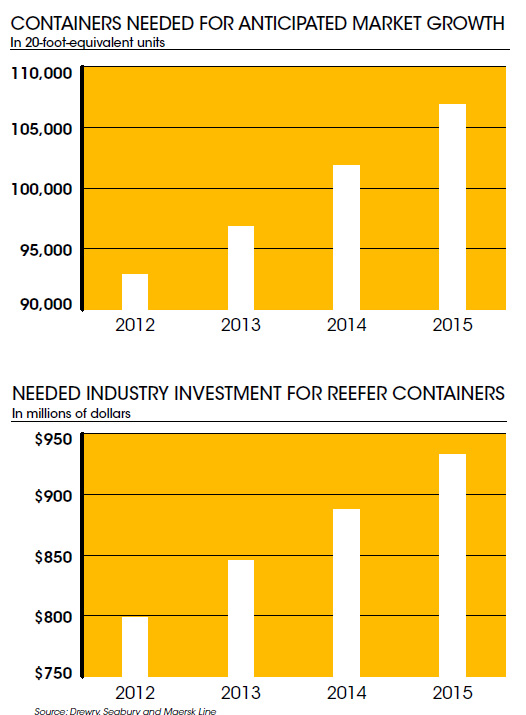 The reason was the same for both actions: Maersk isn't getting a good return on its reefer business. Costs are too high, and rates are too low. "Refrigerated containers cost four times as much as a dry box," Duggan said. "But it's not just the cost of the box. There are so many hidden costs that are not captured in the current rates. Reefers use fuel to keep them cool, there is a lot of pre-tripping and box maintenance — costs that are just not there in the dry sector."
Maersk's suspension on investment means its fleet of cold containers will shrink by about 10 percent this year, because it will not replace ones that are discarded because of age or repair issues.
Skou said the container industry would have to spend $3.5 billion on reefer boxes in the next four years just to keep pace with market demand. That multibillion-dollar investment is based on increasing the fleet and doesn't include containers purchased to replace those put out of service each year because of age or needed repairs. Maersk said the industry as a whole would need to spend $1.7 billion this year alone to replace scrapped refrigerated containers.
Skou said refrigerated shipment rates have not kept up with inflation or the cost of bunker fuel, and that Maersk would not restart its reefer investment program if rates did not reach adequate levels.
For the most part, shippers acknowledge that rates are low and carriers need to stop losing money, but most cargo owners and freight forwarders didn't want to go on the record about rates.
"The problem," one shipper said, "is that the rate increases never include the big guys, or at least not to the same extent. If most years the announced rate increase is $300 and little shippers and freight forwarders have to pay it, but it doesn't stick for the big accounts, our competitive disadvantage grows by $300. This year, our price disadvantage could go up $1,500. We need to know everyone is paying it."
Lee Doud, senior vice president for Paramount Exports, said even if the $1,500 is applied across the board, it would affect some shippers more. "It's going to hit the lower-priced fruit like grapes, because it will be a higher percentage of the sales price. It will be interesting to watch."
"My focus is not on rate increase," said Diogo Lobo, head of international logistics at JBS USA. "I would rather focus on what we can do to create partnerships with carriers. For us, service will always be the top priority."
JBS, already the world's largest shipper of protein cargo, last month acquired two companies, one in Brazil and one in Canada. Lobo said the acquisitions would add about 30,000 TEUs annually to the JBS global business.
"We see this as such an opportunity to develop a conversation and a plan. All the JBS logistics managers from South America and Australia and throughout the world are coming here, and we will develop what we need in a global contract," he said. "We're going to do this carefully. We don't want to be transactional, we want to be more strategic. We're going to go to Maersk headquarters in Copenhagen and talk to top people. We'll go to Taipei to speak with Evergreen. When we have a problem with a shipment, instead of talking to a guy on the telephone in Houston and a different guy the next day, we want to develop a relationship with the top guys in the top carriers."
The strategy, he said, won't save JBS money. "If you want lower rates, it's better to deal on a transactional basis, but we don't want to do that. Service is too important."
If Lobo senses an opportunity amid the rate chaos, so do some carriers.
Jose Perez-Jones, senior vice president of Seaboard Marine, said the regional carrier has been getting a lot more phone calls than usual. "Our trade lanes are the ones that Maersk came into a few years ago, expanded rapidly — and then pulled out this year because it was not profitable."
Maersk overcommitted to the market in South America and Central America, Perez-Jones said. "Shippers signed contracts with them and counted on the service. After they ended some of the services, the shippers were stuck because they have contracts with their customers."
Seaboard is trying to pick up as much of the business as possible, he said, "But we're being careful. We don't want to overcommit, and we don't want to make decisions that aren't wise. "We're constantly monitoring our market," he said. "We make sure we take care of long-standing customers before we pick up new business."
The carrier hasn't decided whether to charter more vessels and expand service. "We are growing, and we'd like to keep growing, but we need to know it's the right thing and we can stay in a market," Perez-Jones said.
Just as with raising rates, Maersk isn't alone in pulling out of unprofitable markets.
Hyundai Merchant Marine, last month announced it would no longer offer refrigerated service from the U.S. East Coast to Asia, effective Jan. 1. According to a representative from Hyundai, the decision to suspend the service is based upon prevailing non-compensatory rate levels from the East Coast and longer round-trip voyages that translate to higher costs for the carrier.
Lamont Petersen, vice president for the trans-Pacific westbound trade, said the longer round trip voyages of the all-water service slows equipment velocity and means the carrier can use each container fewer times each year. Serving that trade lane translates into the need for a larger container inventory — something that is simply not cost-effective. Considering the impact of equipment velocity on profits, the contribution margin produced by reefer shipments from the East Coast to Asia is unsatisfactory given the capital investment required to support the service, she said.
"It's difficult to compete with other trades for the assets with such low contribution levels." She also said HMM did not invest in new reefer units in 2012 because of poor market conditions, so internal competition for the assets is fierce as global demand for refrigerated containers is quite robust.
Hyundai will consider re-entering the East Coast-to-Asia reefer trade if conditions, Petersen said.
APL hasn't announced any changes to its refrigerated rates, but the carrier is being conservative about investing in the sector, according to Vince Rankin, APL's senior director of reefer trade for the Americas. "Between 2001 and 2008, we more than doubled our fleet of reefers and the shift from leased to owned boxes increased significantly," he said.
"Because of the overall outlook for the trade, there is certainly a reluctance to grow right now," Rankin said. "For APL and probably other carriers, we will make do with the size of our current fleet."
He said APL would buy containers this coming year, but only to replace obsolete units, he said.
"If you are a shipper, you should be concerned about what is happening," he said. "If carriers lose money, they won't invest in the equipment you need. Maersk is sending a very good message to the shipper base." 
Contact Stephanie Nall at stephnalljoc@joc.com.