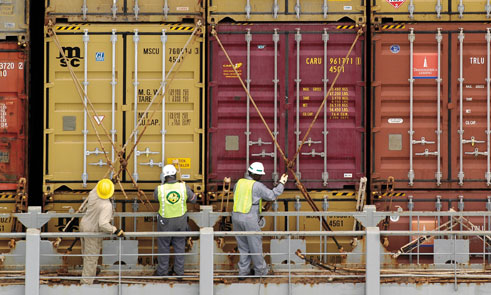 International Longshoremen's Association President Harold Daggett broke weeks of silence on ILA contract negotiations by warning the union won't accept caps on container royalty bonuses or cuts to hourly minimums and overtime.
In a statement on the ILA Web site, Daggett pledged to defend royalty bonuses and other contract provisions such as eight-hour guarantees and seven-man work gangs for container lashing.
The ILA and United States Maritime Alliance have engaged in off-and-on negotiations on a Maine-to-Texas contract since last spring. The ILA and USMX agreed in September to extend the contract for 90 days past its Sept. 30 expiration.
The expiration averted the threat of a peak-season strike, but with the new Dec. 29 expiration approaching, shippers must again decide whether to implement contingency plans for a work stoppage at East and Gulf Coast ports.
Daggett said he may summon the ILA's 200-member wage scale committee to Newark, N.J., for contract negotiations on Dec. 10-11. The wage scale committee must review any deal before it goes to a membership vote.
The ILA and USMX extended their contract after the Federal Mediation and Conciliation Service joined the talks and persuaded the two sides to avoid public statements.
USMX Chairman/CEO James Capo would not comment on Daggett's Web site missive.
The ILA president accused USMX of pitting ports against each other. The ILA-USMX coastwide master contract sets uniform wages for container and roll-on, roll-off work, but container royalty bonuses and work rules vary widely.
Container royalties were established in the 1960s to cushion the impact of containerization on ILA work. Bonuses are based on increases in container tonnage over a base level established years ago for each port.
Bonuses averaged $15,500 per worker last year for all East and Gulf Coast ports. They ranged from a few thousand dollars in ports such as New Orleans and Jacksonville to $36,000 in Savannah, where containerized volume has soared and non-ILA state workers perform many port jobs.
In the current negotiations, management has proposed capping royalty payments at current levels and using future growth in royalties to help pay for other ILA benefits.
Much of the attention in this year's ILA negotiations has focused on the Port of New York and New Jersey, where employers want to change work rules and pay practices that allow some workers to be paid round-the-clock and require extra backup staffing.
Those practices are concentrated in New York-New Jersey, and Daggett's statement appeared to be aimed at reinforcing support for the ILA's negotiating position in South Atlantic and Gulf ports where other issues dominate.
"USMX has made it clear in negotiations and to the public through their Web site postings (USMX.com) that they are looking to cut, as an example, an ILA member in Savannah's container royalty payment and eliminate an eight-hour guarantee for an ILA member in Houston," Daggett's statement said.
"They attack work rules in New York and look to strip the seven-man lashing gang in the South Atlantic. We understand that USMX has continually played one port against the other, but that strategy will not succeed. 
"Our ILA is committed to protecting all ILA members affected by this contract." Daggett said. "We stand united and will put a full contract package together that meets all our goals at all ports."
ILA contract negotiations are conducted at two levels. The union's master contract with USMX covers container and roll-on, roll-off wages, fringe-benefit contributions, carriers' royalty payments, and the coastwide medical plan. Supplemental local or regional agreements cover work rules, pensions, breakbulk wages and other port-specific issues.
The ILA-USMX master contract covers approximately 15,000 workers in East and Gulf Coast ports.
The ILA hasn't had a coastwide work stoppage since 1977, but shippers have been concerned about a work stoppage since Daggett first warned last March that a strike was possible.
Contact Joseph Bonney at jbonney@joc.com and follow him at twitter.com/JosephBonney.