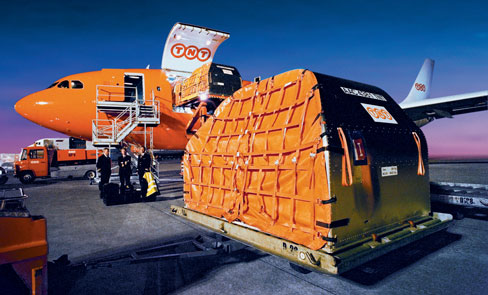 TNT Express has conditionally agreed to the sale of its airline operations to ASL Aviation Group after  European Union antitrust regulators clear UPS's planned $6.9 billion takeover of the Dutch delivery group.
TNT has been seeking an EU-based buyer of TNT Airways and Pan Air Lineas in the wake of its UPS merger agreement in March, to comply with EU rules forbidding non-EU companies from owning or controlling more than 49 percent of an EU carrier.
TNT Airways, based in Liege airport, Belgium, operates 38 freighters connecting approximately 70 European airports with several long-haul destinations, including New York, Shanghai, Dubai and Hong Kong.
Madrid-based Pan Air Lineas operates seven aircraft.
TNT did not give any financial details of the transaction.
ASL Aviation, headquartered in Dublin, Ireland, is 51 percent owned by Compagnie Maritime Belge, a listed Belgian shipowner, and 49 percent by 3P Air Freighters, a private equity fund. The company, which employs close to 1,200 people, generated revenue of around $535 million in 2011.
ASL, which operates and owns a fleet of about 90 aircraft for freight and passenger services, will buy 100 percent of the equity of TNT's airline business immediately prior to the Dutch firm sealing the merger with its larger U.S. rival.  
"This is an important step toward completion of the proposed UPS-TNT Express merger and a positive outcome for the airline employees," said Bernard Bot, TNT interim chief executive.
TNT Express said it does not expect the transfer of ownership to impact activities at TNT Airways Liege hub for at least a year following the merger with UPS.
ASL will take over all flights performed by TNT Express's airlines and will become a third-party provider of the merged UPS-TNT group. It intends to maintain TNT Express's hub at Liege.
UPS and TNT are currently negotiating potential concessions with European regulators to address concerns its takeover of the Dutch company would reduce competition in key EU express delivery markets.
EU Competition Commissioner Joaquin Almunia has said the deal raises "serious competition concerns."
UPS argued its case at an oral hearing with EU officials in Brussels on Nov. 12.