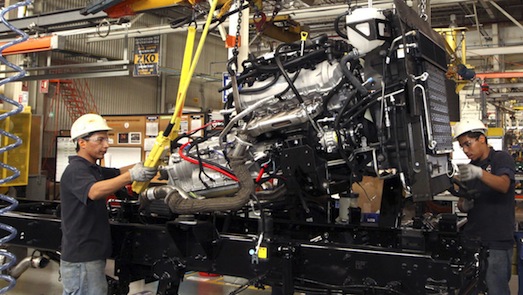 ANAHEIM, Calif.— Prospects for nearshoring, which is the transfer of business to a nearby country, have never looked better as U.S. companies turn to Mexico for the production of a variety of industrial and consumer goods.
Railroads are especially excited about the prospects for more U.S. nearshoring in Mexico because intermodal rail offers certain advantages that they believe will shift freight from over-the-road trucking to rail.
"The penetration in Mexico of intermodal is low," said John Panzer, assistant vice president of intermodal marketing at the Union Pacific Railroad. Panzer told the annual Transcomp conference sponsored by the National Industrial Transportation League and the Intermodal Association of North America that less than 15 percent of the cross-border traffic moves by intermodal rail.
Co-production along the U.S.-Mexican border has been under way for a number of years as thousands of maquiladora, or sister plants, in Mexico assemble parts and components that are produced in the U.S. or in Asia.
The new wave of nearshoring involves production not only along the border but deep into Mexico. Companies that had been sourcing most of their product in China are shifting some production to Mexico.
The reasons why nearshoring in Mexico is growing are compelling. Dan Vits, general manager of transportation at Bridgestone America, said the wages in Mexico are getting close to the cost of labor in China as wages in China increase.
Transportation costs and time to market are important considerations. Panzer noted that because the two countries share a common border, with well-established cross-border infrastructure, transportation costs are lower than in the U.S.-Asia trade. Time to market is measured in days, not weeks. That cuts down on inventory carrying costs.
Other factors such as sharing the same time zones and cultural similarities also play into the growth of nearshoring.
Added to those advantages is the strong support of the Mexican government. This support is reflected in the growth of foreign direct investment and improvement in the education system. Mexican universities are graduating a large number of engineering students who are finding ready employment in the manufacturing sector.
Products that are benefiting from nearshoring include appliances, automobiles and auto parts and food and beverages, all of which are candidates for intermodal transportation.
Drug-related violence in northern Mexico and hijackings of trucks are still problems, but intermodal rail is able to mitigate some of these issues because trains remain in motion, said Michael Burns, chief financial officer at Pacer Transportation Solutions.
Managing the cross-border movements is crucial to a seamless supply chain. Burns said shippers are looking for equipment availability in Mexico, a diverse portfolio of service options, supply chain visibility and expert transportation management when they consider intermodal.
Rail's challenges begin with a basic unfamiliarity in Mexico with intermodal, Panzer said. Also, intermodal there is often more complex than in the U.S. because more hand-offs are involved. Moreover, there is an imbalance in equipment, as southbound movements penetrate deep into Mexico, but northbound shipments tend to originate closer to the border.
Contact Bill Mongelluzzo at bmongelluzzo@joc.com and follow him at twitter.com/billmongelluzzo.