With the U.S. and Europe struggling to escape recession, and China's stellar economy displaying signs of exhaustion, it's tough to find a region of the world that's thriving on the logistics front. But here's a hint: Follow the money — the oil money, that is.
Big-ticket investments in air, ocean and rail freight manufacturing is transforming the Middle East into a major global logistics hub, even as part of the region is mired in a geopolitical quagmire. Although Syria's bloody conflict threatens to destabilize the region, Saudi Arabia and the Persian Gulf states are taking advantage of record high oil revenue to create a transportation cluster rivaling the hubs of the West.
The Middle East already is a major player in the global air cargo industry as regional airlines and airports take advantage of their location between the giant European and Asian markets. The region now accounts for 11.5 percent of the $70 billion global air freight market, up from 5 percent a decade ago, while it has just 8 percent of the world passenger market, according to the International Air Transport Association.
And its market share is growing as traffic declines in other recession-mired regions: Middle East carriers boosted volume by 16.4 percent in September from a year earlier, while the Asia-Pacific region was down 2.3 percent, North America declined 1 percent and Europe, 0.8 percent.
Emirates SkyCargo has ousted Lufthansa Cargo as the world's third-largest freight airline. Its Dubai hub, which handled nearly 2.7 million tons of cargo in 2011 to overtake Frankfurt as the world's seventh-largest cargo airport, is set to overtake sixth-ranked Paris Charles de Gaulle this year. With cargo allotted a stake of the airport's $7.8 billion Strategic Plan 2020, Dubai is likely to climb higher in the world rankings.
Other regional carriers also are flexing their cargo muscles, led by Qatar Airways, which is converting 15 passenger jets into freighters and paid nearly $300 million for a
35 percent stake in financially troubled Cargolux, the world's 10th-largest cargo carrier last year. It could achieve CEO Akbar al Baker's target of becoming "one of the major players in cargo" by 2015, two years ahead of schedule, by taking majority control of Cargolux when the Luxembourg-based carrier executes a planned $750 million recapitalization in January. Meanwhile, Cargolux is expected to transfer its maintenance unit to Qatar to cut costs.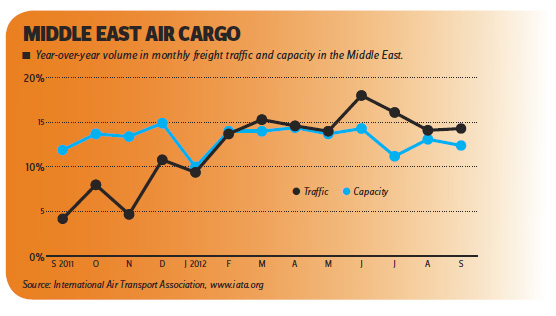 Saudia Cargo and Etihad Crystal Cargo also are boosting their freighter fleets and expanding their all-cargo networks at a time when leading Western operators such as Luft-hansa and Air France-KLM are cutting back.
The Middle East container shipping market is also on an extended upswing, with Persian Gulf and Red Sea ports  boosting traffic to an estimated 33 million 20-foot-equivalent units in 2011 from 25 million TEUs in 2008 as they avoided the global slump that cut volumes in most other regional markets.
The region's container terminal operators are adding capacity frantically to keep pace with surging trade, particularly on Asian routes. Dubai's DP World, the world's third-largest port operator, is expanding annual capacity at its flagship Jebel Ali terminal by 5 million TEUs to 19 million TEUs in 2014, to pull alongside European giants such as Rotterdam and Hamburg.
Neighbouring Abu Dhabi is catching up, opening a 2.5 million-TEU-a-year terminal at the Port of Khalifa in September that can double its capacity within 15 months and go as high as 15 million TEUs depending on market growth.
Saudi Arabia plans to boost capacity to 15 million TEUs in 2020 from 9 million TEUs now to keep pace with rapid growth; container volumes surged 26 percent at Jeddah and 21 percent at Damman in the first half of 2012. Most recently, Singapore's PSA International formed a joint venture with Damman to develop and manage a second 1.8 million-TEU terminal on Saudi Arabia's gulf coast.
And it's not just containers: the Port of Salalah in the far south of Oman near the border with Yemen, which handled 3.2 million TEUs in 2011, plans to more than double its annual general cargo capacity to 26 million tons. The port could become a major regional trade hub because its location outside the Gulf of Hormuz reduces the Arab Gulf nations' vulnerability to Iranian threats to close the vital waterway.
Although most investments are driven by governments, the region is seeing the growth of private companies. Sharjah-based Gulftainer, the Middle East's biggest private port operator, boosted its first half box volume by 23 percent and is set to close the year topping 3.5 million TEUs at the Khorfakkan terminal and the smaller Sharjah Container Terminal. The company has moved out of its United Arab Emirates home base, with investments in the Russian Baltic port of Ust Luga, Umm Qasr, Iraq, and Recife, Brazil.
Agility, the $5 billion-a-year Kuwaiti logistics group, is reaping the benefits of a two-year restructuring, even as it faces U.S. fraud charges over multibillion-dollar supply contracts with the U.S. Army during the Iraq war. 
Ocean carriers are beefing up their presence in the region and introducing larger vessels in response to surging trade, particularly on gulf-Asia routes, which have grown by 12 to 15 percent annually during the past five years. Ships of 2,000 to 4,000 TEUs, which accounted for half of the Asia-Middle East trade at the beginning of 2012, now make up only 5 to 10 percent, with the dominant size now 4,000 to 6,000 TEUs, according to broker Howe Robinson.  
Unlike Western cargo airlines, ocean carriers don't face much local competition. Dubai-based United Arab Shipping Co. joined the big leagues this year with the introduction of nine 13,500-TEU ships in the Asia-Europe trade. But with no further vessels on order, UASC isn't likely to improve its 19th-place world ranking with a fleet totaling 270,024 TEUs and a market share of just 1.6 percent, according to industry analyst Alphaliner. 
Unlike in much of the world, container shipping's medium-term outlook is bullish in the Middle East as Iraq steps up efforts to repair its crumbling infrastructure and kick start its battered economy. Maersk Line's decision this year to open a branch office in Basra underscores the potential of the Middle East's second-largest oil exporter, which has a market of 31 million consumers.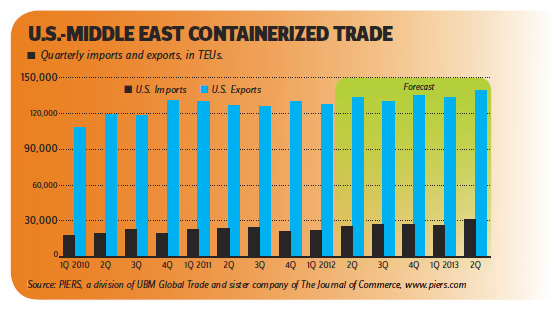 The gaping imbalance between inbound and outbound traffic in Middle East liner trades is narrowing steadily because of massive downstream investments in petrochemicals, aluminium, steel and manufacturing as Saudi Arabia and the Persian Gulf states seek to lessen their dependence on oil and gas and increase their containerized exports.
Middle East ports shipped out more than 1 million TEUs of petrochemical exports in 2011, up 50 percent in five years, according to industry analysts who forecast a doubling of traffic within the next three to four years.
The Persian Gulf region's role as a sea-air transshipment hub, with ocean carriers dropping off Asian imports and airlines flying them on to their destinations in Europe, also is growing as heavy-lift and project cargo shippers seek a trade-off between freight costs and delivery times on shipments from Europe.
Almost unnoticed, rail freight is poised for stellar growth, with more than $100 billion expected to be spent by the end of the decade to lay 3,750 miles of track on national rail routes and a line linking the six members of the Gulf Cooperation Council: Saudi Arabia, Bahrain, the United Arab Emirates, Qatar, Kuwait and Oman.
The pan-gulf line will carry 29 million of the total 61 million tons of freight transported across the six countries when it opens in 2016, according to a GCC feasibility study.  
Some analysts believe the Middle East's spending spree will result in overcapacity, particularly at its container terminals, while some costly projects are sure to end up as white elephants. Although that may be true, right now the region's transport and logistics community is scrambling to build a truly global trade hub.  
Contact Bruce Barnard at brucebarnard47@hotmail.com.