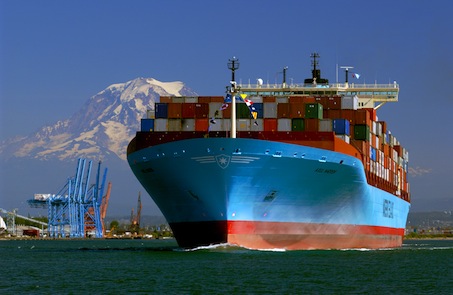 Container shipping lines are posting profits again, but they aren't ready to celebrate.
Two reasons: Carriers' third quarter profits follow a string of quarterly losses or narrow profits. And the improved results may prove short-lived if an expected 7 to 9 percent rise in capacity next year outstrips cargo demand and undermines the recent recovery of rates on several trade lanes.
Nevertheless, container lines' success in strengthening rates and holding down costs has given carriers a glimmer of hope that they can continue their profitability through the fourth quarter and into 2013.
Maersk Line, the world's largest container carrier, posted a third quarter profit of $498 million, compared with a $289 million loss a year earlier, and said it expects "a modest positive result in 2012 based on higher average rates in the second half of the year."
"Maersk Line has done what they set out to do when we entered the second quarter and will continue their efforts to secure rates at a level where we can achieve a fair return on our investment," said Nils S. Andersen, CEO of A.P. Moller-Maersk Group. Maersk recently announced January rate increases of $1,500 per 40-foot-equivalent unit for refrigerated cargo.
The Danish carrier's average rate rose 5.7 percent year-over-year to $3,022 per FEU in the third quarter. Volume was flat at 2.1 million FEUs, despite a 15 percent drop in head-haul volume in the Asia-Europe trade. Declines in fuel consumption and improved network optimization cut per-container costs 6 percent.
Other major carriers also reported mostly improved results for their container operations.
Neptune Orient Lines' APL posted third quarter core earnings of $55 million before interest and taxes, compared with an operating loss of $88 million a year earlier. NOL posted a groupwide net profit of $50 million, its first quarterly net profit since the fourth quarter of 2010.
Despite the third quarter profit, NOL's net loss through September widened to $321 million from $158 million a year earlier. APL's operating loss for the first three quarters totaled $184 million, compared with $149 million a year earlier. NOL warned that "the macroeconomic outlook remains weak and the container shipping industry continues to face overcapacity and high fuel prices."
South Korea's Hanjin Shipping reported a consolidated operating profit of $64 million in its third quarter, compared with an operating loss of $157 million a year earlier, as revenue rose to $2.2 billion from $1.9 billion.
Currency conversion losses resulting from the Korean won's appreciation against the dollar left Hanjin with a $42 million net loss, compared with a $1 million net loss a year earlier. Carriers' expenses are largely in their home currency while revenue is collected in dollars.
China Shipping Container Lines posted net profit of $157 million, reversing a $148 million loss a year earlier, but the improved performance was partly because of $29 million in non-operating income and $74 million in income tax benefits. Operating profit, including interest expenses, totaled $57 million.
China Cosco Holdings, parent of Cosco Container Lines, posted a $242 million net loss, a 26 percent improvement from a year earlier. China Cosco's did not break out results of individual business segments, but its losses are primarily from its dry bulk shipping unit.
Japan's three main ocean carriers posted improved results in their latest quarter, and said higher trans-Pacific rates offset a weakening Asia-Europe market. "K" Line, NYK and MOL cited slowing global economic growth, high bunker fuel prices and a strengthening yen as challenges. All pledged to continue cost-cutting efforts.
"K" Line's container unit posted recurring ordinary income of $40 million on revenue of $1.75 billion, as trans-Pacific volume jumped 26 percent and global volume totaled a record 871,000 20-foot-equivalent units. CEO Jiro Asakura said Europe-bound shipments are expected to remain sluggish, but that "despite lingering uncertainty, we expect steady cargo movements for North America-bound transportation, given some signs of the U.S. housing market hitting bottom."
NYK's liner unit posted ordinary income of $20 million, up 15.9 percent from a year earlier, on a 3.9 percent rise in revenue to $1.45 billion, excluding NYK's terminals and logistics units. NYK said it and other carriers are continuing to try to boost rates and adjust schedules to deal with an influx of large, new ships.
Chilean carrier CSAV reported its first profitable quarter since 2010, with earnings before interest and taxes of $37.3 million, compared with an operating loss of $354.9 million a year earlier, adjusted for the spinoff last February of tugs and terminal operator SAAM. Net profit totaled $55.8 million, compared with a $140.2 million loss a year earlier.
Contact Joseph Bonney at jbonney@joc.com and follow him at twitter.com/josephbonney.