A continuing tight labor market in China is rapidly eroding that country's share of U.S. footwear imports, as other nations like Vietnam are growing, according to a new JOC analysis.
China remained the dominant source of U.S. containerized footwear imports through the first three quarters of 2012, accounting for 71.3 percent of imports through U.S. ports, according to data from PIERS, a JOC sister company. However China is seeing its share erode faster than in other commodities in which it has a dominant position, such as toys. Its share through the first three quarters dropped from 74 percent, representing a loss of 2.7 percentage points in market share over the past year. Meanwhile, smaller exporters are seeing their share rise; Vietnam, for example, increased its share of U.S. imports from 7.4 percent to 9.4 percent through September. Other exporting nations that saw market share increases were Indonesia, Brazil, India and the Dominican Republic. 
"The biggest problem for footwear exporters in China is to find enough workers," said JOC Economist Mario Moreno, who toured footwear plants in China last month. "Labor supply in labor-intensive industries is very tight, which has prompted many owners to move their factories inland, but even then they are still struggling to find enough workers for their export production activities. Many owners have relocated their shops to Vietnam in  order to lessen their labor supply problems in China, which explains why we are seeing Vietnam to continue gain more share of US footwear imports this year.
Overall, U.S. containerized footwear imports saw an accelerating decline in the third quarter, dropping more than 20 percent in the fifth straight year over year quarter of decline, according to data released by PIERS, a JOC sister company.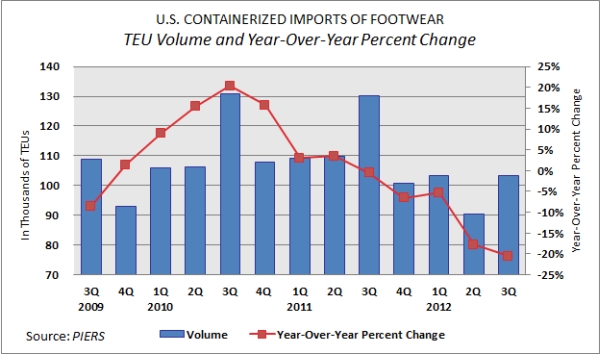 Footwear imports in the third quarter were 103,464, down from 130,179 in the third quarter of 2011. The third quarter decline followed a nearly 18 percent decline in the second quarter and a 5.3 percent decline in the first quarter, versus the corresponding quarters in 2011. The third quarter 2012 imports grew 14.6 percent versus compared to the 2012 second quarter.