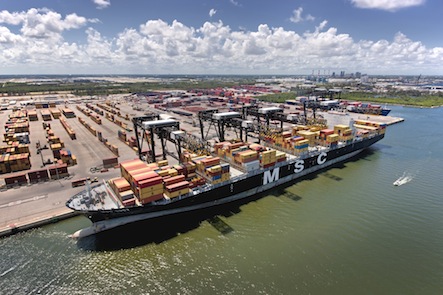 ANAHEIM, Calif. — The ports of Miami and Port Everglades and the Florida East Coast Railway are deploying a "build it and they will come" strategy to position South Florida as a gateway for trade with Asia in the new era of big ships.
The multimodal strategy includes deepening the Port of Miami, and later Port Everglades, to a 50-foot depth in preparation for the widening and deepening of the Panama Canal in 2015.
The strategy also includes construction of on-dock railyards that will help to increase South Florida's intermodal traffic to about 20 percent of port volume, from 10 percent today, said Jim Hertwig, president and CEO of Florida East Coast Railway, who spoke at the National Industrial League Exhibition and Intermodal Association of North America Expo Tuesday in Anaheim, Calif.
FEC Railway will do its part by connecting the ports to the railroad's terminus at Jacksonville, Fla., where FEC interlines with the extensive routes provided by the Class 1 Norfolk Southern and CSX railroads, he said.
Port competition to attract mega-ships with a capacity of up to 13,000 20-foot-equivalent containers is intense throughout the U.S. port industry, but more so in the South Atlantic where Charleston, Savannah and Miami all believe they have an edge in becoming the load center for the region.
None of the South Atlantic ports have the 50-foot harbor depth needed to accommodate fully-laden 13,000-TEU ships, but they all have plans — and funding — to deepen their harbors. Miami's 50-foot harbor-deepening project should be completed in late 2014, and Port Everglades is shooting for 2017, Hertwig said.
While harbor deepening is the price of admission into the era of giant ships, the South Florida gateway strategy is built upon an intermodal service that will serve the entire Southeast, the nation's fastest-growing region, within two to three days.
FEC Railway, which operates on 351 miles of tracks between South Florida and Jacksonville, already provides the link with the CSX and NS routes that reach Charlotte, Atlanta and Nashville in two days and Memphis in three days, in addition to serving Florida and its population of 19 million.
Hertwig said a large retailer recently did a test run from Asia, with one shipment moving through Miami and on to Atlanta via rail, while a second shipment that left Asia on the same day was routed through Savannah. The shipment routed through Miami reached Atlanta before the other vessel docked in Savannah, Hertwig said.
To sell itself as a first-call inbound from Asia, Miami must develop a robust menu of services from Asia, which it lacks today. Miami has an operational advantage in that the port is only two miles from the sea buoy, which cuts down on piloting costs. Miami will soon have a seamless connection with Interstate 95 when it completes construction of a tunnel that will divert truck traffic from the downtown area.
South Florida will also have a new logistics center, intended to attract warehousing and distribution centers to serve major retailers.
Contact Bill Mongelluzzo at bmongelluzzo@joc.com and follow him at twitter.com/billmongelluzzo.