Containerized U.S. imports of toys inched upward in the third quarter, growing 0.3 percent versus the third quarter of 2011, according to data from PIERS, a JOC sister company. During the quarter 159,976 20-foot-equivalent units of toys were imported through U.S. ports, up from 159,515 TEUs in the third quarter of 2011, PIERS reported.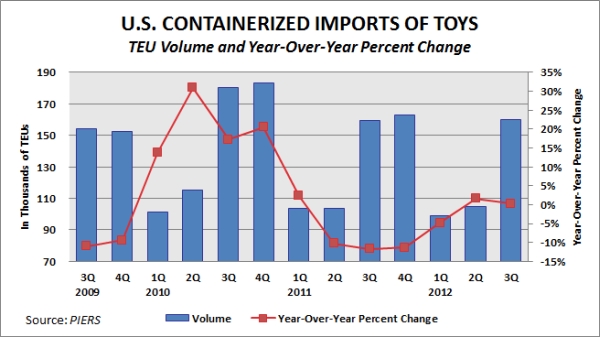 Although slight, the third-quarter year-over-year increase was a substantial improvement over the situation a year earlier, when third-quarter toy imports dropped more than 11 percent versus the 2010 third quarter. Similarly, second-quarter toy imports last year dropped more than 10 percent versus the second quarter of 2010, whereas 2012 second-quarter toy imports increased 1.7 percent versus the same quarter in 2011.
Mainland China not including Hong Kong remained by far the largest source of U.S. containerized toy imports, accounting for 81.2 percent of imports in the first nine months of 2012. China's position in toys is slipping, however slightly. Its volumes in 2012 through September were down 2 percent compared to the same period in 2011, and its market share was down more than a full percentage point, from 82.4 percent last year. The next largest sources of U.S. toy imports through September were Hong Kong, Vietnam, Taiwan, Germany, Indonesia and Israel.