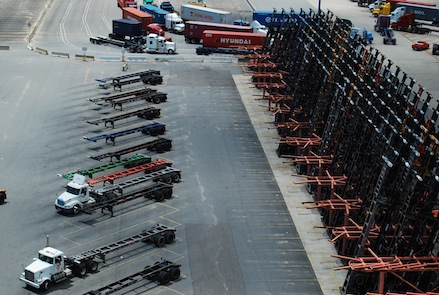 ANAHEIM, Calif. — After taking tentative steps the past three years to develop a new chassis regime, the transportation community in the U.S. moved boldly in 2012 to replace ocean carrier-owned chassis with equipment owned and managed by terminal operators, truckers or leasing companies.
Five ocean carriers this year announced they would cease to provide chassis in certain markets, making more than 10 shipping lines that have exited partially or totally from the chassis business during the past two years.
Also this year, the International Longshoremen's Association on the East Coast signed an agreement with shipping lines on equipment maintenance and repair, said Steve Rubin, principal of InterProadvisory.
Two weeks ago, the Virginia ports announced formation of a portwide trucker model, and Los Angeles-Long Beach, which are landlord ports, formed a working group with private stakeholders to discuss various chassis models that might work in the nation's largest port complex.
"They said, we have to get control of this process before it gets control of us," Rubin told the annual Transcomp Exhibition and Intermodal Exposition sponsored by the National Industrial Transportation League and the Intermodal Association of North America Monday in Anaheim, Calif.
Motor carriers are probably affected more than any other industry by the move of carriers since 2009 to cease providing chassis to trucking companies. Earlier this year, 10 motor carriers got together to form the North American Chassis Pool Cooperative. They will contribute chassis to neutral pools such as the one operated by Consolidated Chassis Management.
"The way to have a say is to own some assets," said Dave Manning, president of Tennessee Express.
Retailers and other cargo interests likewise have a big stake in the new chassis regime, because they will most likely have to pay for the use of chassis that for the past 50 years were provided basically free of charge by ocean carriers for a specified number of days.
Cargo interests so far have not experienced a major impact, because carriers are still offering store-door rates that include movement of the container and chassis to the importer's warehouse under one all-inclusive charge.
However, cargo interests are watching developments closely, and they know significant changes are coming, said Jonathan Gold, vice president of supply chain and customs policy at the National Retail Federation.
Railroads also face major changes, because they receive thousands of chassis each week at their inland container yards.
The current evolution of the new chassis regime that includes at least five different models with a number of different providers is not ideal, said Barry Michaels, vice president of intermodal operations at the Union Pacific Railroad.
It makes most sense at railyards to have one pool with one provider, although Michaels said he is aware of the fact that a more complex system is being developed.
Contact Bill Mongelluzzo at bmongelluzzo@joc.com and follow him at twitter.com/billmongelluzzo.