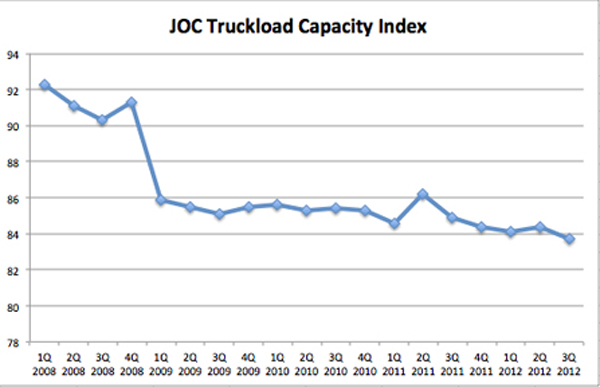 The Journal of Commerce Truckload Capacity Index dropped 0.7 percentage points in the third quarter, a sign that capacity contracted alongside freight demand.
The index hit a four-year low point with a reading of 83.7 for the third quarter as truckload carriers tracked by the JOC continued to pare back their tractor fleets.
The decline in the index runs counter to other indicators that suggest capacity should be increasing slightly, including slower growth in tonnage and rates.
However, only two of the seven truckload carriers tracked by The Journal of Commerce for the capacity index increased the size of their fleets in the quarter.
The index has ranged between 84.1 and 86.2 since the end of 2009, after plunging 5.4 percentage points from the end of 2008. It is based on the fourth quarter of 2006.
"The index hitting a new low tells us the economy hasn't slowed enough to tip us toward overcapacity in the truckload market," said Senior Editor William B. Cassidy.
"Truckload carriers continue to balance tractor counts and freight demand carefully while working to get the most productivity they can out of their fleets."
The index is based on actual end-of-quarter tractor counts at a group of large, publicly owned carriers with combined annual revenue of more than $10 billion.