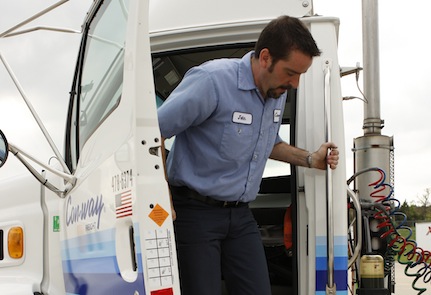 The much-reported truck driver shortage is not an immediate crisis for trucking companies and shippers, but they need to act decisively now to counter long-term trends that will tighten the supply of available drivers over the next decade.
That was the consensus reached during a JOC Webcast Thursday on whether the trucking industry, and in particular truckload carriers, can solve recurrent driver hiring problems that threaten to raise transportation and logistics costs.
"There is no marketplace crisis," said Noël Perry, economist and principal of Transport Fundamentals. "What we have is a prediction of a crisis" as demographic trends, federal regulations and other factors squeeze the work force in coming years.
"We are producing fewer young people than we did in the last decade," Perry said. "The average number of people entering the work force each year is about 800,000 now and will be near the 600,000 mark by the end of the 'teens,'" he said.
In the long term, that means more competition among industries for fewer new workers, a trend already claimed to contribute to shortages of skilled workers across many industries, including transportation, technology and health care.
Low or inconsistent pay, long hours and weeks away from home and tightening federal regulations that make it harder for drivers to increase or maintain pay rates all contribute to the difficulty carriers face recruiting and keeping truck drivers.
"To remain relevant, trucking companies must attract new individuals to become professional drivers," said Bert Johnson, vice president of human resources and driver recruitment at Con-way Truckload, a 3,000-driver truckload carrier.
"A partnership of government, trucking companies and their customers needs to be established to jointly solve these problems," Johnson said. "Trucking companies need to come together to resolve issues" leading to high driver turnover, he said.
Although trucking executives frequently acknowledge comparatively low and uncompetitive driver pay is a leading cause of their hiring difficulties, driver pay has yet to climb sharply, Perry and Johnson said.
"It has gone up, but not as much as I expected," Perry said. "It still is below peak levels achieved in 2005." Johnson said carriers are reluctant or unable to raise pay much without rate increases from their customers.
Truckload pricing has flattened out in 2012, with rates rising only 0.9 percent year-over-year in October and 0.5 percent in September, according to Cass Information Systems. 
Con-way Truckload has increased compensation and reduced the amount of time drivers must wait at shipper docks before "detention pay" kicks in. 
In the short-term, the inability of carriers to hire drivers quickly is a major cause of "shortages," Perry said. "For each person who is hired, an average carrier has to evaluate 20 or more applications. It takes a large investment to hire people."
High driver turnover at truckload carriers exacerbates the problem. The average turnover rate for large truckload carriers reached 106 percent in the second quarter, a 16-point surge from the first quarter and 29 percentage points above the second quarter of 2011, according to the American Trucking Associations.
"High turnover particularly means you have to hire three times as many people, and the recruiting apparatus gets behind. This is the reason in the short run we have driver shortages," he said. "In the long term, the problem gets tougher each year."
Just how big is the driver shortage? That depends on the measuring stick you use, but in the fourth quarter of 2012 it is not very big, Perry said. "There's enough work for about 2.6 million full-time truck drivers, and we're short about 100,000."
That's normal for an economic recovery cycle, he said. The ATA estimates a smaller shortage — 20,000 to 25,000 drivers — but is calculating that figure on a smaller base of 750,000 truckload tractor-trailers.
In a recent white paper on the driver issue, the ATA estimated trucking companies need to hire about 100,000 drivers a year to keep up with demand for drivers. A shortage could grow to 239,000 drivers over the next decade, the association said.
Perry agreed the problem could get much worse in coming years, and even as early next year if a stronger economic recovery combines with increased trucking demand related to storm reconstruction efforts in the Northeast.
"Hurricane Sandy (reconstruction) could add about $14 billion in additional trucking revenue over the next nine months," Perry said. In the fourth quarter, reconstruction demand could increase trucking revenue 2 percent, he said.
If stronger economic growth combines with tougher driver work rules and requirements and additional, unexpected demand for truck capacity from relief and rebuilding programs, carriers could be challenged to find drivers, Perry said.
Carriers have been concerned about a driver shortage since the recovery began three years ago, and 90 percent of the truckload carriers surveyed by the ATA said they have trouble finding drivers who meet increasingly stringent qualifications.
The reason the shortage isn't worse is that the economy is growing so slowly. The expected capacity crunch hasn't materialized in this recovery because economic growth has slowed, falling to a crawl in the second and third quarters of 2012.
Hiring at for-hire trucking companies slowed as well, increasing only 2.2 percent in the first nine months of 2012, compared with a 2.6 percent payroll gain in the same period in 2011, according to data from the U.S. Bureau of Labor Statistics.
Trucking employment rose 0.2 percent in October from September and 3.6 percent year-over-year, lifted by a stronger uptick in numbers than in the previous three months, reflecting a slow increase in freight demand noted by some carriers.
Post-recession, trucking executives are much more conservative when it comes to adding capacity, either by putting more trucks on the road or hiring drivers, until the bottom-line benefit of that additional capacity is evident, Perry said.
Can the "driver shortage" be solved and a potential supply chain crisis avoided? "Yes," Perry said. But the solutions won't come cheap for carriers or shippers.
"You have to pay (drivers) more or get them home more often," he said. "In either case it means higher rates, because you have to cover the cost of higher pay or getting them home more often. This has a big shock impact on the whole system."
To listen to the entire Webcast, register at http://tinyurl.com/Nov8ONDEMAND.
Contact William B. Cassidy at wcassidy@joc.com and follow him at twitter.com/wbcassidy_joc.