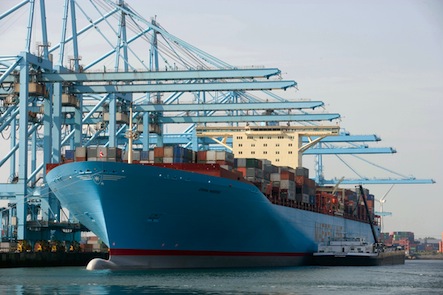 Maersk Line swung to a third quarter net operating profit of $498 million from a year-earlier loss of $289 million on higher ocean freight rates, cost savings and a lower fuel bill.
The Danish carrier, the world's largest, said it still expects a "modest positive" result for the full year as higher rates in the second half offset modest global demand.
But Nils Andersen, CEO of parent A.P. Moller-Maersk, cautioned freight rates could still reverse. "I think one should be careful expecting that this is now very stable. But so far we are happy that the price discipline has improved," he said.
The improved Maersk Line result helped A.P. Moller-Maersk to grow third quarter profit to a better-than-expected $933 million from $371 million in the third quarter of 2011.
Maersk Line revenue rose to $6.96 billion in the quarter from $6.58 billion a year ago as a 5.7 percent increase in average freight rates to $3,022 per 40-foot-equivalent container offset stagnant traffic at 4.2 million 20-foot equivalent units.
Earnings per FEU, excluding divestment gains and net impairment losses, improved by $365 on each container compared to the third quarter of 2011 on higher freight rates and lower unit costs.
The carrier continued slow-steaming during the quarter to cut capacity, which resulted in a 14 percent decrease in bunker consumption per FEU compared to a year ago. Combined with a 1 percent reduction in the fuel price, this trimmed Maersk's bunker bill by 15 percent to $1.6 billion.
Volume on the Asia-Europe trade slipped 8 percent, but rates were 19 percent higher while traffic on North America routes grew 8 percent and freight rates, 6 percent. Volume in Africa trades slumped 11 percent and intra-Europe traffic was down 5 percent.
APM Terminals operating profit fell to $160 million from $173 million, and revenue was $18 million lower at $1.19 billion because of the slowdown in the Asia-Europe trade, which impacted larger terminals on both sides of the route.
Total traffic increased, however, by 4 percent, to 9 million TEUs, because of stronger growth in Africa and the Americas.
The share of non-Maersk Line traffic grew to 50 percent from 46 percent in the third quarter of 2011.
The company still expects its full-year result to beat the $648 million profit in 2011.
Damco, A.P. Moller-Maersk's stand-alone logistics unit, booked an operating profit of $15 million against $25 million a year ago as revenue grew to $849 million from $783 million. 
Contact Bruce Barnard at brucebarnard47@hotmail.com.