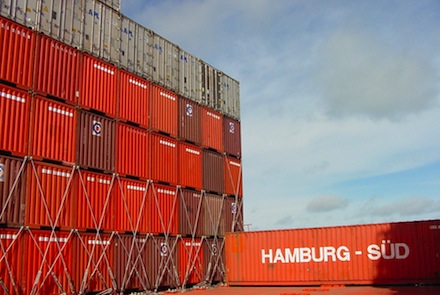 The glut of global vessel capacity next year and the year after is beginning to look like 2012 all over again, and the bad news is sinking in. "We must learn to live with overcapacities," Maersk Line CEO Soren Skou told a Hamburg conference in October.
Facing freight rates on the Asia-Europe trade that again turned unprofitable in the third quarter, carriers are just beginning to cut back on deployed vessel capacity on that trade. Maersk Line, the G6 Alliance, the CKYH Alliance and Hanjin Shipping have suspended or even eliminated some Asia-Europe services, but many observers say it won't be enough to sustain rates in 2013, when scheduled ship deliveries will add 7 to 9 percent to the world fleet, while demand is forecast to grow 4 to 6 percent.
"Simple math suggests there is not enough growth to keep these assets full," said Esben Christensen, director of the Global Maritime Practice at consulting firm AlixPartners. "The second problem the carriers have is that they have already pulled a lot of the levers to absorb capacity, such as slow-steaming, so they will probably start idling vessels." Carriers that already have idled about 6 percent of the global fleet are likely to start idling more ships in the next few weeks as the peak season winds down, he said.
But even that may not be enough to restore the supply-demand balance in view of the amount of new capacity scheduled for delivery. Nineteen of the top 21 ocean carriers have new ships slated for delivery in the next 15 months. The only top carriers without new orders coming are United Arab Shipping and Zim Integrated Shipping Services.
The container shipping business has always been marked by boom-and-bust cycles, but in the past those cycles have occurred over a number of years. The problem now is that the cycles are getting shorter. The boom carriers enjoyed in the years leading up to 2008 went bust in 2009. Carriers were able to cut capacity enough in 2010 to regain profitability. But in early 2011 they engaged in a rate war on the Asia-Europe trade that plunged them into the red again, before they regained profitability in the second quarter of this year. Some may earn a profit for this year as a whole, while others are forecasting losses.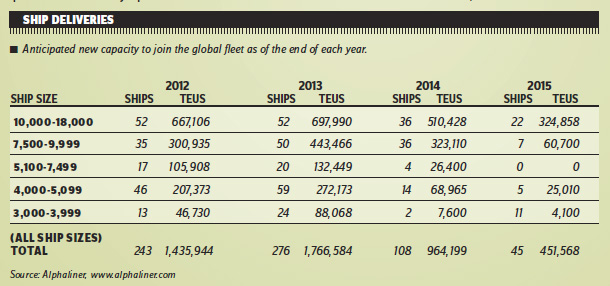 "The lows are getting more severe – limited only by carriers' capacity to stomach losses," Alphaliner analyst Hua Joo Tan told the JOC's TPM Asia Conference in Shenzhen last month. "Over the next 12 months we will see significant fluctuation of capacity being taken out and being put back in, and this will lead to a significant level of volatility at least as far as the spot markets are concerned."
The problem is that as soon as carriers are able to reduce capacity enough to support their general rate increases for any length of time, they are tempted to return capacity to a trade so they can maintain or increase their market share. That, in turn, undermines rates. Unless they can idle enough ships this winter, carriers could extend their losses into next year.
The overcapacity is particularly acute in the Asia-Europe trade. "The current scenario in the Asia-Europe trades clearly shows that load factors are weak and rates have been falling on a weekly basis for some time," said Neil Dekker, head of container research for Drewry Shipping Consultants in London. Although carriers have suspended several loops for the winter, and Maersk Line has ended its AE-5 service from Asia to Europe, "not enough has been done as a whole and certainly not on the Mediterranean trade," he said.
The Drewry Annual Container Market Review published in October forecast the container fleet will increase by 7.3 percent in 2013 after scrapping and delays in deliveries, while demand for container shipping space will increase only 5 percent.
"This is not a great template for the carriers to continue upgrading their Asia-Europe services with more 10,000-plus-TEU ships and at the same time push through rate increases unless they are able to engage in much more effective capacity management at the individual trade route level," Dekker said. "It is clear that more definite actions need to be taken by the carriers and this will include additional slow-steaming to absorb capacity and the real possibility of laying up more and indeed bigger ships."
Carriers are trying to maintain a brave front, at least in public. "I am optimistic that we can avoid a rate war," NOL CEO Ng Yat Chung told the TPM Asia Conference. "In spite of the huge capacity now coming in, carriers are not adding effective capacity to win market share. When the business is not there in Asia-Europe, carriers withdraw capacity."
But analysts remain skeptical. "Capacity reductions are necessary but difficult to implement," Alphaliner's Tan said. "A single carrier is enough to break capacity discipline and trigger a rate war."
AlixPartners, which advises international and domestic U.S. shipping lines as well as shippers, is telling its carrier customers not to count on getting rate increases. "We are advising our customers to focus on reducing costs, to provide a decent product, but in a very cost-efficient manner," Christensen said. "The commoditization trend has already occurred. At this point, it is a matter of who can run it the leanest and most efficiently." 
Contact Peter T. Leach at pleach@joc.com and follow him at twitter.com/petertleach.