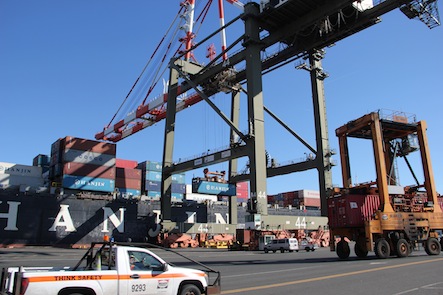 Container terminals at the Port of New York and New Jersey have resumed cargo operations while cleanup and repairs continue in the wake of Hurricane Sandy.
All of the port's five major container terminals — Maher, APM Terminals, Port Newark Container Terminal, Global Terminal and New York Container Terminal — have resumed loading and discharging ships.
The Port Authority of New York and New Jersey said the storm confronted the port with "unprecedented challenges," including a storm surge that swamped marine terminals with nearly four feet of water.
Flooding ruined thousands of automobiles stored at import-export processing facilities at the port. Toyota Motor Sales U.S.A. estimated 75 percent of the 4,000 vehicles at its Port Newark processing center were unsalvageable. Other facilities also sustained heavy damage to vehicles damaged by fast-rising water.
Jim Devine, chief executive at GCT USA, which operates New York Container Terminal on Staten Island, N.Y., and Global Terminal at Bayonne, N.J., described the surge as a "mini-tsnuami."
Terminals were operating on Election Day, normally a longshore work holiday. The work continued while workers sorted damaged containers, checked and cleaned electrical equipment, and examined contents of refrigerated boxes that suffered loss of power.
"It's not the prettiest sight, but we're fully functional," said John Atkins, chief operating officer at GCT USA, describing the situation at Global.
The Bayonne terminal, which occupies a peninsula jutting into New York harbor, was finishing work on its first post-storm vessel Tuesday and was scheduled to begin working another one Tuesday afternoon.
Atkins said electrical systems on the terminal's ship-shore cranes escaped damage, and that terminal gates were fully operational. He said about 200 containers at Global were damaged and numerous pickup trucks and other vehicles. Most of the damaged boxes were empties, he said.
The storm surge damaged two buildings under construction and some modular buildings, and redistributed aggregate at a 70-acre addition being built at the Global site. Atkins estimated that the shutdown and cleanup probably cost the project a week's worth of work.
Electrical motors on NYCT's four largest cranes were damaged by salt water and were sent out for repairs. The terminal has been working ships with two smaller cranes, and is using portable generators.
One of the larger cranes was expected to be back in action today and the rest should be operational by the end of the week, Devine said. Customs and Border Protection is using truck-mounted radiation scanners to replace a damaged unit.
Four containers were washed into the channel and 75 to 100 containers were destroyed at NYCT, Devine said. "The water tossed these container stacks around like they were matchsticks," he said.
Devine praised International Longshoremen's Association workers for their efforts to return NYCT and Global to operation. "The union really stepped up to the plate and worked cooperatively with us. I can't say enough about what they did. Other than looking at the segregated piles of damaged containers, the stacks are neat and dress-right-dress."
Railroads have lifted embargoes on freight to and from the port. Electrical outages continue to affect traffic around the port, and have forced trucks to take alternate routes to and from terminals.
Shippers are dealing with delays, including delivery of containers unexpectedly diverted to other ports, primarily Virginia, by carriers that shuffled port rotations in advance of the hurricane.
By the weekend, the Port of Virginia had handled some 9,000 containers of various sizes, along with more than 3,000 vehicles, that normally would have been discharged at New York-New Jersey.
In related news, Evergreen Shipping Agency has temporarily moved its Jersey City office to another location while repair work is conducted on the building that houses its headquarters
Contact Joseph Bonney at jbonney@joc.com and follow him on Twitter @josephbonney.