Gene Seroka, president of the Americas at APL, sees container shipping capacity exceeding demand for the next couple of years in the east-west trade lanes. APL intends to make it through the difficult times by focusing on cost-cutting until demand catches up with supply.
David Zimmermann, vice president of sales-North America at Maersk Line, believes the road to prosperity for carriers is to tailor their services to meet the individual needs of customers, but only if shippers are willing to pay more for premium service.
"If price is the main driver, then customers will get bare-bones service in the marketplace," Zimmermann said. Seroka and Zimmermann addressed the annual traffic conference sponsored by the Footwear Distributors and Retailers of America on Oct. 23 in Huntington Beach, Calif.
Ocean carriers, and their footwear customers, agreed that a transformational change is needed in liner shipping to end the rate volatility that has pummeled carriers' bottom lines and compromised service for shippers. "We have to end the goofiness of rates going up, down and sideways. It does no one any good," Seroka said.
Carrier profitability has swung wildly in recent years, with a year of deep losses followed by a year of decent profits. The longer-term trend, however, has been decidedly downward. The liner industry, collectively, lost $22.2 billion from 2005 to 2011, Zimmermann said.
Shipping executives concede their industry is as much to blame as anyone for the wild swings in pricing. Carriers routinely undercut each other on rates for a period of time to protect market share, even without customer pressure to do so. "Why do carriers offer below-market rates?" asked Mark Feldman, director of operations at New York-based footwear importer and exporter Valley Lane Industries.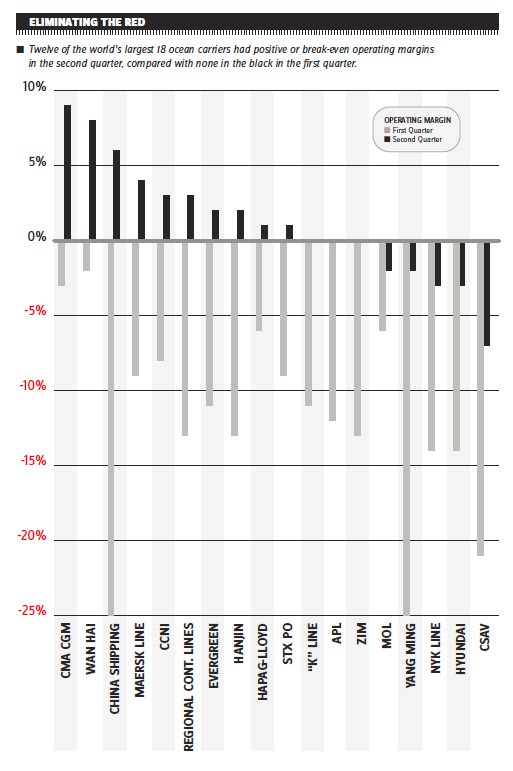 Other than holding onto a customer's business this year with the hope of achieving compensatory pricing in subsequent years, Zimmermann said there is no good reason to charge below-market rates.
Pricing has been unusually volatile this past year, with November 2011 representing the low point in carrier pricing, said Brian Conrad, executive administrator of the Transpacific Stabilization Agreement, a discussion group of 15 of the largest carriers in the eastbound Pacific.
Carriers in late 2011 were wrapping up a disappointing peak shipping season while anticipating additional economic uncertainty in 2012. During those dark months, carriers signed annual service contracts with early-bird shippers at rates that in many cases were non-compensatory. That set a low benchmark for the bulk of service contracts negotiated last spring, Conrad said.
In a remarkable display of fortitude, however, carriers meticulously implemented a half-dozen general rate increases and surcharges, mostly in the spot market, to drive rates up for non-vessel-operating common carriers. The price for shipping a 40-foot container from Hong Kong to Los Angeles shot up from $1,436 at the end of 2011 to a record $2,880 per FEU on Aug. 6, according to the Drewry Container Rate Benchmark.
Although carriers appear to be on track to finish 2012 in the black, they may not be able to survive another year of extreme rate volatility in 2013. Footwear importers, meanwhile, will be placing their orders with overseas factories, but they can't renegotiate the price they pay to the factories based on changes in freight rates during the coming year, Feldman said.
Seroka said he doesn't expect demand and supply in the major trade lanes to be in balance until 2014 or 2015. Carriers are scheduled to take possession of a number of large, fuel-efficient vessels that will boost global capacity by 7 to 10 percent next year. APL, for example, has 34 vessels on order, including 10 ships of 9,200-TEU capacity that are being specially built for the trans-Pacific trade.
Because supply-demand balance in the trans-Pacific is at least a year or two off, meaningful rate increases may be difficult to secure. With that flowing right to the bottom line, APL, the container shipping arm of Singapore-based Neptune Orient Lines, is focusing on the cost side, with the goal of saving $500 million.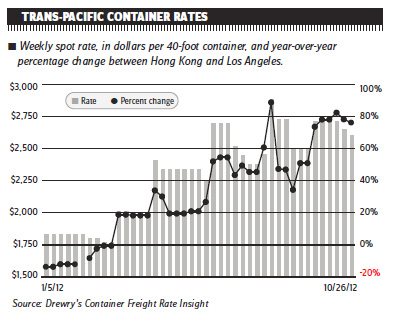 The effort includes slow-steaming of vessels to reduce fuel consumption, participation in vessel-sharing arrangements, emphasizing round-trip economics, including matching outbound loads with inbound containers that have been unloaded nearby, and making terminal operations more efficient through innovations such as tandem-lift cranes.
APL, like most carriers, is reducing its chassis operations as equipment lessors, truckers and chassis pool operators take over that costly part of the business. APL also is investing $300 million in information technology that will reduce operational costs while improving container visibility throughout the supply chain, Seroka said.
Zimmermann said the liner industry is in the midst of a transformation intended to drive value while reducing costs in the supply chain. Offering customers tailor-made service with on-time delivery and assurances of equipment is the type of service many customers want and should be willing to pay for, he indicated.
In today's cost-conscious business climate, however, getting customers to pay a premium price may be difficult, said David Lee, senior vice president at Hong Kong-based third-party logistics provider Encompass Global Logistics. At one time, shippers with time-sensitive cargo were willing to pay for costly airfreight rather than risk losing a customer, but today price is the most important consideration, he said.
The proliferation of vessel-sharing arrangements also has made it difficult for carriers to differentiate their service offerings when the containers of three or more carriers are moving on the same vessel string, Lee noted.
Zimmermann said the new shipping environment also must include more accurate cargo forecasting. In the current system, customers seek to soften rates by underestimating cargo volumes. "Maybe it would be better to incentivize accurate forecasting," he said.
Shortfalls, the term for cargo that is booked but never shows up, also must be addressed, Zimmermann said. Labor and equipment are ordered based on cargo bookings, but about 30 percent of all bookings industrywide end up as shortfalls. Carriers rarely impose shortfall penalties for fear of alienating customers, he said.
A good service contract is one that can survive the "whispering campaign" that occurs in slack periods when vessel utilization rates drop and even a spot rate given to a small shipper moves the entire market, Zimmermann said.
TSA member lines in the 2013 contracting season are taking the unprecedented step of attempting to prevent early-bird contracts from poisoning the market for the majority of contracts that will be signed next April and May. The TSA in September announced rate hikes of $800 to $1,200 per FEU to take effect for all new contracts, including those signed beginning as early as this fall.
For their part, footwear importers are looking for predictability more than anything. Feldman said this past year's experience with multiple surcharges and general rate increases was unnerving. Seroka urged footwear importers to take this issue up with their carriers and develop contracts designed to smooth out the normal seasonal peaks and valleys in the trans-Pacific.
There are commercial tools through which shippers can shield themselves from rate volatility, Zimmermann added. Customers can negotiate multi-year contracts, or they can agree with their carriers on contracts tied to one of several indices that are publicly available. Indexed contracts, which take normal seasonal fluctuations into account by letting rates adjust within a specified range, are relatively new to the market but are growing in popularity.  
Contact Bill Mongelluzzo at bmongelluzzo@joc.com and follow him at twitter.com/billmongelluzzo.