Major U.S railroads may be reaching the end of the line on the sustained profit growth they've enjoyed since the Great Recession, but their loss will be intermodal shippers' gain in the form of improved service and softer pricing from intermediaries.
Total profit gains at the four publicly traded U.S.-based Class I carriers — CSX Transportation, Kansas City Southern Railway, Norfolk Southern Railway and Union Pacific Railroad — slipped 1.6 percent in the third quarter from a year earlier, despite strong growth in intermodal volume and revenue. Intermodal revenue growth, up 7.4 percent, helped offset slumping coal and grain business, but there are signs that, like earnings, intermodal volume growth is slowing.
The four public railroads — the fifth, BNSF Railway, is privately owned and doesn't report quarterly results — registered 5.3 percent growth in third quarter intermodal traffic from a year earlier, compared with the second quarter's year-over-year jump of 6.1 percent.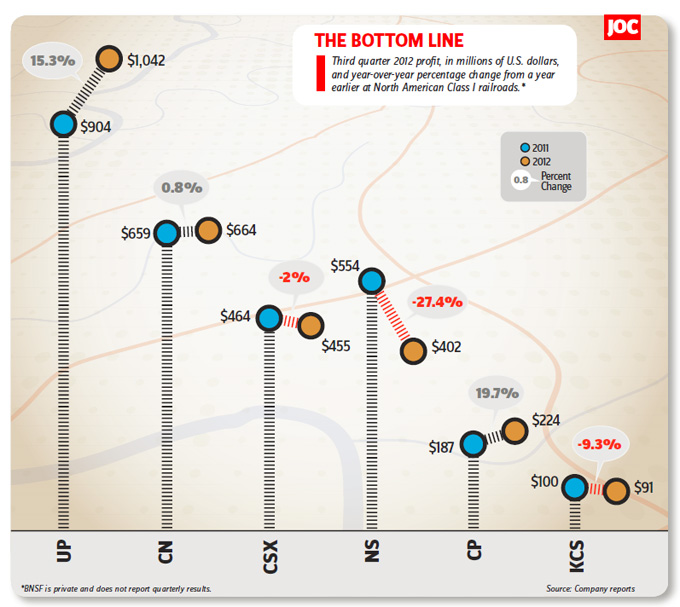 Preliminary quarterly statistics from the Intermodal Association of North America also suggest a slowdown in intermodal volume growth. Total Class I intermodal volume in the third quarter expanded nearly 3.2 percent in the third quarter compared with a 5.2 percent year-over-year volume gain in the second quarter, according to IANA data.
Moderate year-over-year growth of 0.9 percent in international intermodal volume was the main culprit for the slowing of total intermodal traffic expansion. Shippers likely imported container volume more in the second quarter, resulting in less of a need to refill inventories, IANA President and CEO Joni Casey said. The threat of a labor action on the East and Gulf coasts, along with the flattening of peak shipping seasons in recent years, appears to have drained international intermodal of momentum. Domestic intermodal in the same period grew almost 5.8 percent from the third quarter of 2011, a slight deceleration from the second quarter's 6.7 percent year-over-year expansion.
The slowing of intermodal volume is bad news for U.S.-based publicly traded railroads, because total carload and intermodal traffic increased only 0.4 percent in the third quarter and revenue was flat.
The outlook for intermodal shippers looks far better, though. Intermodal intermediaries, including J.B. Hunt Transportation Services and Hub Group, appear to have slowed pricing hikes as new capacity comes on line, and they have to be more competitive with trucking on certain routes. That will lead to "subdued" pricing, Avondale Partners said in a report.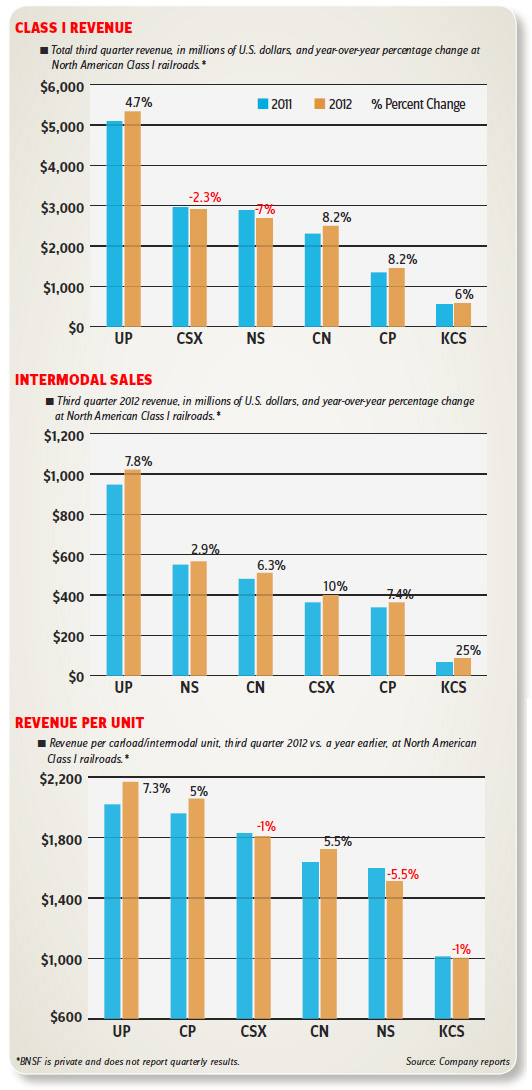 Intermodal pricing in September was flat year-over-year, and although rates rose 1 percent sequentially in each in the previous two months, pricing matched the same periods in 2011, according to Cass Information Systems' intermodal linehaul index.
"Our sense is that core price increases were flat to up 0.5 percent given J.B. Hunt's similarly qualitatively reported positive price increase and the flat year-over-year intermodal pricing exhibited by the Cass Intermodal Price Index," Stifel Nicolaus analyst John Larkin wrote in a research note.
J.B. Hunt's intermodal revenue jumped 15 percent in the third quarter from a year earlier, but revenue per load, a key measure of pricing, was flat. Hub Group's intermodal revenue in the third quarter jumped 11 percent on a 9 percent gain in volume, and Swift Transportation's intermodal business skyrocketed 41.5 percent in the same period. The intermediaries look like they are working to better match anticipated demand with capacity, with Swift Chief Financial Officer Ginnie Henkels telling investors on Oct. 23 that the company doesn't have much planned for new container purchases in 2013 beyond the 2,500 it already has on order.
"Weak truckload pricing limits the ability to aggressively raise intermodal rates," BB&T analyst Kevin Sterling wrote in a research note about Hub. "Excess truckload capacity in a soft freight environment leaves truckload carriers scrambling for any meaningful price."
Intermodal pricing could rise a scant 1 to 2 percent, and shippers "will use the soft truck market as leverage and threaten to put freight back on the highway" if intermediaries try to increase prices much further, Sterling wrote.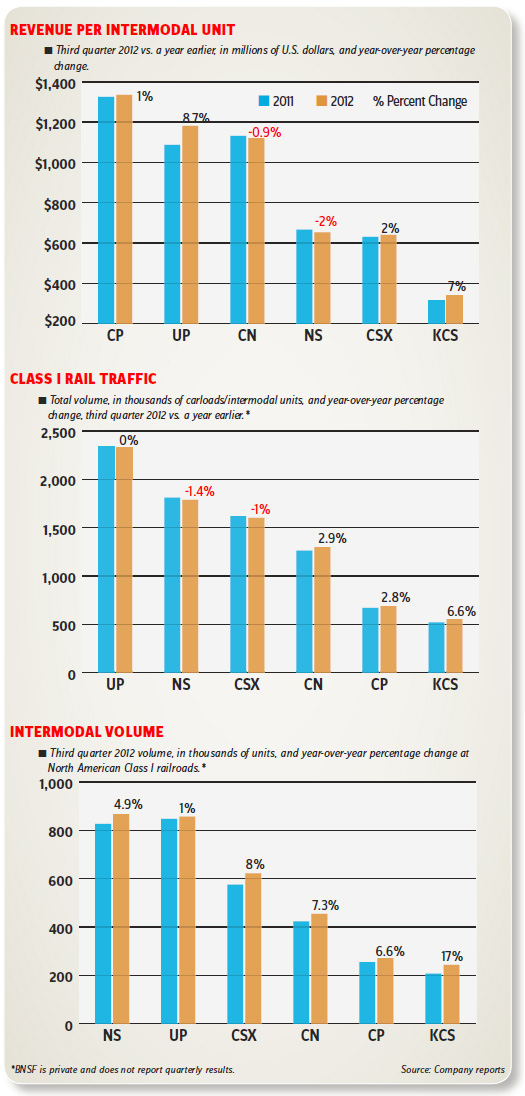 Train speed rose and terminal dwell times declined for all North American Class I operations, including Canadian Pacific and Canadian National. The carriers' capital investments on intermodal networks are expected to keep delivering efficiencies. NS opened its Memphis, Tenn., intermodal facility in July, for example, and the railroad's Birmingham, Ala., terminal debuted last month. The new facilities further strengthen NS's Crescent Corridor, an ongoing initiative aimed at snatching more than 1 million loads from trucks on the route between the South and Northeast.
"These new Crescent Corridor terminals will set the stage to launch up to 34 new service lanes beginning in January and continuing through the first half of next year," Donald Seale, NS's chief marketing officer and executive vice president, told investors during an Oct. 23 earnings call.
Kansas City Southern is working with NS to shift U.S.-Mexico trade through the Meridian Highway — a joint venture linking Meridian, Miss, and Shreveport, La., — to the Crescent Corridor. North America's smallest Class I railroad saw cross-border intermodal revenue skyrocket 88 percent on nearly 100 percent traffic growth.
This strong domestic and cross-shipment growth has kept total intermodal growth in the first three quarters up 4.7 percent from the same period in 2011, according to preliminary IANA statistics. Casey expects total intermodal traffic to finish the year 4 to 6 percent ahead of 2011.
"Domestic containers continue to be the mainstay for intermodal volume growth this year," she said. "With some signs of the economy moderating, truck-competitive rail service and ongoing operating pressures for over-the-road carriers will maintain this trend through the end of the year and into 2013."  
Contact Mark Szakonyi at mszakonyi@joc.com and follow him at twitter.com/Szakonyi_joc.