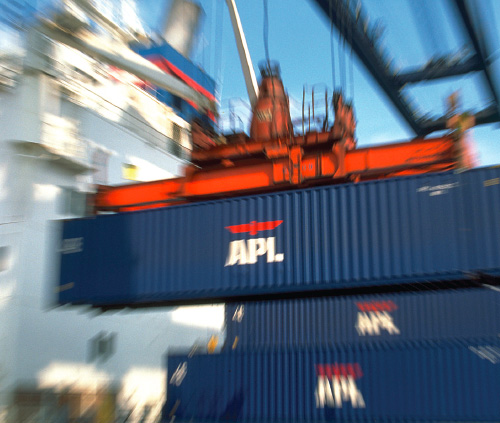 After a brutal summer that saw exports to Asia soften and freight rates deteriorate steadily, trans-Pacific cargo volumes began to pick up in early October. The discussion group that represents carriers in the westbound Pacific interprets this upbeat news as an indication the trade is poised for its first meaningful rate increases this year.
"Many carriers feel that westbound rates have reached rock-bottom levels and are now looking at initiatives to get those rates back up again, whether through the WTSA general rate increases scheduled for October and November, or through their own individual actions," said Brian Conrad, executive administrator of the Westbound Transpacific Stabilization Agreement.
Carrier executives hope the WTSA is correct in its interpretation because they say conditions in the westbound Pacific are terrible. Ed Zaninelli, vice president of trans-Pacific westbound at Orient Overseas Container Line, said the market is the worst he's seen in years, and "perhaps ever if you adjust for costs."
Summer through early fall is always the slowest period of the year for U.S. exports to Asia. The grain harvest hasn't begun, the cotton shipping season is still a few months away, shipments of many higher-value horticultural crops such as tree fruits and nuts don't reach their peak until winter, and schools have been closed for more than two months, which means less scrap paper for export.
Slowing economies in Asia also hurt exports over the summer. Asian exports to Europe plunged this year because of the recession in the European Union, and China, especially, has reduced its purchases of scrap products and other feedstock for manufacturing.
Carriers reacted by dropping freight rates to what shipping executives believe are ridiculously low levels. These rates reportedly include wastepaper exports to some base ports moving at $150 to $180 per 40-foot container from the West Coast. Some scrap metal to Shanghai is moving at $215 per FEU from Los Angeles, with the catchall "freight all kinds" as low as $350 per FEU from the West Coast.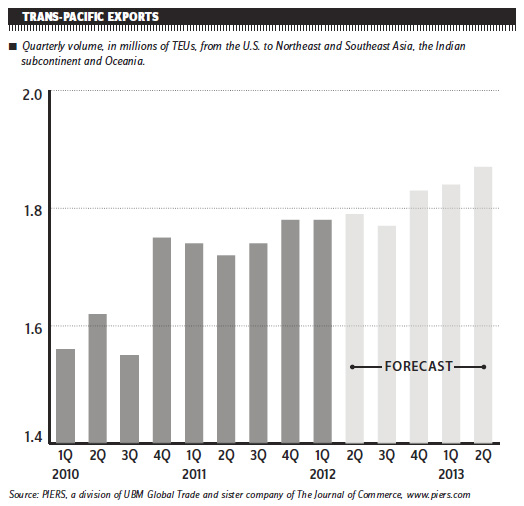 It's not much better for shipments from the U.S. interior and exports from the East Coast via the Panama Canal. Containerized grain from Chicago is moving to China for $1,100, less than the cost of intermodal rail from Chicago to the West Coast. Freight all kinds from the East Coast in some cases is fetching $850 per FEU, while lumber rates from the East Coast to China can be as low as $750 per FEU, all inclusive.
By contrast, this has been a good year for carriers in the larger eastbound trade from Asia to the U.S., where spot rates paid by non-vessel-operating common carriers for shipments from Hong Kong to Los Angeles in early October were around $2,700, according to Drewry Shipping Consultants. Some carrier executives say the lines have reverted to their old mentality of subsidizing westbound rates with higher eastbound rates.
Carriers were able to keep eastbound rates high by managing capacity in the Pacific. With the peak season in the eastbound Pacific ending, carriers will start pulling capacity from the trade. "So, within a month, we could see a very different situation, as eastbound capacity and demand edge downward and seasonal demand picks up westbound," Conrad said.
The trans-Pacific export trade runs countercyclical to the eastbound trade. That means exports to Asia pick up in late fall and accelerate through the winter, while imports from Asia slow. Carriers base their capacity decisions on the eastbound trade because imports outnumber exports by about 2-to-1 and import freight rates are much higher than export rates.
Exports to Asia are expected to be sound, though not spectacular, this winter, despite the summer drought that gripped much of the Midwest. Agricultural exports to Asia won't fall across-the-board. Rather, it will be a mixed bag, with some commodity volumes declining and others increasing over last year. This is important because agricultural products account for about 25 percent of westbound cargo volumes, according to the WTSA.
The drought hit corn and soybean crops especially hard, said Oliver Flake, agricultural economist at the USDA's Foreign Agricultural Service. Wheat was not affected as much, he said.
Even in the case of corn and soybeans, two of the larger-volume exports to China, prices have remained high, so farmers have an incentive to export as much as they can. As a result, this could be a record year for exports in terms of value, even though the total volume shipped will be lower, Flake said.
The volume of higher-value exports such as dairy, poultry and horticultural products will increase this year. Beef and pork, two high-value exports to Asia, should fare well in value, though volume will be down, in the coming months.
The U.S. Meat Export Federation said beef exports would end the year down 7.5 percent in volume. In dollar terms, however, beef exports will be at a record level because of tight supplies and high prices, said Erin Borror, the federation's economist. Although the USDA projects beef production will decrease 2 percent this year, and almost 4 percent in 2013, the federation forecasts an increase in beef exports in 2013, driven mainly by an increase in shipments to Japan as access to that market improves, Borror said.
Pork exports this year are expected to slightly outpace exports in 2011 in terms of volume, and to set a new record in value. Pork exports should increase further in 2013 as export prices from Europe, a main competitor, increase, Borror said.
Forest products took a hit this year because of a slowdown in construction in China. That country also normally imports a good deal of wood for its furniture industry, but with furniture exports to Europe and the U.S. weak, forest products exports to China are off by about 25 percent, said Michael Dwyer, division director for the FAS's office of global analysis.
Exports of distillers dried grains, a byproduct of ethanol production that is used in animal fee, have roared back. China last year launched an investigation of DDG imports from the U.S. for possible anti-dumping action. When it became apparent China wasn't going to levy anti-dumping penalties, DDG exports from the U.S. to China picked up.
DDG exports to China surged in September, and it looks like DDG exports to all global markets will set a new record of more than $2 billion in 2012, Dwyer said. About 22 percent of DDG production in the U.S. goes to exports, according to a USDA study.
DDG exports next year will decline somewhat because of higher corn prices. Corn is the feedstock for ethanol production. China's beef, pork and poultry industries have grown dependent on DDGs, however, so long-term prospects for exports look good.
In fact, the long-term prospects for most U.S. agricultural exports are excellent. William Wilson, North Dakota State University economist, said in a Journal of Commerce Webcast in September that he is bullish on U.S. agricultural exports for at least the next eight to 10 years. China will remain a large importer of soybeans and corn, and genetically modified corn has extended production areas in the U.S. west and north, Williams said.
The western railroads have invested billions of dollars to expand and improve their intermodal service from production areas to West Coast ports, which are natural gateways for exports to Asia, he noted.
Exports of scrap products will pick up when China's manufacturing sector returns to more normal growth. Scrap paper exports to China are down now, and the country seems to set the tone for exports to all of Asia, said Nick Halper, director of export at the paper Tigers.
Carriers are hungry for cargo, however, so they've been aggressive on pricing. Paper exporters also have had access to sufficient equipment in most instances, except for perennial shortfall locations such as the Pacific Northwest, Halper said. If demand for scrap paper in China picks up, the logistics of the trade should be favorable for shippers, he said.
If carriers are to prevent further rate erosion in the westbound Pacific, and actually implement some general rate increases, they will have to view westbound as a revenue leg rather than as an exercise to reposition containers back to Asia.
Carrier attempts to reduce container-repositioning costs to Asia were probably the biggest culprit in the deteriorating westbound rates, Zaninelli said. When the total round trip voyage is considered, a strategy of "westbound loads at any cost" is not healthy for carriers' bottom lines, he said. 
Contact Bill Mongelluzzo at bmongelluzzo@joc.com and follow him at twitter.com/billmongelluzzo.