The Shanghai Containerized Freight Index for the Asia-Europe market continued its upward spiral this week, rising 13.4 percent to $1,491 per 40-foot containers moving to North Europe ports. Coming on top of last week's 22.4 percent increase, the index has soared more than 35 percent in two weeks, indicating initial market acceptance of carriers' scheduled Nov. 1 rate increases. At the same time, the SCFI rate from Shanghai to Mediterranean ports gave back nearly all of last week's 18.3 percent increase, dropping 17.1 percent to $1,055 per 40-foot container.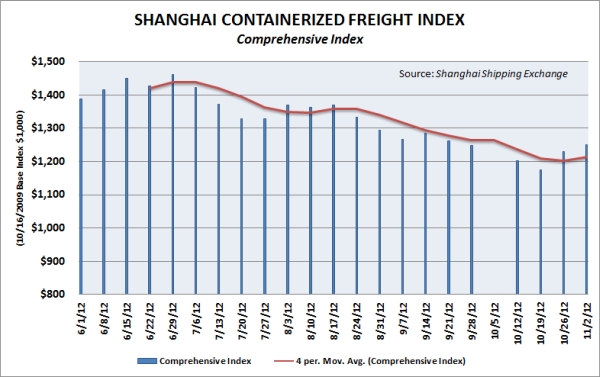 In the U.S. trades, the Shanghai-West Coast index dropped 2.7 percent to $2,408 per 40-foot container, its third consecutive decline, while the index to the East Coast dropped 1.4 percent to $3,379 per 40-foot container. The East Coast index has declined 17 percent from over $4,000 per 40-foot container in early August.
The SCFI comprehensive index increased 1.7 percent for the week to $1,251.
According to Clarksons, picking up on comments made by the Shanghai Shipping Exchange, "last minute capacity restrictions in the form of skipped sailings had been targeted to North Europe services, which drove up utilization this week, allowing a further 13.3 percent rate increase."