The JOC For-Hire Trucking Employment Index rose to 93.6 in October, as trucking payroll numbers rose after stagnating in September, August and July.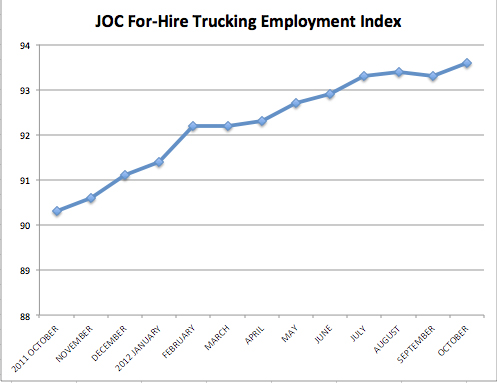 The 0.3 point gain in the October index reading was the first significant increase for The Journal of Commerce's measure of trucking employment since June.
The original September index reading of 93.4 was revised to 93.3.
The October reading of 93.6 is the highest for the index since October 2008. However, trucking employment is still about 6.4 percent below its 2007 peak.
Over the past year, the index improved 3.3 percentage points as trucking companies slowly but steadily increased hiring, according to Labor Department data.
The JOC index is based on data from the U.S. Bureau of Labor Statistics, using average trucking employment in the fourth quarter of 2006 as its base value.