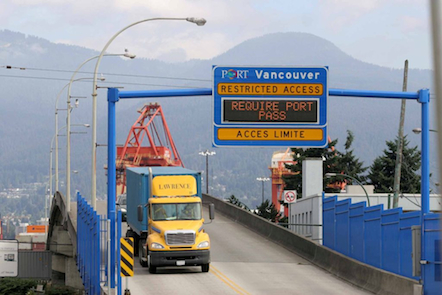 Canadian motor carriers, cargo interests and marine terminal operators at Port Metro Vancouver are struggling with a capacity issue during the widely used daytime shift. Truckers attempting to make appointments to pick up or drop off containers are being shut out, sometimes for several days at a time, because all of the reservation slots are filled.
The issue came to light recently when an eBulletin published by the Canadian International Freight Forwarders Association said cargo interests and truckers were increasingly frustrated by lengthy and costly delays, primarily at the Vanterm and Deltaport terminals operated by TSI Terminals, and to a lesser degree at the Centerm facility operated by DP World.
"The level of frustration is ever-increasing. This is not only a problem for freight forwarders, shippers and their truckers, but for the industry as a whole," CIFFA stated in its bulletin.
CIFFA got right down to the core issue, which others agreed must be addressed. "The biggest issue is that there simply are not enough reservations available in the prime daytime business hours," the forwarders stated.
Canada's busiest port appears to be at a crossroads similar to what Los Angeles-Long Beach, the largest U.S. port complex, faced seven years ago when terminal operators in Southern California established the PierPass extended gates solution.
Vancouver is at a point where container volumes have grown so rapidly that 100 percent of the traffic cannot be handled efficiently during the day shift. Container volumes this year are up about 8 percent, and are expected to increase 4 to 5 percent next year.
However, opening night gates is a costly proposition for terminal operators, and the shift of business to occasional night gates has not been sufficient enough to make the extended hours cost-effective.
Eric Waltz, president of TSI Terminal Systems, said a night gate this week has filled only 172 trucker appointment slots, or about 10 percent of the total slots available for moving containers. "Night shifts are not being utilized," he said.
When an operator opens a night gate, the terminal is committed to the costly equipment and longshore labor for the entire shift. According to the terms of the contract between International Longshore and Warehouse Union Canada and waterfront employers, when dockworkers show up for the shift, "We have them for eight hours," Waltz said.
Terminal operators in Los Angeles-Long Beach faced similar congestion issues in 2004, and they responded the next year by agreeing to open their gates each week for five night or weekend shifts. PierPass since then has generally been successful in relieving daytime congestion, although problems still occur during cargo surges. PierPass shifted more than 40 percent of the traffic to night and weekend gates.
PierPass compensates terminal operators for keeping their gates open at night by charging a traffic mitigation fee of $123 per 40-foot container for traffic that moves during the 8 a.m-5 p.m. daytime shift. Terminal operators and cargo interests in Vancouver are leaning against any such disincentive that would affect the competitiveness of the port.
Vancouver's situation is complicated by a government decree that was imposed on the port in 2005, also following a period of terminal congestion and trucker unrest, for a mandatory system of trucker appointments.
When traffic is slow, as it will be soon now that the peak-shipping season in the Asia-North America trade is winding down, the appointment system at the terminals appears to work fine. It works great when terminals open for night shifts because most slots are there for the picking.
However, another cargo spike should occur in January-February 2013 as importers fast-forward their shipments in advance of Chinese New Year. Factories in Asia will close down for more than a week during the annual celebration.
Therefore, the trucking industry wants a solution in place by early next year or the problems that occurred in recent months will be repeated, said Louise Yako, president of the B.C. Trucking Association.
The trucking association is looking at cargo projections that show continued growth in Vancouver into the foreseeable future. It is apparent that the current structure will not allow the terminals in the daytime shift to handle the traffic that will materialize, so a permanent solution must be found, Yako said.
Port Metro Vancouver is aware of both the short- and long-term issues that the cargo community faces, said Peter Xotta, vice president of planning and operations. One of the reasons the trucker appointment system is struggling is that as many as 50 percent of vessels arrive late. The port commission this week voted to initiate in 2013 an incentive program for vessel on-time arrivals, which should bolster the effectiveness of the trucker appointments, Xotta said.
Much more needs to be done, though, for the port community to be able to ride the peaks and valleys of international cargo flow and maintain the integrity of the trucker appointment regime. Xotta said a port-led working group representing all of the stakeholders is looking at a number of options to spread traffic out in a logical and cost-effective way.
To work properly, the plan must address the needs of small shippers and truckers. Larger importers and their truckers regularly patronize the night gates when they are offered, Waltz said, because bigger shippers can keep their warehouses open at night. TSI encourages this practice by offering "speed gates" to high-volume shippers.
The terminals have encouraged smaller truckers to achieve the volume breakpoints by pooling their container volumes. That plan can only be successful, though, if smaller importers keep their receiving facilities open at night as well. They resist a second shift at their warehouses because of the added cost involved.
As the working group explores various solutions, Xotta said the process would remain transparent. If the agreed upon solution takes a "difficult path," it would happen with all parties agreeing to the solution with eyes wide open, he said.
The entire transportation community agrees that the current situation has tarnished Port Metro Vancouver's image, has caused a diversion of cargo to other ports and will hurt everyone if a solution is not found.
"It is impacting and affecting the image and credibility of Port Metro Vancouver, steamship lines, freight forwarders and all stakeholders. It is costing tens of thousands of dollars in unnecessary costs in a still fragile economy," the forwarders association concluded in its eBulletin.
Contact Bill Mongelluzzo at bmongelluzzo@joc.com and follow him at www.twitter.com/billmongelluzzo.