U.S. containerized exports grew nearly 3 percent in August versus July, expanding for the first time since May, according to PIERS, a sister company of The Journal of Commerce. On a year-over-year basis, exports in August expanded 1 percent to 996,452 TEUs. Year to date through August, exports were up 1.9 percent, a weak figure underscoring economic woes in both Europe and Asia.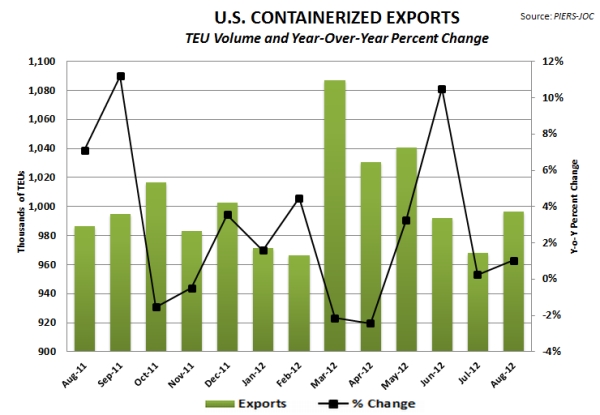 Exports in August versus August 2011 declined 2 percent to Northeast Asia to 429,827 TEUs, a region that includes China, and declined 4 percent to North Europe to 115,213 TEUs, according to PIERS data. Exports to China excluding Hong Kong were flat in August. Exports were stronger to other regions such as the Mideast (up 13 percent to 47,862 TEUs), the west coast of South America (up 13 percent to 41,281 TEUs), the India subcontinent (up 10 percent to 38,036) and Africa (up 21 percent to 27,566 TEUs).
JOC Economist Mario Moreno commented: "The numbers are in line with expectations. Through August, exports were up 1.9 percent, which compares favorably with my 1.7 percent forecast for full year 2012. Northeast Asia and North European markets remain very weak, dragging down overall volume."
Key growth areas for containerized exports in the month were poultry, which grew 7 percent to 17,064 TEUs; vegetables, which grew 27 percent to nearly 15,000 TEUs; soybeans, which grew 39 percent to 13,646 TEUs; and fruit, which grew 62 percent to 9,680 TEUs.