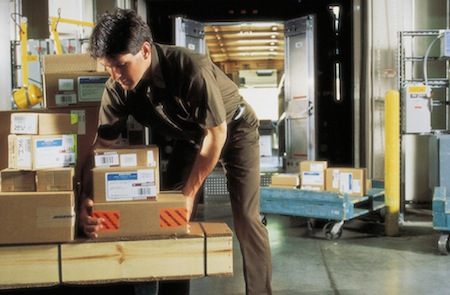 An increase in online shopping is pushing up freight volumes at the nation's largest package carriers, with UPS reporting stronger domestic volume and FedEx preparing to hire 20,000 seasonal workers to handle holiday shipping demand.
The rapid growth in e-commerce challenges package carriers, who not only must deal with more freight moving in different distribution channels but with lower weight and revenue per package on many business-to-consumer shipments.
UPS and FedEx — the two largest U.S.-based transportation operators — are preparing for multiple peaks in their holiday shipping season, not only Nov. 23, the day after Thanksgiving, but Nov. 26, Cyber Monday, and Dec. 10, Green Monday.
Online sales on Cyber Monday — the Monday after Thanksgiving — were up 22 percent in 2011 to $1.251 billion, and first broke above $1 billion in 2010, the year after the official end of the recession, according to digital research firm comScore.
In 2011, U.S. consumers spent another $1.1 billion on Green Monday alone, according to comScore. FedEx expects to handle 19 million packages that day, a 10 percent increase from last year, making it the busiest day of the year for the company.
FedEx forecasts more than 280 million shipments will move through its worldwide networks from Thanksgiving through Christmas, an increase of more than 13 percent from 2011, when FedEx handled 247 million holiday shipments. 
UPS expects to peak at 28 million shipments on its busiest day this holiday season, "the most ever in our 105-year history," Alan Gershenhorn, senior vice president of worldwide sales, marketing and strategy told Wall Street analysts Oct. 23.
E-commerce drove domestic package volume up 3.7 percent at UPS in the third quarter, leading to a 9.3 percent increase in air deferred shipping volume.
"The dramatic rise of e-commerce continues to alter consumer behavior and shipping patterns," he said. Historically, holiday shipping ramped up from Thanksgiving through Christmas, a pattern Gershenhorn sees rapidly changing.
"This year we are planning for two peak periods," he said, "one that revolves around Black Friday and Cyber Monday and the other compressed into the two weeks before Christmas." UPS expects e-commerce holiday sales to jump 12 percent.
Contact William B. Cassidy at wcassidy@joc.com and follow him on Twitter at @wbcassidy_joc.