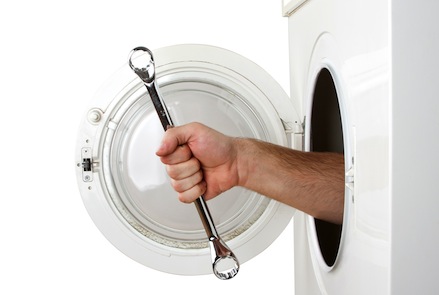 Imagine you are ordering a basketball hoop online for your 12-year-old son. But there's no way you want to install it yourself.
Wouldn't it be nice if you could find a Web site that allows you to buy the net, the backboard and the pole online and also allows you to arrange for someone to come set it up on the edge of your driveway as part of the transaction?
The need for specialized home delivery services that can assemble and install everything from basketball hoops and backyard sheds to household appliances such as washers and dryers is driving the growth of small regional transportation service providers who offer local, regional and national fulfillment, specialized distribution, and other value-added services on an expedited basis.
"As more consumers go online for their purchases, both small items and large, the e-commerce distribution opportunity is tremendous," said Jason Bass, managing director and co-head of the Transportation & Logistics Group at Harris Williams & Co., a Richmond, Va.-based investment bank that provides merger and acquisition advisory services to middle market companies and private equity groups.
"More and more, there is going to be a 'gotta-have-it-now' attitude from consumers who order online and want it delivered later today, so companies that can provide that same-day or next-day home delivery will continue to be in high demand," he said.
Retailers such as Lowe's, IKEA or Dick's Sporting Goods outsource the delivery and installation of products ordered online or at the store register to these specialized companies that provide the services for a fee. "It's a turnkey delivery, white-glove service by independent contractors who come into the home and who are providing a much-needed and higher level of service on behalf of retailers who are moving online," Bass said.
The growth of such specialized transportation service providers that manage networks of skilled owner-operators of trucks is attracting the attention of private equity groups that are looking for a way to invest in the growth of e-commerce and altering distribution patterns.
"Private equity also recognizes that these are very fragmented markets with a large number of local and regional service providers and very few national providers where the consolidation of a few regional service providers could present an investment opportunity," Bass said.
It's part of a global trend toward outsourcing transportation management to third-party transportation and/or logistics providers that are providing fee-based service to larger shippers who have global and very specialized needs in all corners of the globe.
"These outsourced logistics managers choose the transport mode to save on costs and make it more efficient," Bass said. "A manufacturer or retailer is not going to be able to design a supply chain or distribution network as well as a logistician, so we will continue to see large shippers outsource critical portions of their supply chain and distribution networks to fee-based transportation management providers."
The global market for such services is enormous, and only a small fraction of such supply-chain service is outsourced. "This will continue to allow logisticians to manage these incredibly complex supply chains," Bass said. "I think there's a tremendous opportunity for smaller companies as well as larger ones to provide niche outsourced services."
Contact Peter T. Leach at pleach@joc.com and follow him on Twitter @petertleach.