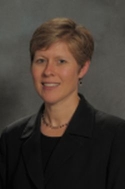 Deborah A. "Deb" Hadden today assumed the role of acting port director at the Massachusetts Port Authority, following Mike Leone's retirement from the position after 14 years.
Hadden now oversees all aspects of Massport's maritime department, as well as the management and promotion of the port's maritime facilities and other interests in the Port of Boston, including the development, marketing, operation and maintenance of Conley Container Terminal and Cruiseport Boston.
She will also maintain her current role as the organization's deputy port director of properties and transportation.