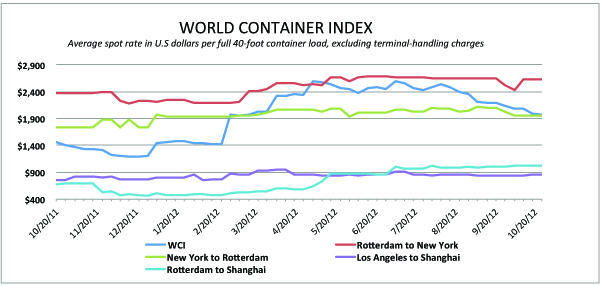 The World Container Index comprehensive reading for Oct. 25 — $1,980 per 40-foot laden container — was down for the fifth consecutive week, declining 1.0 percent or $20.85 from the week before, the World Container Index reported.
The WCI spot rate from Rotterdam to New York was flat for the third straight week at $2,642 per laden 40-foot container.
The spot rate from New York to Rotterdam, $1,952 per FEU, was unchanged for the third consecutive week.
The Rotterdam to Shanghai WCI spot rate of $1,019 per laden FEU was also unchanged for the third week.
There was no change in the WCI spot price from Los Angeles to Shanghai, which was $856 for the second straight week.  
The World Container Index produces the WCI comprehensive index weekly, based on 11 component trade lanes.