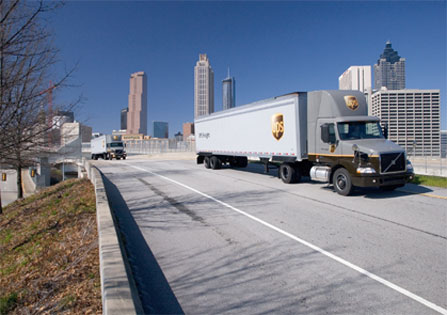 UPS Freight increased total revenue 3.6 percent year-over-year to $691 million in the third quarter, according to financial data released by UPS Tuesday.
In terms of revenue growth, the third quarter was the best yet this year for the $2.6 billion trucking arm of the $53.1 billion transportation and logistics giant.
UPS Freight increased its less-than-truckload revenue 4.2 percent from a year ago to $621 million, a 4 percent increase from $597 million in the second quarter.
In the second quarter, UPS Freight LTL revenue rose 0.8 percent year-over-year but dropped from $614 million in the first quarter, when it rose 2.3 percent.
The stronger increase in revenue on relatively flat volume indicates higher rates may be sticking. UPS Freight increased its general rates 5.9 percent in July.
The fourth-largest U.S. LTL carrier by revenue hauled slightly fewer shipments overall than a year ago, but LTL shipments per day rose slightly to 41,200.
Those shipments also were heavier — 3.4 percent per shipment — and UPS Freight got more revenue from them, with yield rising 1.5 percent year-over-year.
"LTL revenue per hundredweight and gross weight hauled improved over the prior year period, resulting in operating margin expansion," UPS said in a statement.
However, that 1.5 percent increase in yield, which includes pricing and surcharge gains, indicates rates are fairly stable, neither rising rapidly nor falling.
Heavier shipments point to more consolidation of freight by shippers, a trend UPS Freight President Jack Holmes sees gaining steam.
Shipments weighing 10,000 pounds or more have increased almost 17 percent in the past couple years, Holmes said earlier this year.
"If you look at distribution models, certainly there's been a move toward consolidation, mode-shifting up from smaller shipments to larger shipments," he said.
UPS does not release profit-and-loss data for the LTL carrier, but UPS Freight is part of the UPS Supply Chain and Freight division, which had a $188 million profit.
Contact William B. Cassidy at wcassidy@joc.com. Follow him on Twitter at @wbcassidy_joc.