Spot freight rates on the trade lanes from Shanghai to China's major exports markets continued to weaken this week, as indicated by the comprehensive index of the Shanghai Containerized Freight Index, which dropped 2.3 percent after a decline of 3.6 percent last week.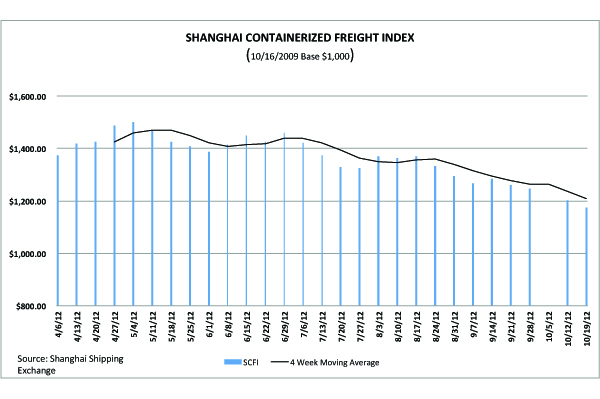 The average SCFI spot rate for transporting a 20-foot-equivalent container unit from Shanghai to the base ports of Los Angeles, Long Beach and Oakland on the U.S. West Coast dropped 13.2 percent to $1,074 per TEU, while spot rates to the East Coast base ports of New York, Savannah, Norfolk and Charleston fell 2.4 percent to $3,454 per TEU.
The average SCFI rate for shipments to the European ports of Hamburg, Antwerp, Felixtowe and Le Havre fell 3.5 percent to $1,075 per TEU.
The SCFI rate to the Mediterranean ports of Barcelona, Valencia, Genoa and Naples dropped 4.8 percent to $1,076 per TEU.
"This week's SCFI result can be viewed in two lights — are we seeing the continuation of the market weakening in a period when capacity removals over the past few weeks should have stabilized things, or is the reduction in the rate of decline a portent of GRI traction to come next week?" said Benjamin Gibson, a freight derivatives broker for Clarkson Securities in London.
Maersk line and other Asia-Europe carriers have announced general rate increases of $500 to $550 per TEU on Nov. 1.
"The next few weeks will show how firm the market really is, but we expect to see more aggression from buyers as any rate increase in November will push offers right back," he said.
Contact Peter T. Leach at pleach@joc.com and follow him on Twitter @petertleach.