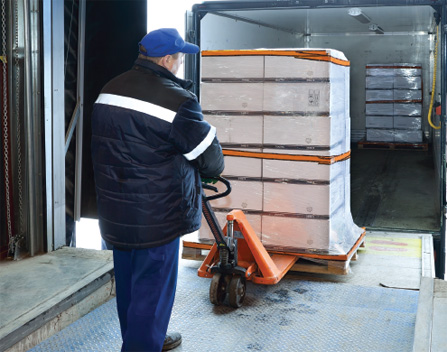 More goods packed into warehouses and sitting on store shelves meant not as much freight moving in trucks during the summer, a situation carriers and shippers hope is changing as the year-end holidays and trucking's annual peak shipping season approach.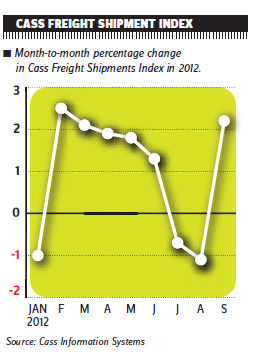 Cass Information Systems attributed lower-than-expected trucking volumes in July and August and September's ho-hum increase in part to an "unintended" buildup in inventories in the first half of the year.
How can a spike in inventories be "unintended"? Easily, in an economy that at times this year seemed likely to firm and then again turned soft as quicksand. Stronger economic signals in late 2011 and early this year led to retail forecasts and orders that overshot consumer appetites as the economic recovery slowed to a crawl.
"Retailers became very optimistic on consumer spending due to optimistic job data in the first quarter," Journal of Commerce Economist Mario O. Moreno said.
The U.S. economy created on average 226,000 jobs a month in the first quarter of 2012, but that dropped to 87,000 jobs a month from April through August. 
At the same time, the retail inventory-to-sales ratio increased steadily through June. By the time the softening in the economy and the job market became clear, it was too late for a correction, Moreno said. "The retail inventory-to-sales ratio is now at a two-year high, and wholesalers are also struggling with high inventories," he said.
Retail inventories increased 4.7 percent from January through July, totaling a seasonally adjusted $499.5 billion by the end of that month, according to the U.S. Census Bureau. The seasonally adjusted retail inventory-to-sales ratio rose from 1.33 in January to 1.39 in July. For wholesalers, the July ratio was 1.21.
More goods finally may be moving from stockpiles to consumers, as the latest round of economic reports point to tenuous but real improvements early this fall.
The Institute of Supply Management's PMI index of manufacturing activity rose to 51.5 in September from 49.6 in August, as the overall economy grew for the 40th consecutive month. Any reading above 50 indicates expansion; below that number, contraction. The ISM New Orders Index registered 52.3, an increase of 5.2 percentage points from August, indicating growth in new orders after three months of contraction. The ISM Production Index lagged orders but rose 2.3 points to 49.5. The Supplier Deliveries Index moved up to 50.3. In fact, the only ISM index to decline was inventories, which dropped 2.5 percentage points to 50.5. Customer, or retail, inventories rose 0.5 points to 49.5 — still a sign of contraction.
That contraction probably is reflected in a sharp correction in containerized imports, which rose only 0.6 percent year-over-year in August, compared with 10.5 percent in July, according to data from PIERS, a JOC sister company.
The U.S. economy added more jobs than expected in September, 114,000, as increased employment in health care, transportation and warehousing helped bring the national average unemployment rate down to 7.8 percent. Total U.S. employment rose by 873,000 in September, after three months of little change, the Labor Department's Bureau of Labor Statistics reported on Oct. 5.
Those job gains, if maintained, could further boost consumer confidence and spending, which crept up 0.5 percent in August, but rose only 0.1 percent after accounting for fuel costs and other price increases. The International Council of Shopping Centers forecasts a 3 percent increase in sales in November and December, and said retailers expect to hire 26,000 temporary workers.
September's Cass Freight Index reflected the uptick in manufacturing, employment and consumer confidence. Truck shipments rose 2.2 percent in September from August, after declining 1.1 percent that month and 0.7 percent in July. Cass saw shipment volumes increase 9.9 percent in the first half of 2012.
Although the September uptick was welcome, it was shallow compared to stronger fall freight levels in the first two years of the recovery. September shipments increased 7.5 and 15.5 percent in 2011 and 2010, respectively, Cass said.
Year-over-year, shipments were down 3.8 percent in September, the company said. "September's weak number is in part a function of high inventory levels," Cass said in its Oct. 8 report. "Consumer spending still remains weak and retail shelves are full, so retailers are not placing large restocking orders," the company said.
Some of the 2.2 percent increase in truck freight volume may be attributed to repositioning and ordering in advance of a threatened Maine-to-Texas dockworker strike that was avoided when the International Longshoremen's Association and employers extended negotiations through the end of the year, Cass said.
Carriers and their customers hope the increase sticks and expands in coming weeks and months. The National Retail Federation expects total Halloween spending to reach $8 billion this year, with consumers spending an average of $79.82 on decorations, costumes and candy, a 10.4 percent increase compared with $72.31 last year and 41.8 percent above the $56.31 consumer average in 2009.
The NRF expects holiday sales to increase 4.1 percent from 2011 to $586.1 billion. That's higher than the 10-year average of 3.5 percent, but lower than last year's 5.6 percent year-over-year increase in holiday sales, the association said. That's in line with the American Trucking Associations forecast for a tonnage increase of 3.5 percent or less in 2012, compared with a 5.8 percent increase in 2011.
The spot freight market, an early indicator, holds out hope. "We saw a nice spike in spot market traffic from Los Angeles at the end of the third quarter, and then just as strong a spike the following Friday," said Mark Montague, pricing analyst with TransCore DAT, the transportation information services company and load-matching network. "That tells me there's going to be some life in the retail season." 
Contact William B. Cassidy at wcassidy@joc.com. Follow him on Twitter @wbcassidy_joc.