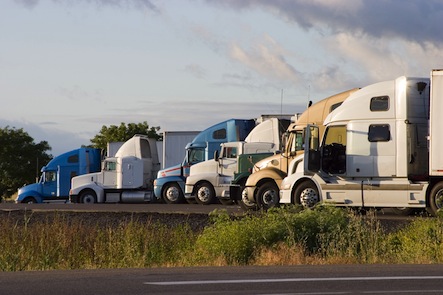 U.S. gross domestic product grew a meager 1.3 percent in the second quarter, freight tonnage slipped during the summer and several large motor carriers are rushing to lower third quarter earnings expectations based on soft shipment volumes.
If there's any good news for shippers, it's that truck capacity, which has been so tight since the recession that it's occasionally threatened to choke supply chains, is easing up heading into November and the peak pre-holiday shipping season. Truckers may not be prowling around freight docks, but freight space isn't difficult to find. 
"Carriers in general have been acting as if there's more available capacity or as if it is more difficult to find freight," said David Schrader, senior vice president of operations at TransCore DAT, the spot market load-matching company. "It seems (truckload) capacity was freed up a bit as we moved into September." 
DAT registered several record months of freight demand this year as tight capacity among truckload carriers drove more freight to the spot market. But freight volume on DAT's load boards declined in September, a sign larger carriers had more room for customer freight than earlier in the year and were handling it under contract.
"There's definitely capacity in the market, though there's still a driver shortage," said Leif P. Holm-Andersen, executive director of professional services at freight payment and transportation management services company Data2Logistics.
As a result, pricing power is tilting ever so slightly toward shippers for the first time since the end of the Great Recession nearly three years ago. "There's not going to be as much pressure on contract rates in the new year," said Mark Montague, a pricing analyst at TransCore DAT. "I think shippers are going to dig in hard to hold the line. Whatever (carrier) expectations are for rate growth, I think they're going to be tempered down."
Trucking rates "right now are flat if not down a little bit," Holm-Andersen said.
A little bit, however, doesn't equal a bundle of cash. According to the Cass Truckload Linehaul Index, rates for full truckloads were up 0.5 percent in September, and pretty much flat month-to-month throughout 2012, Cass Information Systems said.
Holm-Andersen is surprised more shippers aren't aggressively pursuing lower rates. "There is an opportunity for shippers to reduce rates," he said, while stressing the situation "is certainly nothing like it was when the economy tanked" in 2008. Still, "shippers need to take advantage of the market when they can." 
Long-term capacity concerns may be preventing shippers from pursuing short-term pricing gains. Truck capacity may be in a "rough balance," but that balance is "tenuous," and shippers worry what will happen when the economy gains speed and demand rises. 
The fact that truck capacity remains in a rough balance or tenuous equilibrium, depending on whom you ask, in such a miserably slow recovery points to just how much capacity, in assets and people, the recession carved from trucking. If capacity is slack now, that's only because demand is so low. 
Shippers remember all too well what happened to those who pummeled motor carriers over rates during the recession — when the economy rebounded, they were last in line to secure trucks and were forced to swallow much larger price hikes.
"It doesn't take a lot to imagine what could happen if we go back to more normal GDP growth rates," Schrader said. Add a shrinking driver pool and costlier equipment and "you can certainly see where capacity could be significantly tighter."
Related: Measuring the Shortfall in Trucking Capacity .
Some shippers and carriers, tired of what one called the "teeter-totter" truck capacity environment, are looking at new ways of hedging against potential capacity shortages, and even creating capacity, not by adding terminals or tractors, but by becoming more efficient.
Capacity, they've discovered, is not just three dimensional, and can be measured in more ways than by the number of terminal doors, tractor-trailers or drivers. Time plays a key role in the level of truck capacity.
For a carrier, that could mean shorter transit and faster delivery times. By getting freight to destinations more quickly, carriers can increase the number of turns per tractor-trailer, creating, in theory, additional capacity without more trucks.
That's a real "balancing act" for carriers. "It's all about who can fill the most capacity and continue to provide quality service," said Phil Pierce, executive vice president of sales and marketing at Averitt, a regional Cookeville, Tenn.-based LTL carrier.
Averitt, a member of the Reliance Network of LTL carriers, is expanding its reach with a series of long-haul express lanes created with its partner carriers.
Truckload carriers using driver teams to expedite shipments of, say, refrigerated freight, also create capacity. Initiatives to get more efficiency from existing equipment will become even more important next year if new hours-of-service rules that could cut driving time for some truck drivers take effect as scheduled in July.
For shippers, greater efficiency and capacity may come through exploring multimodal transportation options and even opportunities to share capacity. "The way we've approached it is further diversification" in transportation modes, Sonney Jones, division director of transportation for manufacturer Dal-Tile, told The Journal of Commerce. "We just had to further diversify to be able to have sustainable capacity."
Dal-Tile, for example, uses truck, intermodal rail, boxcar and ocean container services to ship ceramic tiles from Monterrey, Mexico, to U.S. distribution centers. "We've had to adapt to use whatever type of capacity is currently available," said Jones, who is also an advocate of "collaborative consolidation" or co-loading freight with other shippers. "There's only so much capacity you can fight over."
Earlier this month, Dal-Tile won the Supply Chain Innovation Award from the Council of Supply Chain Management Professionals, sharing the honors with shippers Whirlpool, Convermex and Werner and logistics company Transplace.
The goal, Jones said, is to mix high- and low-density freight — heavy tile flooring with lighter-weight products — to get the best utilization out of existing equipment. As a result of the co-shipping program, demand for capacity declined 60 percent on some Dal-Tile lanes, netting transportation cost savings of 10 to 25 percent.
Kimberly-Clark is another shipper experimenting with co-loading or collaborative logistics, working with non-competitive retail shippers in shared channels to consolidate loads and cut transportation costs. Working with other retail suppliers, Kimberly-Clark was able to eliminate a full truckload shipment every two weeks.
Those types of savings will encourage more shippers to consider co-loading as a means of creating capacity and securing savings needed to keep transportation budgets in line, even if truck pricing rises more rapidly in 2013 and 2014.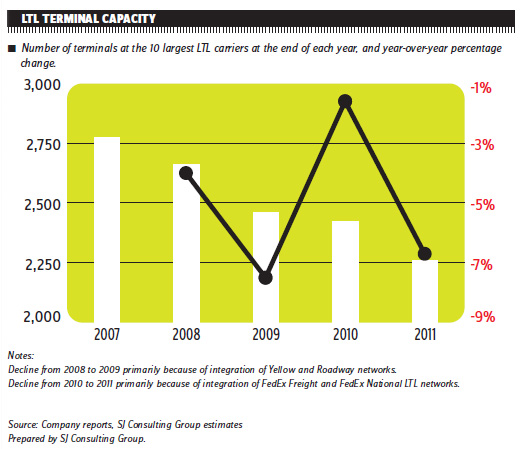 Contact William B. Cassidy at wcassidy@joc.com. Follow him on Twitter @wbcassidy_joc.