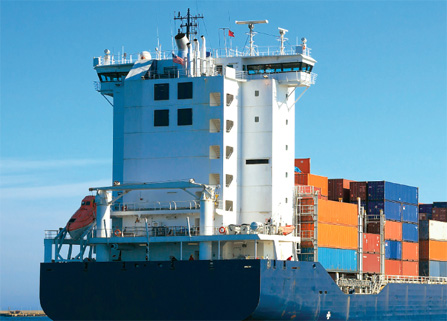 Could the major container lines finally be coming to terms with the overcapacity of vessel space that has acted as a drag on their earnings over the past two years? Recent carrier actions cutting the number of services, especially on the unprofitable Asia-Europe trade, suggest they are exercising discipline in reducing capacity, at least in the short term.
But for the world's largest carrier, the short-term view is no longer enough. Instead, Maersk Line — so influential in determining the direction of the market, be it the introduction of slow-steaming or the launch of a daily, guaranteed service — is taking steps to slash capacity in the short term and limit capacity growth over the longer term.
Maersk sent a strong signal to the industry this month, saying it was pulling 19 ships with total transportation capacity of 14,500 20-foot-equivalent container units out of the trade. It will end the AE5 service permanently and suspend sailings by the AE9 service until early December.
Other carriers, besieged by the slack demand wrought by Europe's recession and debt crisis, also have reduced Asia-Europe capacity over the last few months. Maersk's capacity cut follows reductions by the CKYH alliance of Cosco, "K" Line, Yang Ming and Hanjin Shipping and by the G6 Alliance between the Grand Alliance and the New World Alliance. Hanjin also will cut Asia-Europe capacity this winter.
Click image to Enlarge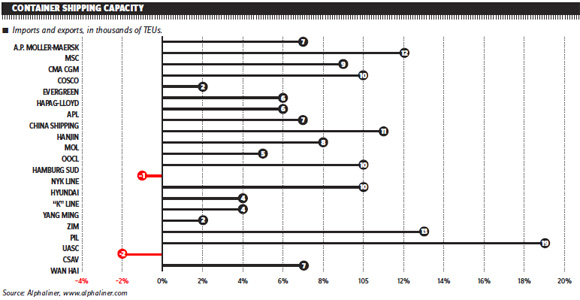 "If you are looking at the magnitude of capacity that Maersk is pulling and put it together with what the G6 and CKYH have done, it's a dual message," said Lars Jensen, CEO of Copenhagen-based research analyst SeaIntel. "On one hand, we are reaching the point where we believe the Nov. 1 rate increase will go through. But if we don't see more capacity withdrawals, I'm not convinced the rate erosion will stop over the longer term because of this."
Maersk and other carriers plan to boost their Asia-Europe rates by $500 to $550 per TEU on Nov. 1. "But I don't think they are pulling enough capacity out of the market yet to stabilize rates," Jensen said.
Over the longer term, Maersk Line parent A.P. Moller-Maersk is taking steps to de-emphasize the group's focus on container shipping. It aims to boost investment in its more profitable lines of business and lower the share that goes into container shipping. In the first "Capital Markets Day" meeting with analysts and investors in the group's 108-year history, CEO Nils Smedegaard Andersen outlined the new investment strategy, which will increase the combined share of capital investment to 50 percent in the group's other three core sectors: Maersk Oil, APM Terminals and Maersk Drilling. Those sectors currently get about 34 percent of the group's capital spending. In particular, the oil unit would receive substantial new investment. It has promising prospects that will require heavy investment in offshore oil wells in Angola, Norway, the North Sea, the U.S. Gulf and Brazil. The group aims to increase oil production by 50 percent to 400,000 barrels a day from its current 265,000 by 2020.
"We will aim for more stable results," Andersen said at the Oct. 9 investors' conference. He added that the group aims to deliver return on invested capital of more than 10 percent in five years. "It is going to continue to be a volatile business," Andersen said about Maersk Line. "We will continue to see vessel overcapacity for some years."
Maersk Line lost $602 million in 2011 and had a negative return on invested capital of 3.4 percent, primarily due to low freight rates on the Asia-Europe trade that plagued the industry through the first quarter of this year before the line returned to profitability, briefly, in the second quarter and then to losses again in the third.
Henrik Lund, head of investor relations, said the group aims to raise Maersk Line's pretax earnings by 5 percent above the average of other carriers in its peer group. To do this, it's likely to try to raise freight rates to reflect the quality and reliability of its service to shippers. Maersk has been aiming to boost schedule reliability on all of its trade lanes into the high 90-percent bracket. It has held down the No. 1 position in schedule reliability according to SeaIntel data.
"We want to price good service and get paid for delivering high-reliability products, such as Daily Maersk," Lund said in an interview, referring to the daily Asia-Europe service the carrier launched last year.
Related: Asia-Europe Air Carriers See Turbulence, Too . 
But this may be difficult, given shippers' penchant to care more about price than quality service. "My feeling is that over the longer term that there is not that much to be gained from service differentiation," SeaIntel's Jensen said. "But in the short term, Maersk Line and Hamburg Sud are the two carriers that consistently have an edge compared with the rest of the peer group."
The risk for pricing service based on quality is that shippers will opt for lower freight rates regardless of service. He pointed to one large carrier that consistently performs below average in terms of reliability, but "is growing nicely in terms of organic growth."
"What that tells me is that a large number of shippers out there are happy with average reliability, which was about 77 percent in August," Jensen said. "A smaller group who value reliability have already probably migrated to Maersk Line and Hamburg Sud a long time ago."
In the face of vessel overcapacity over the past two years, A.P. Moller-Maersk already had begun to scale back investment in the shipping sector. It decided against exercising the option to order the second 10 of 20 18,000-TEU Triple-E ships. The first 10 are scheduled for delivery starting next year. The company also said it won't buy any more refrigerated containers next year.
"We feel that Maersk Line has achieved sufficient capacity for the coming years, through 2013 at least," Lund said. Five years from now, he said, Maersk Line's total share of the invested capital will fall from 38 percent to the 25 to 30 percent range. "In absolute numbers, there are probably going to be more dollars invested in Maersk Line, but because the other sectors are growing significantly more than Maersk Line, its relative share within the group is probably going to be smaller," Lund said.
Maersk isn't alone in refraining from new orders. Mediterranean Shipping Co., the world's second-largest carrier by trade volume, says it won't order new ships until the market turns. "Clearly, that is a message to other carriers … (that) have been ordering new ships," Jensen said. "If Maersk Line and MSC can persuade other carriers to refrain from ordering more ships, that would be great for the industry, because then we can hope that we'll see a strong upturn in the market by 2014 or, more likely 2015, as the current overcapacity gradually gets absorbed."
It's not clear whether A.P. Moller's decision to reduce Maersk Line's share of the group's investment capital means it will no longer try to maintain its share of the container market, which had long been one of its primary goals. Andersen said earlier this year that Maersk had the fleet capacity needed to maintain its market share and did not plan to buy more vessels.
"If Maersk Line and MSC are not able to set the tone and get the other guys to follow, they are going to find themselves in the position where they are going to be forced into the choice of sticking to their choice of not ordering new ships and losing market share, or also ordering new ships to maintain market share," Jensen said. "But then you'll have the persistent problem of overcapacity. It's the same game we see over and over."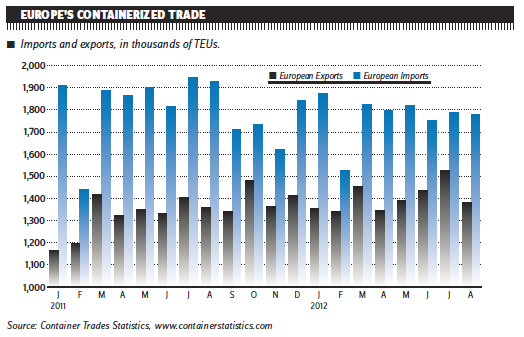 A.P. Moller-Maersk hasn't targeted the actual share of total capital investment it will make in each of its other three core sectors. APM Terminals currently receives 8 to 9 percent of the investment pie, a figure likely to grow considering its operating profit increased 30 percent in 2011 to $395 million. Its return on investment increased to 15.6 percent from 12.2 percent in 2010.
APMT's investment strategy targets the acquisition or construction of terminals in fast-growing emerging markets, largely on the north-south trade. But it also has invested in terminals in developed markets this year, including acquiring a terminal in Gothenburg, Sweden, and taking a stake in Russia's Global Ports.
The shift in the investment focus on shipping represents a generational change at A.P. Moller-Maersk that began in 2007 when Andersen was hired to replace the team that had backed Maersk Line's acquisition of P&O Nedlloyd, which plunged the shipping unit into a $568 million loss in 2005.
Soon after being appointed group CEO in a management shakeup in 2007, Andersen began closing or selling less-profitable or money-losing units, such as the group's plastics unit and its Odense shipyard in Denmark. Andersen also signaled that he intended to shift the group's investment strategy toward the more profitable sectors.
"It's not a surprise that they are rationing the investment in the container shipping line sector because they are getting negative returns," said Philip Damas, division director of Drewry Supply Chain Advisors in London. "There seemed to be a gradual realization that they need to stop investing in the shipping sector. This is what any proper shareholder in charge of investments would do."
Through it all, however, it's clear A.P. Moller-Maersk is committed to its container shipping business and will continue to invest in it. "Of course, if Maersk Line asks the group for more money and has a good investment case, we have funding to back them," Lund said. "Clearly, we believe Maersk Line will be profitable over the cycle, not just in the Golden Years. We do say it's challenging markets short term." 
Contact Peter T. Leach at pleach@joc.com. Follow him on Twitter @petertleach.