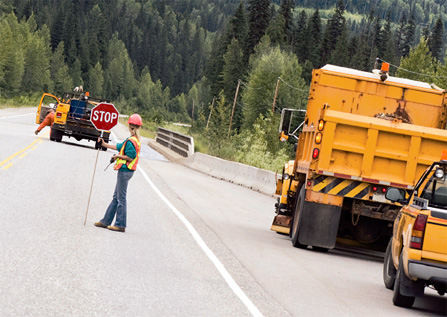 The problems are familiar on both sides of the U.S.-Canada border: crumbling bridges; crowded, dangerous highways; and growing congestion along key rail corridors that lead to major ports.
For years, Canadian manufacturers have complained that their country's deteriorating transportation infrastructure raises domestic logistics costs, making it even harder for Canadian exporters to compete with those in other countries.
Despite several government initiatives, "Canada's infrastructure is still in a very dire state," said Saeed Mirza, professor emeritus of civil engineering and applied mechanics at McGill University in Montreal. "About 30 percent of the entire infrastructure in Canada is more than 85 years old. The life expectancy of a little over 80 percent of our infrastructure has been exhausted. This represents a very serious situation."
Canadian manufacturers face a particularly stiff challenge competing on global markets because of the rise of the Canadian dollar. The "loonie" traded at its all-time low of 61.7 U.S. cents a decade ago, but has since risen to near parity with the U.S. dollar because of soaring global demand — and higher prices — for the commodities Canada exports, especially oil. 
China, in particular, has become Canada's second-largest merchandise trading partner (after the U.S.), with bilateral Canada-China merchandise trade reaching $64.5 billion in 2011, up from $57.4 billion in 2010. Meanwhile, Canada has lost some 600,000 manufacturing jobs since 2000, said Jim Stanford, chief economist for the Canadian Auto Workers Union, which recently negotiated new labor contracts with the Big Three automakers.
Related: Ports in Canada Building for the Future .
Canada increasingly has reverted to its traditional focus on trade in natural resources, Stanford and other economists say. In 2010, Canadian production of natural resources (energy, forest products and mining) generated a combined 11.5 percent, or $142.5 billion, of Canada's gross domestic product, and directly employed some 763,000 people, according to Natural Resources Canada, a government agency. That year, Canada's natural resources sectors contributed a combined $86.1 billion to the Canadian trade balance, but Canada's manufacturing sectors suffered a combined trade deficit of $64.4 billion.
Obscuring the weakness in Canada's manufacturing sector is the Houdini act Canada's financial sector managed in escaping the global financial crisis unscathed, and the fact the country faces no financial crisis or impending "fiscal cliff." On the contrary, five of the banks on Bloomberg Markets' latest survey of the world's "strongest" are Canadian institutions, compared with only three from the U.S.
Meanwhile, the Canadian Chamber of Commerce warned in a recent report of a long list of major challenges for manufacturers, including their declining labor productivity growth; their weakness at creating innovative, global brands; and a shortage of highly skilled labor that, in some sectors, is "becoming desperate, threatening our ability to keep up in a global, knowledge-based economy."
That's where crumbling infrastructure only makes things worse. Unlike their counterparts in the U.S., Canadian policymakers have been operating for years with a seemingly comprehensive nationwide plan for addressing the country's transportation infrastructure needs, not just for manufacturers but shippers of natural resources. Since 2007, the $33 billion Building Canada Plan administered by Infrastructure Canada in Ottawa has dictated Canada's infrastructure development.
To some, the budget may sound like a lot of money, but "that $33 billion is totally inadequate," Mirza said. "Our politicians are forgetting our infrastructure deficit is really $400 billion. We need another $400 billion to upgrade on all levels and, unfortunately, our governments are not paying attention. None of Canada's political parties even mentions infrastructure."
This neglect further promotes rising costs for transportation and logistics, which rob Canadian companies of their productivity, damage the country's global competitiveness, and hurt the overall quality of life, he said.
Avery Shenfeld, chief economist, and Benjamin Tal, deputy chief economist at Toronto-based CIBC World Markets, agree a lot more needs to be spent — and spent more wisely. In a recent report, the economists estimate it would cost roughly $130 billion just to repair and prevent the deterioration of existing municipally owned infrastructure.
"That life expectancy gets shorter with every year of delayed maintenance," the report said. Tal later said Canada's infrastructure deficit has been growing $20 billion a year, mostly because of insufficient spending on maintenance. As maintenance spending declines because of governmental cutbacks, the lifespan of the country's infrastructure declines more rapidly than necessary, he said. No infrastructure lasts forever, but when maintenance costs are cut to the bone, things fall apart even faster, Tal said.
The current approach to infrastructure in Canada is "design and forget," rather than design and maintain for the long haul, Mirza argued. Whatever maintenance occurs is managed by a third party. Worse, it's often ignored or deferred. "We engineers must design, build and insure, and look at the total costs for the lifecycle" of the infrastructure, not just at the initial expenditures, he added. Construction budgets also must address the issue of depreciation when calculating a realistic assessment of a project's lifecycle. 
"Our infrastructure needs are way beyond what can be afforded by all levels of government," Mirza said, so governments "must attempt to fund innovative sources of funding; the best one being public-private partnerships." To improve the way infrastructure assets are managed, users "must pay for all of the costs, including the depreciation of the assets," something "not even considered in many cases until the facility falls apart."
Tal agreed, adding, "Without private funding, the deficit will worsen," especially now that Canadian governments are under great pressure to reduce their deficits.
Mario Iacobacci, chief economist at engineering firm AECOM Canada, added, "An additional dollar of infrastructure investment could lead to as much as 17 cents of cost savings per year by firms, which translates into $2 billion worth of cost savings when applied to the $12 billion spending program. But this productivity boost is easily squandered if projects are poorly conceived."
There have been numerous poorly conceived projects in Canada, such as the construction of Montreal-Mirabel International Airport (opened in 1975), "which damaged the economic potential of Montreal for two decades," Iacobacci said. For that reason, all major new projects "should be subject to comprehensive benefit-cost analyses (that) cover all the quantifiable economic, social, and environmental costs and benefits."
Metrolinx, the regional transportation authority for Greater Toronto and Hamilton, and other provincial agencies already require such benefit-cost tests, as does the Canadian government. "But these tests can take time to carry out, and the results do not always occupy their rightful place in project approval decisions," Iacobacci said.
After "a sloppy start" 10 years ago, Canada is ahead of the U.S. when it comes to engaging and implementing public-private partnerships, the Urban Land Institute said in its 2011 survey of global infrastructure development.
Vijay Gill, principal research associate in transportation at the Conference Board of Canada, said the most cost-effective projects are those "where demand for the project is already visible," such as improvements made on two major Quebec highways, Autoroutes 25 and 30, near Montreal. "You don't make something up and then hope that people will use it," he said. "You do something where there is already a demonstrated need for it."
"Construction practices will have to be modified," Mirza added, so they encourage engineering projects that last over the long term. For example, rather than specify that a certain percentage of concrete must be used in building a road, "The specs for a project could be focused on the permeability of the concrete" to be used in it, so as to lengthen its life span.
Canada's National Research Council recently lauded such public-private projects as the Sea to Sky Highway, a $600 million British Columbia project that "improves the safety, sightlines and slope stabilization" of the 57-mile section of Highway 99 from West Vancouver to Whistler; the North East Stoney Trail Highway, a $650.7 million ring road running around Calgary and Edmonton; the Fredericton-Moncton Highway project in New Brunswick; and the 165-mile Trans-Canada Highway Project from Long's Creek, New Brunswick, to the Quebec border.
Contact Alan M. Field at alanmf0@gmail.com.