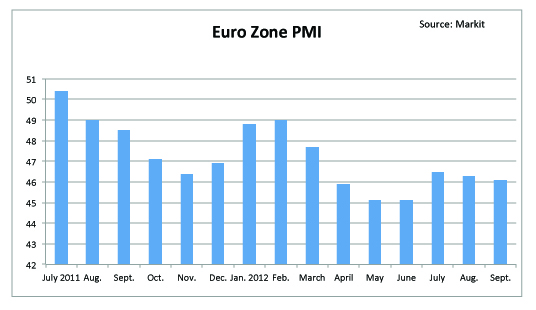 The euro zone economy contracted further at the end of the third quarter. Markit's Eurozone Manufacturing Purchasing Mangers' Index (PMI) was down 46.1 in September from 46.3 in August, Markit Economics reported. For 14th straight month, the PMI was below its 50 mark that divides growth from contraction.
In September, Germany Composite Output Index came in at 49.2 up from 47.0 in August; France's Composite Output Index showed 43.2, down from 48.0 in August; and the Spanish Business Activity Index fell to 40.2 in September from 44.0 in August, Markit reported.
Ireland was the only nation to report an increase in overall economic activity. The rate of growth reached a near 1 ½-year high.
The PMI is based on monthly surveys of carefully selected companies and provide an advance indication of what is really happening in the private sector economy, tracking variables such as output, new orders, stock levels, employment and prices across the manufacturing, construction, retail and service sectors.