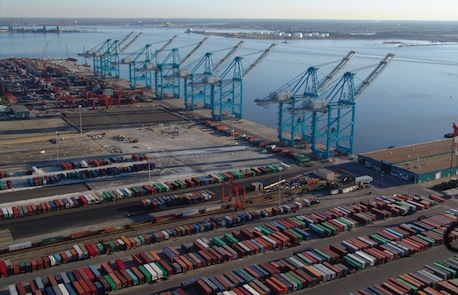 The Carlyle Group withdrew its bid to purchase the operating rights of the ocean terminals at the Port of Virginia.
Carlyle, which was one of three outside groups bidding on the right to operate the Virginia Port Authority's terminals, said it was withdrawing from the bidding process "after substantial analysis and deliberation."
Carlyle's proposal was estimated to be worth $1.78 billion to $2.1 billion over the life of the 48-year lease for the terminals.
Sean Connaughton, secretary of the Virginia Department of Transportation, which is overseeing the bidding contest, revealed the news of Carlyle's withdrawal on Monday at a public hearing on the bidding process by the Virginia House Appropriations Committee.
Connaughton also told the hearing that the deadline for companies to submit detailed proposals has been extended from November until Dec. 2 or 3. He did not say when it would name the preferred bidder, which it was to have revealed on Nov. 1, but it did set a time horizon of April or May for wrapping up the process.
Carlyle Infrastructure Partners withdrew the offer in a letter to Virginia's Office of Transportation Public-Private Partnerships, which had opened up the bidding process after receiving an unsolicited bid from APM Terminals.  
That leaves APM Terminals and RREEF, the real estate investment arm of Deutsche Bank that also owns Maher Terminals, still in the bidding.
Virginia International Terminals, which operates Norfolk International Terminals, Portsmouth Marine Terminal, Newport News Marine Terminal and the Virginia Inland Port, had been asked to make a case as to why it should continue to operate the terminals on behalf of the VPA, based on its history and how it sees the future growth of the port's terminals business.
V.I.T. presented its business plan for the terminals on Monday in House Appropriations Committee hearing. It forecast the Virginia terminals' volume growth at about 6 percent annually.
Contact Peter T. Leach at pleach@joc.com. Follow him on Twitter @petertleach.