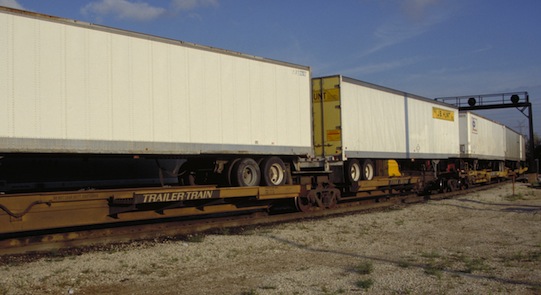 J.B. Hunt's 15 percent year-over-year jump in intermodal revenue in the third quarter appears to be mostly because of volume growth, not pricing, another sign that rate gains by intermodal intermediaries have decelerated.  
The company's intermodal volume rose 15 percent in the period, helping to push total profit up 12 percent to $133 million compared to the same period last year. Revenue per load, a key measure of pricing, was flat in the third quarter. J.B. Hunt didn't disclose pricing in its earnings release, the second straight quarter the company has neglected to do so, Stifel Nicolaus analyst John Larkin noted.
Increased competition among intermodal intermediaries and "the large number of containers coming online" will keep pricing "subdued," according to a report by Avondale Partners. Intermodal pricing in September was flat year-over-year, and although rates have risen 1 percent sequentially in each in the two months prior, pricing matched the same periods in 2011, according to the Cass Information Systems' intermodal linehaul index.
J.B. Hunt's intermodal traffic rose 22 percent year-over-year in the eastern market, and transcontinental volume expanded 11 percent in the third quarter. Intermodal  business made up about 61 percent of the company's third quarter revenue, which grew 11 percent year-over-year to $1.3 billion in the period. Rivals Hub Group and Swift Transportation are expected to release their third quarter earnings on Oct. 22.
Contact Mark Szakonyi at < mszakonyi@joc.com. Follow him on Twitter  @Szakonyi_JOC.