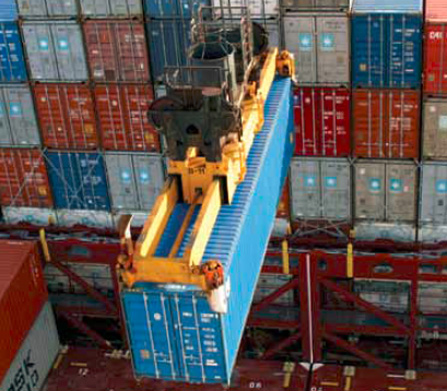 A handful of importers in the eastbound Pacific trades sign their annual service contracts during the cold winter months when spot market rates are low and carriers are anxious to lock in cargo commitments for the coming year.
More often than not, these "early-bird" signees enjoy below-market freight rates all year long. If carriers have their way this coming year, they won't see these special benefits in 2013.
The Transpacific Stabilization Agreement, a discussion group that represents 15 of the largest carriers in the trade from Asia to the U.S., announced on Sept. 25 its rate guidelines for the 2013-14 contracting season. The TSA proposed an increase of $800 per 40-foot container to the West Coast, $1,000 per FEU to the East and Gulf coasts and $1,200 per FEU for intermodal shipments via all coasts.
The proposed rate hikes are to take effect in mid-October 2012. "This includes early bird contracts concluded in late 2012 and early 2013, as well as standard contracts which typically take effect on May 1, 2013," the TSA stated in a release.
Applying the same rate increases to early signers that are charged to the majority of importers who sign contracts each year effective May 1 is a new strategy for the trans-Pacific, said Ben Hackett, an industry analyst who co-publishes the monthly Global Container Report. "But will the carriers hold together on this?" he asked.
Click Image to Enlarge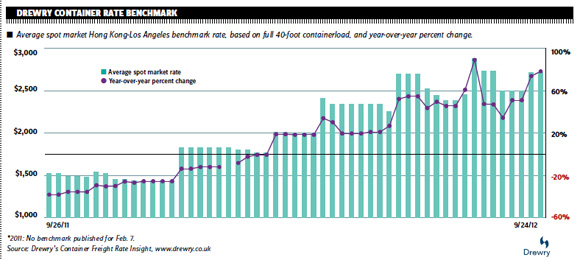 Relatively few importers are expected to sign their annual service contracts during the next three or four months. Some home improvement retailers sign early contracts because their biggest season is in the spring. Apparel importers with seasonal merchandise that moves in the spring also may sign early.
Carriers value the business of importers that ship during the off-season, when cargo volumes are low and space on vessels goes begging. Therefore, offering incentives to those importers would be considered a good business decision, especially because those same importers also ship during the peak season.
This past year, however, carriers found that offering discounts to early signers set a low floor for rates that other shippers felt they were entitled to as well. Because spot market rates are also lower during the slack winter months, carriers this year ended up benchmarking some contract rates off of the spot rates in effect early in the year.
As a result, many beneficial cargo owners locked in annual rates during the winter and spring months that proved to be hundreds of dollars per container lower than what the spot market commanded during the summer and fall months of 2012.
According to the Drewry Container Rate Benchmark that tracks average rates charged to cargo consolidators on shipments from Hong Kong to Los Angeles, the spot rate at the end of 2011 was less than $1,500 per FEU. The rate in mid-September 2012 was nearly $2,500 per FEU.
In order to prevent spot rates during the slack winter months from bleeding into service contracts signed during the same period, the TSA said its members intend to increase their rates for the coming contracting season regardless of whether the contracts are signed in December 2012 or May 2013.
Fast-forwarding proposed rate increases is only one of the steps carriers in the eastbound Pacific are taking this year to deal with rising costs and disappointing trade volumes. Carriers canceled individual voyages when cargo volumes were light, such as in the first week of October when factories in China shut down for the National Day celebrations.
Also, the CKYH alliance of Cosco, "K" Line, Yang Ming and Hanjin began their "winter" deployment on all-water services from Asia to the East Coast in late September by discontinuing one of the vessel strings for the slack season.
The TSA also announced the intention of its member lines to simplify the fuel surcharge process and, at the same time, recover fuel costs when the price of oil increases by combining three fuel surcharges into one.
Carriers today are charging a bunker fuel surcharge, a surcharge to cover the new requirement to burn low-sulfur bunker fuel within 200 miles of the coast of North America, and a surcharge on the intermodal rail portion of through movements to inland destinations. The TSA stated that a single fuel surcharge covering all three costs would be easier to manage.
Shippers are skeptical that this effort could result in fuel surcharges becoming a profit center as rate creep pushes total fuel surcharges higher. The proposed new surcharge will take effect on Jan. 1.
Whatever happens in the coming year in terms of spot rates, general rate increases and peak-season surcharges will be governed, as always, largely by supply-demand economics in the eastbound Pacific. That is why early contract signings are a calculated risk by carriers and shippers, both of whom are dealing with imperfect information about what will happen in the ensuing year.
Shippers and carriers rely heavily on projections by economists and industry analysts of how much cargo volumes will increase in the coming year, how much new capacity is scheduled to come online and how carriers will manage that capacity.
Journal of Commerce Economist Mario Moreno projects containerized imports in 2013 will continue the trend of slow growth established over the past two years. He bases his forecast on modest growth in gross domestic product, an unemployment rate that is still high by historical standards and a housing market that is starting to rebound but still has a long way to go to return to peak levels.
Moreno said the economy remains unable to generate more than flat growth in merchandise imports. "U.S. consumers are simply unable or too afraid to spend on purchases that can be delayed until the economy provides more certainty," he said. Moreno projects imports for all of 2012 will increase 4.6 percent over last year.
This modest growth in imports should continue through 2013, as GDP in the U.S. will likely increase about 3 percent next year. Corporate expansion and manufacturing in the U.S. are being held back by the recession in Europe and slow growth in China and elsewhere in Asia. However, the dollar strengthened this year compared to other currencies, which helps imports, and consumers continue to buy more cars, which increases imports of auto parts and tires.
Carriers, however, continue to boost capacity. According to the Paris consulting firm Alphaliner, global container ship capacity has increased about 7 percent each of the last four years. Carriers in 2013 are expected to take possession of another 1.8 million TEUs of capacity, up from 1.4 million TEUs this year.
Carriers have been able to mitigate some of the increased capacity by slow-steaming their vessels. Ship lines this year reduced the capacity of their fleet 9 percent through slow-steaming, Alphaliner reported.
While slow-steaming reduces fuel burn and lowers operating costs, total carrier costs continue to increase, said Brian Conrad, executive administrator of the TSA. Aggregate inland transportation, equipment repositioning, cargo handling, feeder ship and maintenance and repair costs will increase about 8 percent in the coming year, he said.      
Carriers must establish a benchmark rate this winter that prevents rate erosion in service contracts for the coming year, Conrad said.  
Contact Bill Mongelluzzo at bmongelluzzo@joc.com. Follow him on Twitter @billmongelluzzo.