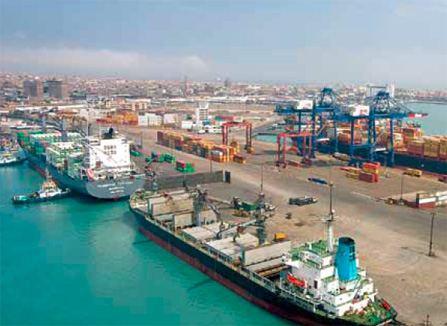 The Panama Canal expansion project will create huge opportunities for countries throughout Latin America, but ports in countries from Argentina to Venezuela have a lot of work to do if they're to take full advantage of the trade growth that will develop when the enlarged canal opens in 2015.
Ports in Central and South America must deepen their harbors, build larger marine terminals and eventually automate their operations to accommodate and quickly load and unload the post-Panamax vessels that will transit the canal.
Building modern port facilities and developing inland infrastructure hasn't been a strong suit for most countries in Central and South America. Except for Chile and Panama, growth in trade has outpaced port and infrastructure development throughout the region.
Unlike U.S. ports that are automating their marine terminals and deepening their harbors to handle vessels capable of carrying 8,000 20-foot-equivalent container units and up, most of the ports in Latin America are scrambling just to keep up with current cargo volumes.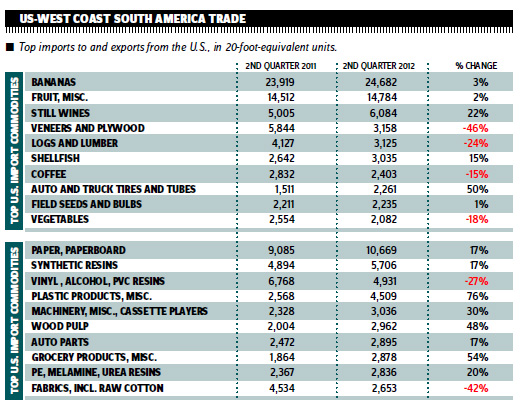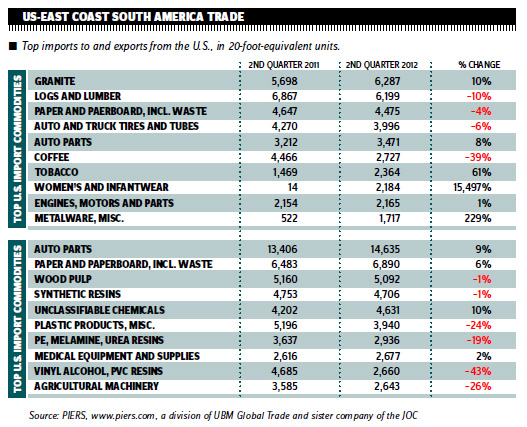 "They're still basic RTG (rubber-tire gantry) and top-pick operations," said Mark Sisson, who leads the maritime analysis group at Los Angeles-based engineering firm AECOM.
International marine terminal operators are certainly interested in emerging markets such as Latin America, where the economies are growing more rapidly than those in mature markets such as Europe and North America. DP World, Hutchison Ports, APM Terminals, ICTSI and SSA Marine have invested in container facilities in the region.
Central and South American governments generally welcome foreign investment in ports and infrastructure. They view private sector investment as helpful in expediting development projects the public sector can't finance on its own.
Latin America has a young population and growing middle class. According to the United Nations Economic Commission for Latin America, more than 50 percent of the population is middle class. Latin America is the fastest growing trading region for the U.S.
International marine terminal operators are making selective investments in port projects that are at the crossroads of busy trade lanes. APM Terminals in September announced a $1 billion container terminal project in Moin, Costa Rica, with the first phase scheduled for completion in 2016. The 59-foot-deep harbor can handle the largest vessels afloat.
Philippines-based ICTSI is completing the first phase of a container terminal at the Port of La Plata on the River Plate in Argentina. The 101-acre site near Buenos Aires will have a capacity of 450,000 TEUs when Phase 1 is completed.
Panama is ahead of most countries in the region when it comes to developing modern port facilities. Panama is developing its ports on the Pacific and Caribbean coasts as transshipment centers for the Americas.
To be transshipment hubs in an era of post-Panamax vessels, Panama's ports must emphasize productivity, Alberto Aleman Zubieta, the recently retired CEO of the Panama Canal Authority, told the South Carolina International Trade Conference in September. Just as Singapore has grown to be one of the world's busiest ports by being one of the most productive, Panama's ports and terminal operators must efficiently handle the large vessels that call there, he said.
Chile, Ecuador, Peru and Colombia are also major users of the canal. Chile, an exporter of fruit, wine, forest products and minerals, has placed great emphasis on developing its ports and inland infrastructure. Santiago and Valparaiso are "forward-looking" ports with modern and efficient terminal operations, said Walter Kemmsies, chief economist at Moffatt and Nichol engineers.
Chile recovered relatively quickly from the devastating 2010 earthquake by moving immediately to rebuild its damaged port and road infrastructure.
Most other major ports in the region still have a long way to go to handle existing cargo flows, not to mention the growth in traffic that will occur when the Panama Canal's three new locks open in 2015.
Brazil boasts the largest economy in Latin America, but its port and inland infrastructure development lags. The Port of Manaus on the Amazon River, deep in Brazil's resource-rich interior, is affected by the huge tidal fluctuations in the river, Kemmsies noted. Like other productive regions in the nation's interior, it lacks good rail connections to the coastal seaports, he said.
The Port of Recife is the gateway for northeastern Brazil and offers significant potential for trade with Asia, the U.S. and Europe, Kemmsies said. The port can accommodate post-Panamax ships, and is working to improve its inland rail and road connections to Brazil's interior. ICTSI's Suape Container Terminal in Recife is installing information technology such as radio-frequency identification and optical character reader systems at the gates and within the container yard.
Santos is South America's largest port and serves Sao Paulo, the center of manufacturing in Brazil. Like some ports in the region, Santos is hemmed in by the surrounding city, which contributes to port and road congestion, Kemmsies said.
Venezuela and Argentina could be economic leaders in Latin America, but political and economic events have constrained modernization of their ports, Kemmsies said.
Latin America must devote greater resources to port and infrastructure development, and attract more private sector capital, to capitalize on the opportunities that will emerge with the completion of the Panama Canal expansion.
The expanded canal will open new opportunities for commerce between South America and the world's largest economies. Vessels with capacities of 4,000 to 5,000 TEUs are common today in Latin America, but if ports in the region intend to carry on direct ocean commerce with Asia, Europe and the U.S., they must deepen their harbors and improve port productivity to handle post-Panamax vessels of twice that size.
Because the big ships will strain the capacity of the ports, terminals and inland infrastructure in the region, at least initially, Aleman sees Panama as the transshipment hub where the post-Panamax vessels serving the major east-west trade lanes will transfer cargo to Panamax vessels in the north-south trades. 
Contact Bill Mongelluzzo at bmongelluzzo@joc.com. Follow him on Twitter @billmongelluzzo.