Let's be clear: China isn't going anywhere as the world's dominant low-cost manufacturing center. But with labor and transportation costs rising, manufacturers of everything from automobiles and electronics to apparel and consumer goods are slowly but steadily moving production closer to their export destinations.
One of the first places they're looking is Latin America, where companies doing business in the region for the first time are finding surprising, and rewarding, advantages.
As a near-sourcing destination, Latin America offers significant value relative to Asia, including competitive labor rates, cultural affinity, lower transportation costs, abundant resources and a young, skilled work force, according to the A.T. Kearney report "Destination Latin America: A Near-Shore Alternative."
As economic and political stability increases in the region, a growing number of companies are taking advantage of the near-sourcing opportunities, said Patrick Campbell, president of Yusen Logistics, Argentina. "The paths are open to new investments in Latin America," he said.
The near-sourcing trend can be somewhat exaggerated given that China remains the primary destination for outsourcing. What companies are really doing is deleveraging their Asia presence to reduce supply chain risk, and to take advantage of the benefits Latin America offers, said Tim Nolan, senior vice president and general manager of the international division at Yusen Logistics, Americas. "As a whole, Latin America is more stable, has a more reliable infrastructure and a better educated work force than it did 10 years ago," he said.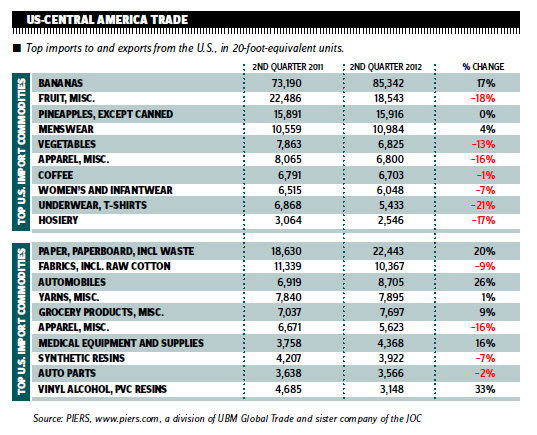 Latin America is a core focus area for Yusen Logistics, the forwarding division of Tokyo-based NYK. Yusen has a presence throughout the region, with offices in Mexico, Brazil, Chile and Argentina, and exclusive agency agreements in other nations. The company holds biannual summits with Latin American partners and customers, in Chile and Miami, and recently expanded its Brazilian office.
"It's a new evolution for us," Nolan said. "We're growing more aggressively in the region than in the past." 
Yusen handles local distribution, as well as inbound and outbound ocean and air transportation for a diverse customer base that includes electronics, footwear and automotive manufacturers.
Most of its customers are asking Yusen to replicate the services it provides in Asian outsourcing locations, customs compliance, outbound visibility, EDI feeds, exception management and local and regional expertise.
Rising labor, transportation and raw materials costs in China and appreciation of the Chinese yuan against the dollar contributed to an average 3.1 percent rise in import prices from China in 2011. That's a big jump over the modest 0.7 percent increase the previous year, Journal of Commerce Economist Mario Moreno said.
The upward trend is likely to continue, with a rise of 1 to 2 percent this year. As a result, "Demand from China will be modest at best, and near-sourcing will gain popularity," Moreno said.
The trend to near-sourcing in Latin America is notable in the apparel and automotive parts sectors. Apparel shipments from Central America jumped 9.4 percent in 2011 while declining from China and the rest of the world. Imports of auto parts imports from Mexico are rising amid shipper concerns over a perception of unfair trade subsidies provided by China to its auto parts exporters. 
"Because import prices from China are expected to remain on the uptrend and tensions in the Middle East are more likely to boost oil prices, source shifting to Mexico and Central America will endure," Moreno said. 
With labor and fuel costs rising in China, companies in a growing number of industries are turning to Latin America and Mexico to reduce production costs, said Steve Flowers, president of UPS Global Freight Forwarding.
Spurred by heavy near-sourcing activity in the high-tech, automotive and industrial manufacturing sectors, UPS last year rolled out CrossBorder Connect, a ground freight service between the U.S. and Mexico designed to expedite heavy shipments between the North American Free Trade Agreement partners.
The near-sourcing trend also is spreading to the smaller nations of Central America. UPS in May expanded premium air freight services into Nicaragua and Honduras. UPS Express Freight service connects the two Central American nations to cities in 27 countries in North America, Asia and Europe.
"The combination of low labor costs and the geographic proximity to the U.S. market make Nicaragua and Honduras well-positioned to compete in today's global marketplace," said Scott Aubuchon, UPS's director of international air freight.
UPS has been flying regular flights five to six times a week to both nations, which are benefiting from the 2006 Central America Free Trade Agreement through expanded bilateral trade with the United States. Nicaragua's exports to the U.S. have grown 21 percent annually in the last two decades. Exports include seafood, apparel and precious metals.
Related: Work Needed Before Ports in Latin America Will See Gains .
Honduras, the third-largest exporter of automobile wiring harnesses to the U.S., has diversified its export offering from predominantly agriculture goods to industrial products. About 65 percent of total Honduran exports head to the U.S., and roughly 51 percent of its imported goods are from the U.S.
"As long as the infrastructure is there, manufacturers from all around the world will continue to look for more economical solutions," Flowers said. 
UPS established most of its Latin American operations in 1989, including those in Brazil, Argentina, Chile, Panama, Honduras, the Dominican Republic, Guatemala and Ecuador. Its presence in the region took a big leap in 2000, when it acquired Challenge Air Cargo, at the time the largest all-cargo airline serving Latin America.
UPS, the world's largest package delivery company, currently offers more than 100 flight segments a day to Latin America from its Miami gateway.   
Before setting up shop in Latin America, companies should consider the implications of doing business under NAFTA and/or CAFTA. To maximize near-sourcing's benefits, they need to understand how to leverage the provisions of the trade agreements. Other considerations include inbound cost of raw materials or components; manufacturing costs; outbound transportation, time in transit; and complying with each country's specific customs requirements.        
Companies also should pay close attention to cultural and business differences. Labor rates in Mexico, for example, vary from state to state. Information tends to get lost in translation, making bilingual resources a key component for teams evaluating a move to Latin America, as well as implementation and operational teams.
"Companies must fully evaluate and understand every aspect of the country, its people and how they conduct business," Flowers said.
Latin American near-sourcing is certainly trending upward in Mexico, with automotive, high-tech and medical supply companies leading the charge, said Lyman Daniels, president of CB Richard Ellis, Mexico. "It's driven by the level of trust that U.S. users have in the quality of production in Mexico," he said. 
Mexico's logistics and distribution infrastructure has improved significantly, with premium, Class A facilities replacing older, smaller warehouses in the nation's four biggest industrial markets: Mexico City, Guadalajara, Juarez and Monterrey.
Also growing rapidly is the Bajio region of Central Mexico, where automakers, drawn by the region's infrastructure, educated employment base and business-friendly governments, are setting up shop.  
Latin America is the fastest-growing region in the world for near-sourcing of business process outsourcing, information technology outsourcing and contact centers, which includes call centers and service support centers. Combined, the three sectors have grown at an 11 percent clip during the past five years, said Rodrigo Slelatt, principal with A.T. Kearney. 
Market drivers include the bilingual language skills of a young, educated work force. Outsourcers' ability to serve Spanish- and English-speaking consumers from Latin America makes the region cost-competitive with traditional service outsourcing markets in India and the Philippines.  
Argentina, Brazil, Chile, Costa Rica and Mexico are the most common Latin American destinations for service near-sourcing. Mexico, Brazil and Chile rank in the top 10 of A.T. Kearney's Global Services Location Index, which uses more than 40 metrics to evaluate the attractiveness of 50 offshore service destinations. Argentina and Costa Rica also rank highly.
Brazil is a one of the world's top locations for business process and IT outsourcing, and is Latin America's largest call center market. A growing number of consumer goods and telecommunications companies serve a growing number of U.S. Hispanic customers from Mexico. "Foreign companies have significantly increased their presence in Latin America, mainly to support customers that are asking to have near-shore presence," Slelatt said.  
CEVA Logistics, one of the world's largest automotive logistics providers, is expanding in Latin America as many of its automotive customers set up shop there for the first time. CEVA has been operating in Latin America since 1974. It operates 10 branches and has some 6,000 employees in Brazil, and operates branches in 16 other Latin American nations. Latin America accounts for about 10 percent of CEVA's global revenue, said Nadia Ribeiro, senior vice president for business development, Latin America.
Local expertise is a key 3PL capability for customers new to Latin America. CEVA is one of the top five customs brokers in Brazil, a critical service given the nation's complex tax regimes. More than 90 percent of CEVA's managers in Latin America work in areas where they're from, and local experts operate the company's Ground organization.
CEVA recently signed a two-year contract with Chery, China's largest independent automaker, for services related to customs clearance and import taxes. Chery has manufacturing facilities in Uruguay and Venezuela and is set to open a new $400 million plant in Brazil.
Chery wanted CEVA to help maximize tax advantages related to importation of production line equipment from China for the Brazilian facility. Specifically, it needed experts who understood strict local content rules and import tax regimes.   
Near-sourcing also is driving growth in CEVA's technology and consumer products sectors. Most of CEVA's customers manufacturing in Latin America for the first time, regardless of sector, need similar types of services, including customs clearance, ground transportation and warehouse and inventory management.
CEVA is responding by creating a bundled service package for the newcomers. "We want to support these companies with the services they need, considering they don't know the country or region specifics," Ribeiro said. 
Contact David Biederman at inexdb@comcast.net.