No one's expecting much for the economy during the fourth quarter, and prospects are dimming for freight volumes in the months ahead.
"I think this quarter is not going to look very pretty," said Walter Kemmsies, chief economist at port engineering consultant Moffatt & Nichol. "The tea leaves are looking worse and worse, and there is a fair chance we are already in recession."
Lakshman Achuthan, chief operations officer of the Economic Cycle Research Institute, warned in 2011 a recession was inevitable. He's sticking with that call. "We do believe we are in recession," he said in a Sept. 14 Bloomberg interview. He cited cuts in GDP estimates, slowing retail sales and persistently high unemployment, and said coincident data often lag the onset of a recession.
Nariman Beharvesh, chief economist at IHS Global Insight, is less pessimistic, but not bullish: "We don't think the chances of a recession in the U.S. are more than one-in-five. That said, we're looking at very sluggish growth." Though he's not predicting a recession, he said one could result if Middle East hostilities cause a spike in oil prices, or if Congress fails to avoid the "fiscal cliff" of Jan. 1 tax increases and deep federal budget cuts.
Optimists point to a housing market that's starting to recover, stock prices boosted by the Federal Reserve's continuing stimulus, the upward trajectory of automobile sales, and surveys showing improving consumer confidence. The overall outlook, however, doesn't suggest a boom in freight demand.
FedEx CEO Fred Smith warned recently that many observers "completely underestimate" the impact of slowing exports from China, which is selling fewer goods to recession-wracked Europe. The 3.9 percent year-over-year rise in containerized cargo flows through Chinese ports in August was the lowest this year.
Most economists predict China's economy will expand 7 to 8 percent this year, slower than in recent years but still healthy by global standards. "We don't think there's going to be a hard landing," Behravesh said.
Click Image to Enlarge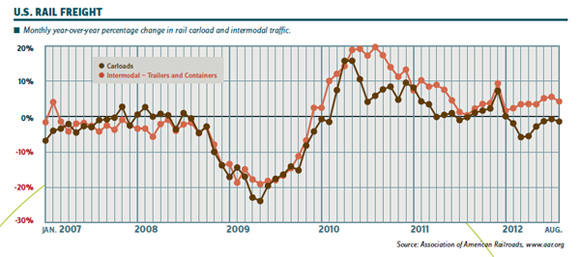 U.S. containerized imports have enjoyed a pre-holiday peak season, but it came with a couple of asterisks. Modest increases in July-August volumes were boosted by comparisons with weak volumes in 2011, and by inventory stockpiling to hedge against a threatened Maine-to-Texas dock strike.
Now that the International Longshoremen's Association and its employers have extended negotiations 90 days past the Sept. 30 contract expiration, volumes in the next month or two may be weaker than previously forecast.
"We had a peak season, but we're past that now, and probably the threat of an ILA strike made things look a little 'peakier' than the economic data would suggest," Kemmsies said. 
Paul Bingham, economics practice leader at CDM Smith, said many shippers apparently implemented contingency plans in advance of the original contract expiration date, "so it wouldn't be a surprise if the volumes drop off a bit."
The monthly Global Port Tracker produced by the National Retail Federation and Hackett Associates estimated year-over-year volume at 10 top U.S. import gateways rose 4.4 percent in August. Volume is forecast to increase 8.5 percent in September and 11.7 percent in October, before slowing to 1.9 percent in November and 2.7 percent in December.
Journal of Commerce Economist Mario O. Moreno expects data from PIERS, a JOC sister company, to show import container volume growth of 7.9 percent at all U.S. ports in the third quarter and 5.3 percent in the fourth. He forecasts containerized imports will rise 4.6 percent for the full year, with exports up 1.7 percent.
Domestic freight volume, meanwhile, is feeling the impact of lower manufacturing growth, swelling inventories and up-and-down consumer demand.
Truck tonnage rose 3.2 percent from a year earlier in August but dropped 0.9 percent from July, according to the American Trucking Associations. "While choppy, tonnage has essentially been flat this year, with August being the second-lowest month of the year," ATA Economist Bob Costello said.
U.S. rail carload traffic in August fell 1.4 percent from a year earlier, the seventh straight monthly year-over-year decline, according to the Association of American Railroads. The decline was mainly because of weak coal shipments. Intermodal traffic increased 4.3 percent, with weekly average volume of 246,198 containers and trailers, the highest for any August except 2006.
Freight volumes have been affected by slowing growth in manufacturing, which has been a bulwark of the economic recovery. Orders for non-defense capital goods excluding the volatile aircraft sector rose
1.1 percent after decreases of 5.2 percent in July and 2.7 percent in June, Commerce Department data show.
The report illustrates the uncertain outlook for manufacturing and the U.S. economy, said Daniel J. Meckstroth, chief economist at the Manufacturers Alliance for Productivity and Innovation. "Orders rise and fall, and the up-then-down nature causes uncertainty among business owners. They tend to postpone action such as investment and hiring when they do not see a clear growth pattern," he said.
"The cumulative effect of the recession in Europe, the slowdown in China, the U.S. fiscal cliff and regulatory uncertainty due to the elections seems to be restraining growth," Meckstroth said. "In fact, U.S. economic growth is so slow that it has pulled down the pace of manufacturing to a stall speed."
The Institute for Supply Management-Chicago's business barometer fell to 49.7 in September from 53.0 in August. The drop below the 50 mark, which separates growth from contraction, was the first since September 2009 and reflected a slowing of new orders and hiring.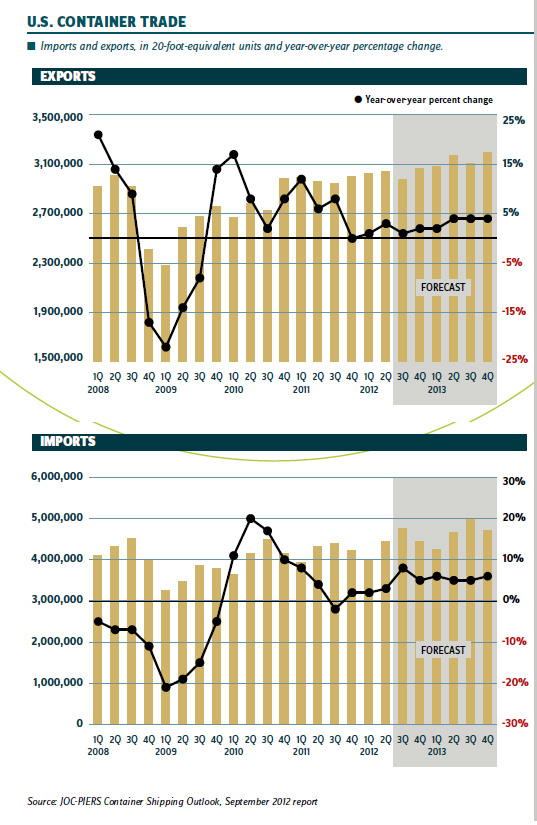 GDP forecasts are being ratcheted downward. The Commerce Department lowered its estimate of annualized economic growth for the March-June quarter to 1.3 percent rate from an already-anemic 1.7 percent. About half of the reduction was from the Midwest drought's impact, which is expected to continue through 2012.
Consumer spending rose 0.5 percent in August, mostly from higher gasoline prices. Adjusted for price increases, spending increased only 0.1 percent, after a gain of 0.4 percent in July. "Many retailers were hopeful that the back-to-school shopping season would have a little more oomph, especially after the strong showing in July's retail sales figures," Chris G. Christopher Jr., senior principal economist at IHS Global Insight, said in a commentary.
The International Council of Shopping Centers is forecasting a 3 percent increase in sales in the traditional November-December holiday season, and said retailers are expected to hire 26,000 temporary workers, a slight increase from 2011.
The council said its forecast is clouded by economic cross-currents, including the overall economy, housing markets, gasoline prices, the presidential election and the "fiscal cliff" of $500 billion in automatic federal budget cuts and tax increases slated for Jan. 1.
Michael P. Niemira, the ICSC's vice president of research and chief economist, said congressional action to eliminate uncertainty about the fiscal cliff would "assuage consumer fears, which, in turn, could propel this season's performance far above the council's current expectations."
Monthly surveys by the Conference Board and Reuters/University of Michigan show improved consumer confidence, apparently fueled by a rising stock market and a gradual recovery of the long-moribund housing market. Nevertheless, household budgets remain strained.
"Consumer debt to income peaked at about 130 percent in 2007, and remains at about 115 percent," Moffatt & Nichol's Kemmsies said. "Even if incomes rise sharply, it will still be three or four years before we get back to 90, what I consider to be the upper end of a sustainable debt-to-income ratio."
Housing markets appear to have turned the corner, but remain far from healthy. Recent increases in prices, building permits and home starts are from a low base.
U.S. home prices posted a broad-based gain of 1.2 percent in July, according to the monthly S&P/Case-Schiller survey. The Commerce Department said housing permits in August were at an annual rate of 803,000, up 220,000 in two years, but still well below the pre-recession level of 1.5 million.
Housing tends to generate sales of furniture and home furnishings, which account for about 10 percent of U.S. containerized imports. Furniture imports in the first half of the year rose 5.3 percent year-over-year to 893,700 20-foot-equivalent units, PIERS data show, but were down 9 percent from the 982,695 TEUs in the first half of 2007.
And, although there's a strong link between housing and home furnishings sales, the full impact isn't immediate, Charles H. Turner, chief financial officer and senior executive vice president at Pier 1 Imports, reminded analysts recently. "Not everybody does everything to their house on Day 1," he said. "It takes them some time … but it happens over a couple of years."  
Contact Joseph Bonney at jbonney@joc.com.