The JOC For-Hire Trucking Employment Index was flat in September, as trucking payroll numbers increased only slightly from August amid economic uncertainty and slow growth in freight demand.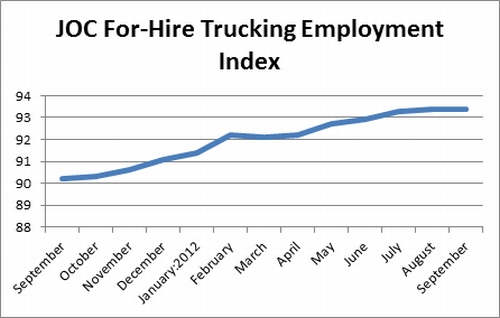 The September reading of 93.4 was the highest reading for the index since October 2008. However, the measure of trucking employment trends is still about 6.5 percent below its pre-recession peak in early 2007.
The 93.4 index reading compared with a revised reading of 93.3 in July, 92.9 in June and 90.2 a year ago. The index indicates trucking employment is up 9.5 percent from March 2010.
For analysis, see Trucking Employment Gains Grind to Crawl.
The Journal of Commerce calculates the seasonally adjusted index by assigning a base value of 100 to average trucking employment in the fourth quarter of 2006.