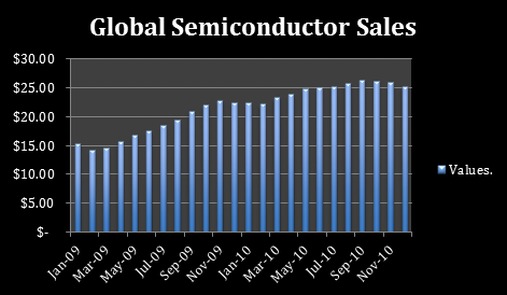 Global semiconductor sales in May rose 1.4 percent from the prior month, giving the struggling air cargo industry, which typically ships the foundation technology, a slight boost in the arm.
Semiconductor sales in May fell 3.5 percent year-over-year to $25.2 billion, according to the Semiconductor Industry Association. Global sales between March and May rose at the highest rate, 6.4 percent, from the December through February period since June 2010. Plus, sales on a consecutive basis rose for the third month in row in May, marking the longest streak of sequential monthly growth since September 2010.
"The upward trend of global semiconductor sales is encouraging," said Brian Toohey, SIA president and CEO. "Recent sales totals are in line with industry projections of modest growth for the remainder of 2012, but a sluggish global economy continues to provide substantial headwinds, limiting more robust growth."
SIA members, which make up about 90 percent of the industry, draw roughly 82 percent of their sales from exports. Asia-Pacific semiconductors sales on a three-month moving average rose 10.5 percent, while sales in Europe increased 4.4 percent in the same period. Sales in the Americas ticked up 1.6 percent, but demand in Japan slipped 0.7 percent.