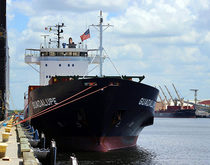 Linea Peninsular has added a weekly container service to Port Tampa Bay.
JOC.com Executive Editor Mark Szakonyi talks to Port Tampa Bay President and CEO Paul Anderson on the sidelines of TPM 2016 about the port's cargo mix, where it sees growth opportunities, new cranes that will increase the size of the ships the port can handle, and what they mean for competition among Gulf Coast ports.

The Tampa Port Authority has approved a $20.8 million spending plan to build a new refrigerated warehouse in an attempt to win back perishable food shippers to Port Tampa Bay.
U.S. Gulf and South Atlantic ports see the thawing of Cold War restrictions on United States trade with Cuba trade as a potential new market — or a revival of an old one.