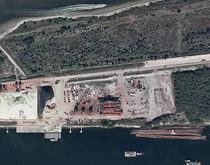 Port Tampa Bay commissioners have approved a contract for construction of a second berth for breakbulk and bulk operations.

It's not clear just how much of an impact $1 billion in investment had on the top Florida ports gaining a larger share of Asia imports, but the gains are real.

Linea Peninsular has added a weekly container service to Port Tampa Bay.
JOC.com Executive Editor Mark Szakonyi talks to Port Tampa Bay President and CEO Paul Anderson on the sidelines of TPM 2016 about the port's cargo mix, where it sees growth opportunities, new cranes that will increase the size of the ships the port can handle, and what they mean for competition among Gulf Coast ports.