Established in 1952, the Virginia Port Authority owns and is responsible for the operations of the Port of Virginia — three marine terminals: Norfolk International Terminals, Portsmouth Marine Terminal and Newport News Marine Terminal, as well as the Virginia Inland Port, an inland intermodal facility located in Front Royal. Subsidiary Virginia International Terminals was incorporated in 1981 to operate the terminals owned by VPA.
Virginia's ports came in No. 6 in JOC's ranking of the Top 25 North American container ports for 2012, with a market share of 4.3 percent, as they benefited from double-digit growth in container volumes. The Port of Virginia hopes to benefit from its ability to handle post-Panamax vessels — one of just two ports on the U.S. East Coast that can do so at present.
VPA and VIT are in the midst of a restructuring after the VPA's board of commissioners rejected proposals to privatize operations at its container terminals. Development is also continuing apace, with a new container terminal at Craney Island, near Portsmouth, under construction.
In a recent video, JOC Associate Editor Mark Szakonyi discusses what the Port of Virginia is doing to enhance its competitive position: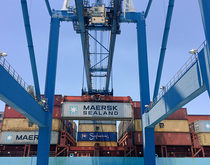 Total container volumes at U.S Southeast ports took it on the chin last month.